Hands-On Learning: Occupational Therapy Students Collaborate with Rural South Dakotans
The University of South Dakota's OT students and rural residents reap reciprocal benefits from one another.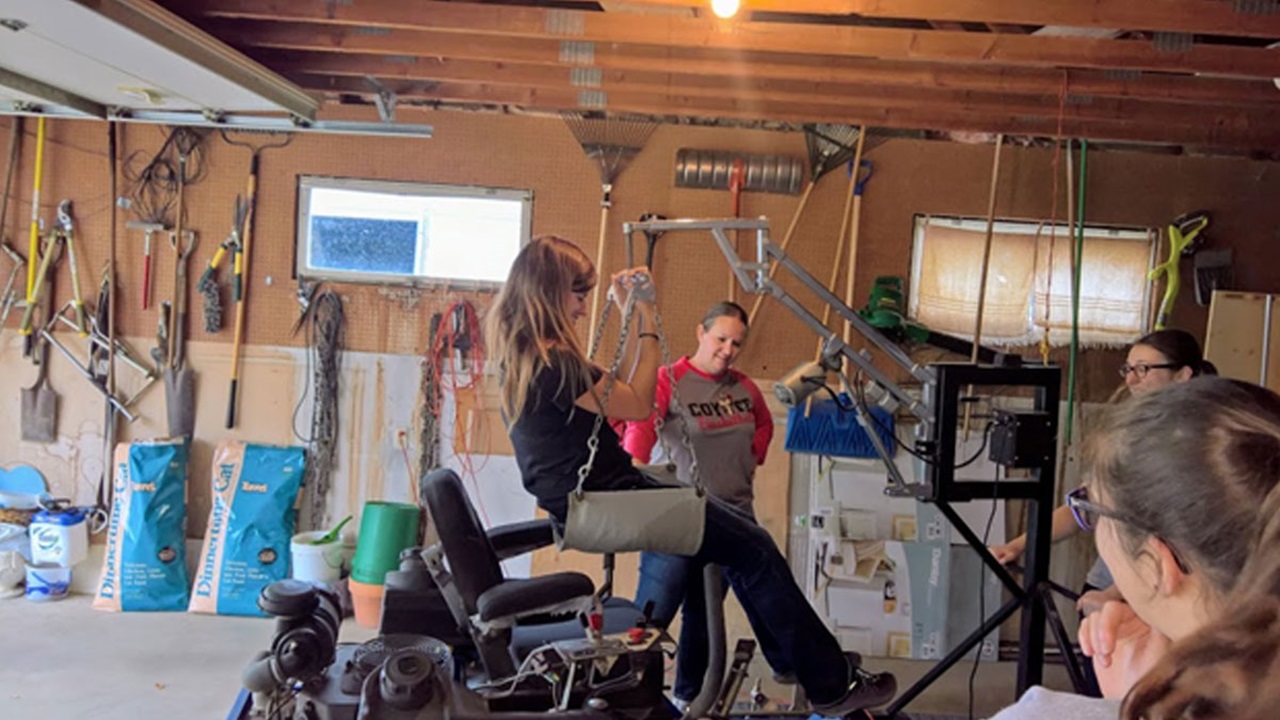 Anyone who has ever needed the help of an occupational therapist knows how vital the profession is to help a person live a fulfilling life by promoting health, well-being and the ability to participate in meaningful activities.
OT professionals take a holistic, person-centered approach as they work across the lifespan of individuals to help maximize independence in daily life for those in hospitals, schools, long-term care facilities, outpatient clinics and their homes.
At USD, OT students develop skills beyond evaluation and interventions. Because of the unique needs of rural clients, students also learn the importance of being adaptable, creative, lifelong learners. USD's OT program focuses on connecting with individuals, families and rural communities, a concept that has always been a critical component of the curriculum.
Each USD OT student is required to complete a 12-week Level II Fieldwork Experience in a rural community. Beyond that, some students opt to also earn a rural/underserved specialization by focusing research and experiences in those settings, preparing them for not only working in rural, clinically-diverse settings, but also presenting them with opportunities to build programs for underserved communities—the very reason the specialization was created.
"An occupational therapist's holistic perspective considers the physical, psychological and social needs of clients and the context in which they live, work and play. Adapting the environment to fit the person is especially important in rural settings," explained Allison Naber, Ph.D., assistant professor of OT and academic fieldwork coordinator at USD.
To understand concepts they'll one day put into practice, students take part in a rural field trip as part of the Environmental Influences on Occupation course, where they learn to identify assistive devices or adaptations to farming equipment. They also hear from guest speakers who have been required to adapt their approaches to farm-related tasks after an injury or diagnosis. The in-person experiences allow students to understand how, when and why use of such devices is appropriate.
To date, 17 cohorts of USD OT students have visited the Harlan and Rita Temple farm east of Lennox. On these visits, students perused Harlan's farming adaptations and lifts and learned from the Temples about the valuable occupation of farming and rural lifestyles.
For Harlan, having limited physical movement was never going to keep him from a lifelong passion of farming. Experiencing mobility issues since he was a teen, Harlan was told he'd never be able to farm. He proved the naysayers wrong, living and working on his beloved farm for 45 years; and the reason he was able to thrive there for so long is because he was able to take advantage of adaptive equipment.
Adaptive equipment on the Temple farm included a modified side-by-side UTV, tractor, lawn mower and equipment for hunting and fishing—two of Harlan's favorite pastimes. These adaptations, including custom lifts to get onto the equipment, lever extensions to allow for an altered grasp and seatbelts, ensured that Harlan could participate in the meaningful occupation of farming, lawn maintenance and leisure activities.
These student visits were always a highlight for Harlan. "They drove the lawn mower and power wheelchairs," he said. "Seeing them learn by seeing first-hand instead of through photos and witnessing their fascination and watching them try out the equipment was very satisfying. It was neat sharing that and what it took to modify it so I could drive it. Adapted equipment made me more independent and heightened my sense of self-worth. It gave me a feeling of accomplishment.
"Letting them know there is so many different possibilities, something you can't just go out and buy because they are not on the market," he continued. "I was lucky, I had friends who were mechanically inclined make the modifications all handmade to my specifications. If something didn't work right, they were always willing to make modifications. They enjoyed helping me be more independent, which I loved, because farming was my life."
Students also had the opportunity to tour Harlan and Rita's home to see adaptations made to the doorways, bathroom and kitchen, that increased Harlan's independence and Rita's ease of assisting Harlan with daily activities.
"As future occupational therapists, we understand that for farmers, farming isn't just a hobby, but it's a way of life," said Emily Mickelson, a second-year OT student. "Many farms are passed down from generation to generation and are the primary income source for families. This can create a large amount of stress if it is disrupted. We learned different adaptive equipment that can be implemented into farmer's lives, so they can continue to farm for as long as possible."
Students develop an understanding of how to apply the strategies learned in this experience to other clients with similar functional limitations. Ultimately, the field trip and guest speakers provide students with the opportunity to develop an appreciation for rural culture and the role of the caregiver of a person with a disability.
"Growing up in rural South Dakota, I have seen farm equipment my whole life, but the field trip taught me so much more," Mickelson, an Elk Point native, explained. "We got the opportunity to see every aspect that goes into farming including mount and dismount farm machinery, control systems, types of seating and land terrain. The controls varied with wheels, joysticks, buttons, switches and gauges. We learned how each piece of farm machinery can be adapted to fit individual needs, and we gained valuable resources that we can provide our future patients."
Since its inception in 1991, about 565 occupational therapists have articulated from USD, working and living in approximately 40 states, in all realms of practice.
"Our graduates are critical thinkers who engage in lifelong learning to be informed, improve skills and contribute positively to the growth of the profession, both regionally and beyond," said Naber.
"It was always gratifying," Harlan said of the OT student visits to his farm. "I liked to work with young people and to see their interest and answer questions. I looked forward to it every year."
Harlan and his lifestyle left an indelible impression on many OT students, too. In fact, Harlan was invited to OT hooding ceremonies for many years, even being asked to be its keynote speaker three times.
"I always wanted to be a farmer and it came to fruition," Harlan explained. "I never considered anything else, even though it hasn't always been easy for me. All I can do is be willing to help others. We have to share experiences to help each other."