School of Health Sciences Prioritizes Research with Creation of Office of Research & Innovation
The USD School of Health Sciences has established a new Office of Research & Innovation (ORI) that will help the school move to the next stage of innovation and impact for its faculty, staff, students and all the populations they serve.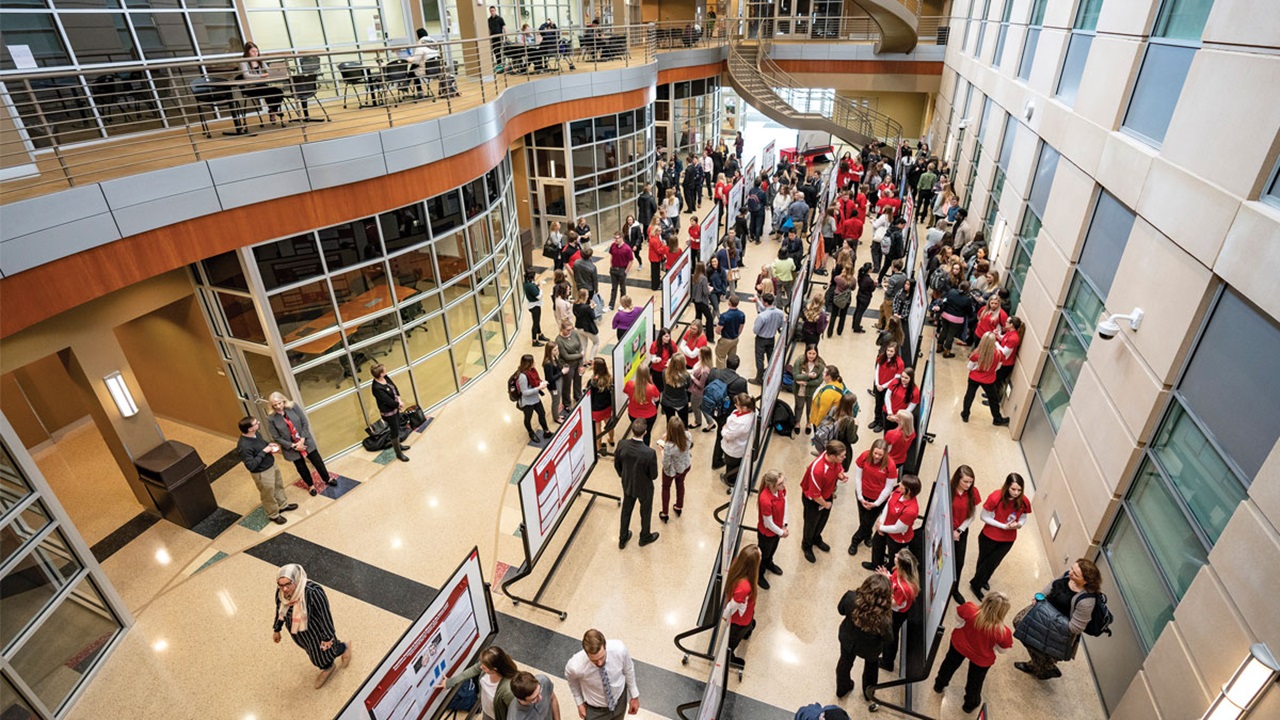 The School of Health Sciences' faculty and students continue to bring innovative ideas and solutions to health care and health care education, and many need mentoring and support in developing those ideas, securing funding and working with community partners. The school's research mission is growing, as evidenced by the fact that extramural funding has quadrupled over the last four years. ORI builds on existing strengths to foster faculty development and further growth and economic impact.
The new office will also facilitate faculty coming together across disciplinary lines to address problems and opportunities in health care. ORI will identify new programs and grants and help faculty and programs through the processes of obtaining research funding, including writing successful applications, budgeting and designing visual elements for reports, literature review and statistical analysis support.
This spring, Bridget Diamond-Welch, Ph.D., was hired to lead the new office, bringing with her years of experience securing and managing federal funds to the SHS.
"ORI will hone in on what is next for health care and how USD can situate itself on the cutting edge to serve the unique populations and challenges we face as a state," Diamond-Welch explained.
The School of Health Sciences administration has set three basic goals for the ORI:
Develop faculty and staff as researchers and students as apprentice researchers
Develop an environment supportive of collaboration within and across disciplines to support innovative research and projects of practice
Expand the impact of the School of Health Sciences research and evaluation efforts across South Dakota and beyond.
"The real heart to these goals is that we want to increase the impact of our work across South Dakota and beyond," Diamond- Welch explained. "We want to evaluate where we are improving health and wellness of communities by increasing the reach of our training, educational opportunities, and the programmatic and application work that faculty and staff bring to South Dakota through their skillsets.
"Our research and impact touch every county in South Dakota," she continued. "We will continue to strive to increase the impact of our research and programs."
Since coming on board, Diamond-Welch has expanded the office personnel to include two research program coordinators, Nathaniel Steinlicht and Clara Pierskalla.
Steinlicht assists faculty and staff with identifying and developing grants and contract proposals as well as evaluating and managing projects in the award phase; he specializes in grant finding and grant writing support.
Pierskalla, whose own research experience involves juvenile detention and mental health, helps with final projects or presentation projects, turning data into visually appealing designs and visual elements.
Overall, ORI helps faculty navigate research roads, so they are able to fulfill their research agendas and pursue their passion projects that support health and wellness.
"With ORI, faculty and staff are not alone in the process," Diamond-Welch said. "ORI is here to answer questions through every stage. There are obstacles they may not even know exist, but we've been through those and can support them. ORI will work with other offices in the SHS and across USD to find answers to questions that haven't been asked before."
Leading ORI is a bit of a career turn for Diamond-Welch, who holds a Ph.D. in sociology and started out as a social psychologist studying emotions and identities. After stints at Western Illinois University as assistant professor of sociology and USD as associate professor of criminal justice studying victimology, she was hired by the Sanford School of Medicine's Center for Rural Health Improvement, during which time Diamond-Welch was awarded several federal grants as principal investigator (PI) or co-PI.
She also works on Avera's Sexual Assault Nurse Examiners (SANE) project and was integral to the startup of I CARE on USD's campus, which is an organization working toward sexual assault prevention campus wide. Her own research is related to understanding interpersonal violence through a public health lens.
"There is so much work that needs to be done to improve the health and well-being of our community members," Diamond-Welch said. "In this position, I have the opportunity to help faculty, staff and students in the School of Health Sciences find out how to fulfill their research missions, expanding the impact and reach of their work to improve outcomes for all."