U.S. Army Veteran Graduates with Third Degree from USD
The University of South Dakota has a track record of producing remarkable graduates, but few have accomplished what U.S. Army veteran and USD alumnus Christopher R. Strunk has done. This May, Strunk earned his Ph.D. in health sciences, marking his third degree from USD.
In addition to the three degrees, Strunk has also earned three certificates from USD.
Hailing from Bluff Park, Alabama, Strunk embarked on an educational journey different from most. In 2017, he earned graduate certificates in disaster mental health and mental health counseling from USD. That same year, Strunk also earned his Master of Arts in addiction counseling and prevention.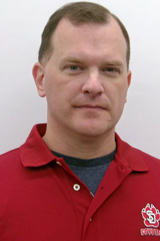 He didn't stop there. In 2019, he received the graduate certificate in long-term care, followed by a Master of Science in health services administration in 2019, and finally, a Ph.D. in health sciences in May 2023. These were all earned at the state's flagship university.
"I chose the University of South Dakota because I visited South Dakota as a child with my family many years ago and found it to be a wonderful place with amazing people," said Strunk. "After 190 semester hours, I believe each of my professors at USD have consistently shown the highest levels of professional courtesy, academic integrity and leadership examples to us as students. Susan Puumala, professor in the Master of Public Health program, has been especially supportive and helpful during this journey."
Strunk earned a bachelor's degree in psychology from Auburn University and joined the Army in August 2000. While serving on active duty, he earned a master's degree in human relations from the University of Oklahoma. He was on active duty until 2014 when he decided to take a break and pursue higher education.
"While transitioning from the Army into the Army Reserve in fall 2014, I applied to the USD Graduate School," said Strunk. "The master's program for addiction counseling and prevention was very interesting to me, since I have unfortunately seen several cases of substance use and abuse occur among fellow veterans. I wanted to earn an education that would inform me on how to help people who suffer from addictions, and USD's program felt like the perfect fit."
In January 2015, Strunk was accepted into a master's program at USD. He was a full-time graduate student from January 2015 to December 2020, taking online classes while working full-time as a counselor for hospital patients and college students in Tallahassee, Florida. He returned to active duty in the Army in November 2017 for the United States Central Command while sustaining his academic responsibilities at USD.
After a cumulative eight years in higher education, Strunk is looking ahead. He plans to retire from Army service this July and intends to use his education and training from USD to seek a teaching position. Strunk is also interested in using his degrees to continue counseling and providing behavioral health services for people in need.
"USD is the most veteran-friendly university in our nation, and I cannot express my gratitude and appreciation enough for the awesome faculty and staff," Strunk said. "They have been an absolute privilege and honor to work with, and I highly recommend USD to other veterans who want to continue their education opportunities outside the military."