USD Day at the Capitol Cultivates Fundamental Connections
Health Sciences students forge relationships with legislators who serve South Dakotans.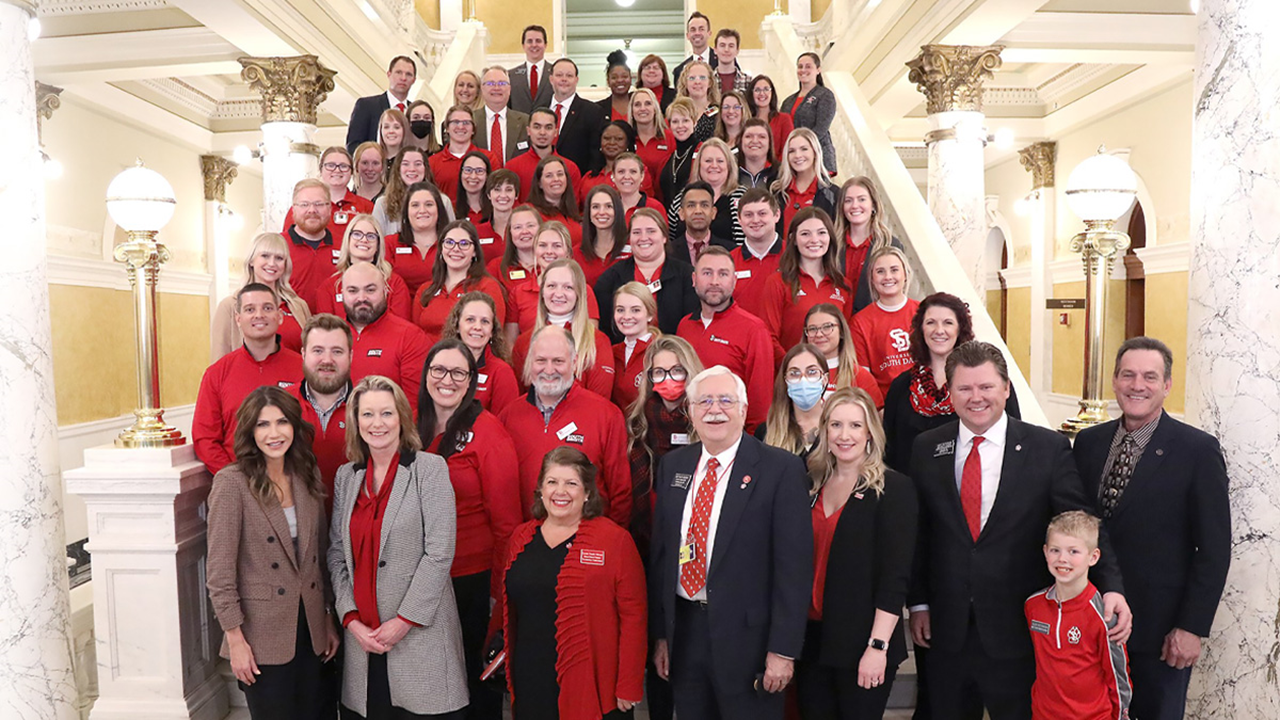 A cohort of students, staff and faculty from the School of Health Sciences spent a day championing USD health sciences programs and emphasizing the university's impact on South Dakota and the region at USD Day at the Capitol, held on Feb. 10 in Pierre.
Nearly 40 individuals from the School of Health Sciences attended the annual occasion, including 23 students and 15 faculty members—in addition to many more USD supporters—to network and build relationships with state decisionmakers and other influencers from across the state, as well as to learn about the legislative process.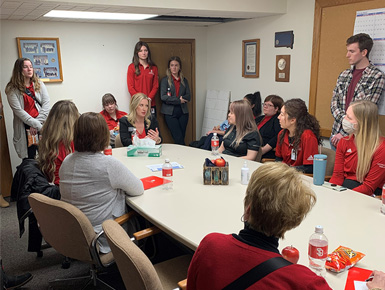 In the capitol rotunda, USD nursing students completed preventative health screenings, including blood pressure and blood glucose level checks, while occupational therapy students assessed grip strength. In doing so, students were able to interact with South Dakota legislators who serve the areas health sciences students advocate for.

Kailyn Jasper, a nursing student, said, "Attending USD Day at the Capitol gave me the opportunity to not only represent USD Nursing, but also have some great interactions which helped me see the importance of being educated on and involved in health care policies. By being involved we can be more effective advocates for our patients and the nursing profession."
USD occupational therapy students met with South Dakota District 17 Sen. Art Rusch, who gave his perspective of the legislative session, while all health sciences students in attendance connected with a panel of legislators consisting of Assistant Minority Leader Sen. Troy Heinert (District 26); Sen. Erin Tobin (District 21), a nurse practitioner; and Rep. Sydney Davis (District 17), a CRNA. Davis also held a separate student session to discuss her experience as a health care provider serving in the state legislature.

Carrie Sanderson, as director of the Center for the Prevention of Child Maltreatment and three-time USD graduate, is well-versed in legislative proceedings and attended USD Day. "The panel interaction helped our students understand how a career in health care and advocacy for legislation can match up," she explained.

Altogether, students shadowed seven different legislators, which included tours of the capitol.

Fourteen second-year OT students attended to support the School of Health Sciences at the capitol as part of their Leadership and Management in Healthcare course with a legislative advocacy focus to gain an understanding of the role OT can have in legislative efforts. These students were guided by third-year USD OT student Rebecca Benson, who had spent multiple days at the capitol as part of her disability rights capstone experience, in which she is exploring facilitators and barriers to occupational engagement among individuals with disabilities and the process for legislative action surrounding disability rights.

The students, in turn, provide valuable perspective to the state's legislators; because of their expertise on issues close to home, they can speak to matters that affect individuals and organizations in their respective health care programs.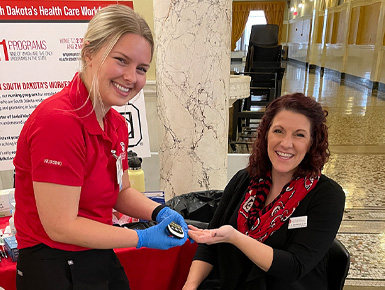 "The nursing and occupational therapy students that attended USD Day at the Capitol represented our school so well," said Regan Luken, RN, MSN, director of nursing student services. "The day and experience are important because it provides an opportunity for our students to show and discuss how they, in their respective programs, serve South Dakota. Our health sciences students seized the opportunity to show and discuss how each program impacts and leads South Dakota health care."

In addition to the day's activities, a social held the evening before was very well attended by alumni and legislators, further enhancing rapport among the participants.

"Establishing relationships builds credibility about our programs, especially when they are able to consistently see the good work of our students in person," Sanderson said. "By their attendance and involvement, Health Sciences students have laid the groundwork for becoming a resource through their knowledge of our school's contributions to the community, state and region."

"The students enjoyed experiencing the architectural beauty of the South Dakota Capitol and the legislative process in action," added Luken. "Many of them are looking forward to representing the School of Health Sciences in the future and presenting various service learning projects they complete throughout their programs."