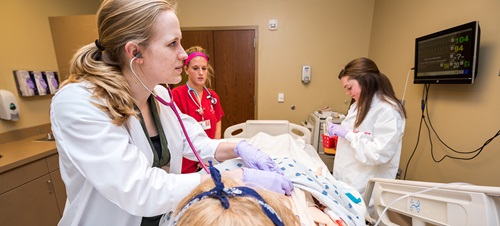 Residencies and Fellowships
Learn about the high-quality residency and fellowship programs offered by the Sanford School of Medicine.
USD Sanford School of Medicine offers excellent training at four hospital systems and numerous clinics across the state. We sponsor six residencies and four fellowships in Sioux Falls, a city consistently ranked as one of the best places to live in the United States. We are also affiliated with Family Medicine programs in Sioux Falls and Rapid City. We also offer fellowships in Cardiovascular Disease, Child & Adolescent Psychiatry, Geriatrics and Interventional Cardiology.
Residency Programs
General Surgery
Developed to train general surgeons able to provide excellent surgical care in rural settings, the program provides trainees with a strong foundation of academic excellence, sound technical skills, research, and an understanding of contemporary issues in surgical practices.
Internal Medicine
The program prepares competent and compassionate internists who provide high quality care to diverse populations and actively engage in lifelong learning. The program attracts an exceptional resident staff due to its unique teaching climate, clinically-oriented program, and dedicated faculty.
Neurology
The Neurology residency is a newly accredited, 4-year categorical program. Our mission is to train Neurologists to provide excellent care to the people of South Dakota.
Pathology
Residents receive a challenging curriculum, diverse pathology, and plenty of one-on-one attention. Recent graduates have all matched with competitive fellowships in surgical pathology, breast pathology, hematopathology, cytopathology, and dermatopathology.
Pediatrics
Residents experience a unique and vibrant educational community dedicated to developing successful pediatricians. The program provides a foundation of pediatric medicine that can serve as the basis for entering general pediatrics practice or the most rigorous of subspecialty fellowship programs.
Psychiatry
Residents provide comprehensive mental health services at three university clinic outpatient facilities in Sioux Falls and at numerous outreach sites throughout the region.
Transitional Year
Residents receive a well-balanced, broad-based medical education that allows each resident to satisfy his or her specific needs and interests. The program offers up to seven elective blocks with a schedule designed specifically for each resident.
Sioux Falls Family Medicine Residency
The combination of hands-on training with experienced doctors, dedicated nurses, a well-rounded training program, and cutting edge technology makes this program a leading choice for those interested in pursuing family medicine.
Pierre Rural Family Medicine Residency
This is a 1-2 program, with a separate NRMP Match number, that accepts 2 residents per year. The first year is in Sioux Falls, with years 2 and 3 in Pierre, a rural community of 14,000.
Rapid City Family Medicine Residency
Developed and implemented to assist the western South Dakota region by training physicians to provide broad-based, high quality, primary care in a rural setting, this program offers extensive post-graduate level education in the medical and surgical disciplines, including the practice of obstetrics.
Fellowships Programs
Cardiovascular Disease
The fellowship is specifically designed to provide a solid and comprehensive educational experience for future specialists. The program is focused on education rather than service, and holds a very favorable 1:1 faculty-to-fellow ratio for every rotation.
Child and Adolescent Psychiatry
The fellowship is a small, eclectic program with four fellows total. Fellows train for careers in private, academic, or institutional-based practices.
Geriatrics
The goal of this fellowship program is to produce Geriatricians who can practice in a wide range of geriatric settings. Fellows are mentored 1 on 1 with accomplished faculty. Our fellowship is one year but is also offered on a part-time basis which is a unique opportunity for practicing physicians.
Interventional Cardiology
The one-year Interventional Cardiology fellowship provides advanced clinical and academic training for exceptional practitioners.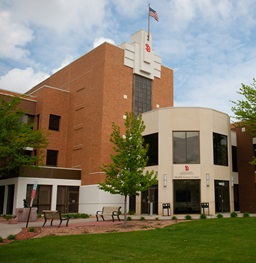 Envision Your Future Here
The USD Sanford School of Medicine is proud to offer enriching, high-quality residencies and fellowships that will prepare you for practice. Dive into the details of our programs and learn about the faculty you will work with by visiting a website dedicated to residencies and fellowships.


Explore our Residency Programs
The South Dakotan M.D. News & Stories 
The South Dakotan M.D. is published twice per year for alumni and friends of the University of South Dakota Sanford School of Medicine. Read news and stories about USD Sanford School of Medicine on The South Dakotan M.D.'s online experience.


Read More