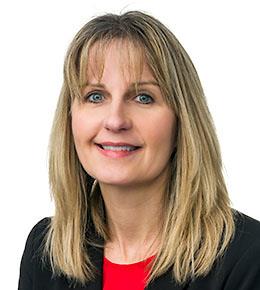 Amy Nelson
Director / Lecturer, Health Sciences Major
HEALTH SCIENCES
Bio:
Amy Nelson has a background in Medical Laboratory Science and Occupational Therapy and has over 16 years of experience in health care. She was an occupational therapy clinician in acute care, outpatient, and in rural health prior to transitioning to academia in 2014.
---
Teaching Interests:
Amy's teaching interests include health care delivery including policy and reimbursement, technology in health care, and patient safety and quality improvement.
---
Education:
Ph D, Health Sciences, University of South Dakota, 2022
OTD , Occupational Therapy, University of South Dakota, 2017
MS, Occupational Therapy, The University of South Dakota, 2012
BS, Medical Technology, The University of Nebraska Medical Center, 1996
---
Licensures and Certifications:
Licensed, Registered Occupational Therapist, SDBMOE and NBCOT
Health Care Provider CPR, American Heart Association
Medical Laboratory Scientist (ASCP), American Society of Clinical Pathologists
---
Grants:
Curriculum Transformation: Healthcare as a Basic Human Right, School of Health Science. Grant Role: Co-Principal. (2019 - Present)
Center for Teaching and Learning Grant. (2015)
---
Publications:
Citations listed below are presented in a standardized, modified format for display purposes only. They do not necessarily reflect the preferred style and conventions of the faculty member or discipline.
Nelson, Amy, AnisAbdellatif, Musheera, Larson, June, Mulder, Cindy, Wolff, Becky, and . New Faculty Orientation: Discussion of Cultural Competency, Sexual Victimization, and Student Behaviors. Edited by Patricia Yoder-Wise. Thorofare, NJ: Journal of Continuing Education in Nursing, 2016.
---
Awards and Honors:
School of Health Sciences Curriculum Transformation Grant, University of South Dakota, 2018
School of Health Sciences Outstanding Faculty Award for Teaching Excellence, University of South Dakota, 2018
Ten Years of Service to the State of South Dakota, University of South Dakota Health Affairs, 2015
Course Design Fellowship, Center for Teaching and Learning, 2015
Center for Teaching and Learning Grant, USD, 2015
Phi Theta Epsilon, Distinguised Honor Society, The University of South Dakota, 2011
Faithe Family Scholarship, The University of South Dakota, 2010
"Planting Praise" Award, South Dakota Human Services Center, 2008
---
Presentations:
Wolff, Becky, Nelson, Amy.

My Plan...My Way: Person-Centered Service Learning Project

. Presented at the Plantree International Conference, Baltimore, MD. (October 2017)
Nelson, Amy, Wolff, Becky, .

My Plan. . .My Way: A Person-centered Service Learning Project

. Presented at the South Dakota Gathering, Chamberlain, SD. (September 19, 2017)