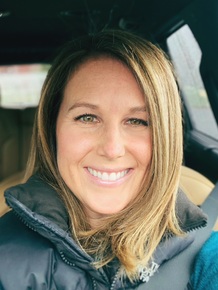 Christina Dyer
Adjunct Instructor
KINESIOLOGY AND SPORT MANAGEMENT (KSM)
Bio:
I have over 20 years of experience as a Registered Dietitian, with experience teaching, developing and evaluating programs to address nutrition, hunger, obesity and chronic disease prevention through public health and community-based programs. My areas of expertise are nutrition education and community and public health nutrition and I worked for many years as lead project dietitian with the New York City Department of Health to implement a child nutrition and physical activity education program for low-income New Yorkers. Career achievements include development, facilitation, project management, and evaluation of evidence-based public health and community programming and curriculum across life spans.<br><br>
---
Teaching Interests:
I have a passion to connect students to the research, science and public health issues that revolve around nutrition and particularly enjoy teaching university students.
---
Research Interests:
Nutrition education, particularly for impact programs in underserved areas.
---
Education:
MS, Masters of Science in Nutrition, Case Western Reserve University, 2001
BS, Human Nutrition, Oklahoma State University, 1999
---
Licensures and Certifications:
Registered Dietitian Nutritionist, Academy of Nutrition and Dietetics
---
Publications:
Citations listed below are presented in a standardized, modified format for display purposes only. They do not necessarily reflect the preferred style and conventions of the faculty member or discipline.
Levy, Andrea M., Grosso, Ashley, Nonas, Cathy, Chiasson, Mary A., Dyer, Christina, and Dannefer, Rachel. School-based Nutrition Intervention for Families of Pre-K through First Grade, 248-259. Vol. 7, Iss. 3. HEALTH BEHAVIOR AND POLICY REVIEW, 2020. (DOI: 10.14485/HBPR.7.3.9)
---
Awards and Honors:
National Leadership Fellow, United Way of America, 2006
Outstanding Leadership Award, Oklahoma State University, 1999
President's Distinguished Scholar, Oklahoma State University, 1999
National Truman Scholarship Nominee, Oklahoma State University, 1998