Christopher Anderson Ph.D.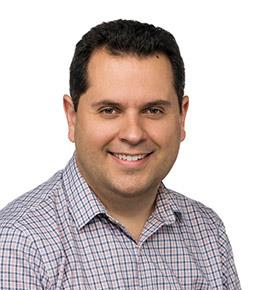 Christopher Anderson
Assistant Professor
BIOLOGY
Teaching Interests:
Vertebrate Anatomy & Embryology (BIOL 481/581 + L); Mechanics & Physiology of Skeletal Muscle Function (BIOL 791); Comparative Physiology (BIOL 428/528); General Biology II (BIOL 153)
---
Research Interests:
My research is broadly focused on understanding physiological and biomechanical systems in an ecological and evolutionary context. In my lab we examine the morphological, biomechanical and physiological mechanisms underlying animal movement in general, and how these mechanisms change through evolution and vary across environments. We apply an integrative approach, often combining laboratory and field studies, to elucidate interactions between an organism's physiology and their performance, reveal how organisms perform in their natural surroundings, and improve our understanding of the evolution of form and function. Further, while our research generally utilizes non-model organisms, the mechanistic levels we work at are broadly applicable to a wide range of taxa, including humans, and provide insight into broader functional and physiological principles.
---
Education:
Postdoctoral Research and Teaching Associate, Brown University, 2016
Ph D, Biology (Physiology & Morphology), University of South Florida, 2013
BS, Animal Science, Cornell University, 2006
---
Grants:
IUCN Red List Re-Assessments of Malagasy Chameleons, IUCN Species Survival Commission (SSC). (2021 - 2022)
Seismic communication in chameleons: Form and function of a novel signaling mechanism, Kentucky NSF EPSCoR. Grant Role: Co-Principal. (2016 - 2017)
---
Publications:
Citations listed below are presented in a standardized, modified format for display purposes only. They do not necessarily reflect the preferred style and conventions of the faculty member or discipline.
Tolley, Krystal A., Tilbury, Colin R., da Silva, Jessica M., Brown, Gary, Chapeta, Yankho, and Anderson, Christopher V.. Clinging to survival: Critically Endangered Chapman's pygmy chameleon Rhampholeon chapmanorum persists in shrinking forest patches, 1-6. Vol. FirstView. Oryx, 2021. (DOI: 10.1017/S0030605320000952)
Deban, Stephen M., and Anderson, Christopher V.. Temperature effects on the jumping performance of house crickets, 659-667. Vol. 335, Iss. 8. Journal of Experimental Zoology Part A, 2021. (DOI: 10.1002/jez.2510)
Tegge, Samuel M., Anderson, Christopher V., Smith, Michael E., and Huskey, Steve. The role of hyoid muscles in biotremor production in Chamaeleo calyptratus, jeb227603. Vol. 223, Iss. 22. Journal of Experimental Biology, 2020. (DOI: 10.1242/jeb.227603)
Huskey, Steve, Tegge, Samuel M., Anderson, Christopher V., Smith, Michael E., and Barnett, Kenneth. Gular pouch diversification in the Chamaeleonidae, 2248-2261. Vol. 303, Iss. 8. The Anatomical Record, 2020. (DOI: 10.1002/ar.24313)
Anderson, Christopher V., and Roberts, Thomas J.. The need for speed: functional specializations of locomotor and feeding muscles in Anolis lizards, jeb.213397. Vol. 223, Iss. 2. The Journal of Experimental Biology, 2020. (DOI: 10.1242/jeb.213397)
Cernanský, Andrej, Herrel, Anthony, Kibii, Job M., Anderson, Christopher V., Boistel, Renaud, and Lehmann, Thomas. The only complete articulated early Miocene chameleon skull (Rusinga Island, Kenya) suggests an African origin for Madagascar's endemic chameleons, 109. Vol. 10. Scientific Reports, 2020. (DOI: 10.1038/s41598-019-57014-5)
Anderson, Christopher V., and Liebl, Andrea L.. Micrurus alleni (Allen's Coralsnake). Diet, 162-163. Vol. 50, Iss. 1. Herpetological Review, 2019.
Smith, Dustin, Vinci, Joy, Anderson, Christopher V., Ketterlin Eckles, Jennifer, Ridgley, Frank, and Mazzotti, Frank J.. Observations on nesting and clutch size in Furcifer oustaleti (Oustalet's Chameleon) in South Florida, 75-88. Vol. 15, Iss. Special Issue 8. Southeastern Naturalist, 2016. (DOI: 10.1656/058.015.sp808)
Anderson, Christopher V., Fabre, Anne-Claire, and Herrel, Anthony. Anolis roquet (Martinique's Anole). Coloration, 665-666. Vol. 47, Iss. 4. Herpetological Review, 2016.
Anderson, Christopher V.. Off like a shot: scaling of ballistic tongue projection reveals extremely high performance in small chameleons, 18625. Vol. 6. Scientific Reports, 2016. (DOI: 10.1038/srep18625)
Diaz, Raul E., Anderson, Christopher V., Baumann, Diana P., Kupronis, Richard, Jewell, David, Piraquive, Christina, Kupronis, Jill, Winter, Kristy, Greek, Thomas J., and Trainor, Paul A.. Captive care, raising and breeding of the veiled chameleon (Chamaeleo calyptratus), 943-949. Vol. 2015, Iss. 10. Cold Spring Harbor Protocols, 2015. (DOI: 10.1101/pdb.prot087718)
Diaz, Raul E., Anderson, Christopher V., Baumann, Diana P., Kupronis, Richard, Jewell, David, Piraquive, Christina, Kupronis, Jill, Winter, Kristy, Bertocchini, Federica, and Trainor, Paul A.. The veiled chameleon (Chamaeleo calyptratus Dumeril and Dumeril 1851): A model for studying reptile body plan development and evolution, 889-894. Vol. 2015, Iss. 10. Cold Spring Harbor Protocols, 2015. (DOI: 10.1101/pdb.emo087700)
Anderson, Christopher V., and Higham, Timothy E.. Chameleon anatomy. In

The Biology of Chameleons

, 7-55. Berkeley, CA: University of California Press, 2014.
Jenkins, Richard, Measey, G. J., Anderson, Christopher V., and Tolley, Krystal A.. Chameleon conservation. In

The Biology of Chameleons

, 193-216. Berkeley, CA: University of California Press, 2014.
Higham, Timothy E., and Anderson, Christopher V.. Function and adaptation of chameleons. In

The Biology of Chameleons

, 63-83. Berkeley, CA: University of California Press, 2014.
Anderson, Christopher V., Larghi, Nicholas P., and Deban, Stephen M.. Thermal effects on the performance, motor control, and muscle dynamics of ballistic feeding in the salamander Eurycea guttolineata, 3146-3158. Vol. 217, Iss. 17. Journal of Experimental Biology, 2014. (DOI: 10.1242/jeb.105437)
Anderson, Christopher V., and Van Heygen, Emmanuel. On the sympatry of three Trioceros species in a tropical upland forest in Cameroon, 215-218. Vol. 49, Iss. 4. Salamandra, 2013.
Venesky, Matthew D., Rossa-Feres, Denise C., Nomura, Fausto, de Andrade, Gilda V., Pezzuti, Tiago L., de Sousa, Verônica T., Anderson, Christopher V., and Wassersug, Richard J.. Comparative feeding kinematics of tropical hylid tadpoles, 1928-1937. Vol. 216, Iss. 10. Journal of Experimental Biology, 2013. (DOI: 10.1242/jeb.082040)
Anderson, Christopher V., and Tolley, Krystal A.. Bradypodion occidentale (Hewitt, 1935) Western Dwarf Chameleon. Reproduction/Colour, 40-42. Vol. 59. African Herp News, 2013.
Anderson, Christopher V., and Deban, Stephen M.. Thermal effects on motor control and in vitro muscle dynamics of the ballistic tongue apparatus in chameleons, 4345-4357. Vol. 215, Iss. 24. Journal of Experimental Biology, 2012. (DOI: 10.1242/jeb.078881)
Anderson, Christopher V., Sheridan, Thomas, and Deban, Stephen M.. Scaling of the ballistic tongue apparatus in chameleons, 1214-1226. Vol. 273, Iss. 11. Journal of Morphology, 2012. (DOI: 10.1002/jmor.20053)
Anderson, Christopher V., and Deban, Stephen M.. Ballistic tongue projection in chameleons maintains high performance at low temperature, 5495-5499. Vol. 107, Iss. 12. Proceedings of the National Academy of Sciences of the United States of America, 2010. (DOI: 10.1073/pnas.0910778107)
---
Presentations:
Anderson, Christopher V., Reiter, Patrick A., Roberts, Thomas J..

Examining the early stages of adaptive radiation in Anolis roquet from Martinique

. Presented at the Society for Integrative & Comparative Biology, Austin, TX. (January 6, 2020)
Crownover, Lucas A., Anderson, Christopher V..

Diversification patterns and evolutionary drivers in the chameleon axial skeleton

. Presented at the Society for Integrative & Comparative Biology, Austin, TX. (January 4, 2020)
Drown, Rachel M., Anderson, Christopher V..

Does individual performance influence antipredator behavioral strategy choice in chameleons?

. Presented at the Society for Integrative & Comparative Biology, Austin, TX. (January 4, 2020)
Anderson, Christopher V..

The conservation status of chameleons (family Chamaeleonidae)

. Presented at the 4th IUCN Species Survival Commission (SSC) Leaders' Meeting, Abu Dhabi, United Arab Emirates. (October 9, 2019)
Crownover, Lucas A., Anderson, Christopher V..

The chameleon (family Chamaeleonidae) axial skeleton in an evolutionary and ecological context

. Presented at the International Congress of Vertebrate Morphology (ICVM), Prague, Czech Republic. (July 23, 2019)
Herrel, A, Fabre, AC, Zablocki-Thomas, P, Boistel, R, Measey, G J., Dollion, A Y., Luger, A M., Adriaens, D, Anderson, C, Tolley, K A..

Manual and Tail Prehensile Systems in Vertebrates: Performance and Morphology

. Presented at the International Congress of Vertebrate Morphology (ICVM), Prague, Czech Republic. (July 2019)
Smith, Luke, Harishchandra, Miyuraj, Anderson, Christopher V., Zeng, Erliang, Roberts, Thomas, Liebl, Andrea.

Whole transcriptome gene expression and how it relates to muscle performance in Anolis lizards

. Presented at the Experimental Biology, Orlando, FL. (April 5, 2019)
Crownover, Lucas A., Anderson, Christopher V..

Exploring axial skeletal function and evolution in chameleons using micro-CT technologies

. Presented at the Society for Integrative & Comparative Biology, Tampa, FL. (January 5, 2019)
Drown, Rachel M., Anderson, Christopher V..

The functional basis for variable antipredator behavioral strategies in Chamaeleo calyptratus

. Presented at the Society for Integrative & Comparative Biology, Tampa, FL. (January 5, 2019)
Smith, Luke B., Miyuraj, Harishchandra, Anderson, Christopher V., Zeng, Erliang, Roberts, Thomas J., Liebl, Andrea L..

Transcriptome gene expression and muscle performance in Anolis lizards

. Presented at the Society for Integrative & Comparative Biology, Tampa, FL. (January 4, 2019)
Palavra, S., Tegge, Samuel, Huskey, Steve, Anderson, Christopher, Smith, Michael.

Vibrational communication in chameleons: Part I. Specializations for vibration production and detection

. Presented at the International Congress of Neuroethology 2018, Brisbane, Australia. (July 2018)
Laslie, K., Hamilton, E., Huskey, Steve, Anderson, Christopher, Smith, Michael.

Vibrational communication in chameleons: Part II. Behavioral contexts for production of and responses to vibration signals

. Presented at the International Congress of Neuroethology 2018, Brisbane, Australia. (July 2018)
Tegge, Samuel, Huskey, Steve, Smith, Michael, Anderson, Christopher, Barnett, Kenneth, Hamilton, Emily, Laslie, Kathryn.

The behavioral context and mechanism of biotremors in the veiled chameleon, Chamaeleo calyptratus.

. Presented at the Joint Meeting of Ichthyologists and Herpetologists, Austin, TX. (July 16, 2017)
Huskey, Steve H., Smith, Michael E., Anderson, Christopher V., Barnett, Kenneth E..

Functional diversity of the gular pouch in chameleons: Who gives a hoot!

. Presented at the Joint Meeting of Ichthyologists and Herpetologists, Austin, TX. (July 15, 2017)
Anderson, Christopher V., Roberts, Thomas J..

The need for speed: functional specializations of locomotor and feeding muscles in Anolis lizards

. Presented at the Society for Experimental Biology, Brighton, United Kingdom. (July 2016)
Huskey, Steve H., Anderson, Christopher V., Smith, Michael E., Barnett, Kenneth E..

Some chameleons really do "Hear it through the grapevine"

. Presented at the 11th International Congress of Vertebrate Morphology, Washington D.C.. (June 2016)
Smith, Michael E., Huskey, Steve H., Anderson, Christopher V., Barnett, Kenneth E..

What is all the buzz about? - A novel form of seismic communication found in chameleons

. Presented at the XII Congress for the International Society for Neuroethology, Montevideo, Uruguay. (March 2016)
Anderson, Christopher V., Park, Noel R., Jain, Sukrit S., Roberts, Thomas J..

Locomotor and feeding muscles in Anolis lizards are tuned to their functional demands

. Presented at the Society for Integrative & Comparative Biology, Portland, OR. (January 2016)
Park, Noel R., Anderson, Christopher V., Roberts, Thomas J..

Muscle twitch time limits gait dynamics in Anolis lizards

. Presented at the Society for Integrative & Comparative Biology, Portland, OR. (January 2016)
Anderson, Christopher V., Tolley, Krystal A..

Scaling of ballistic tongue projection performance in chameleons

. Presented at the Society for Integrative & Comparative Biology, West Palm Beach, FL. (January 2015)
Anderson, Christopher V..

Do mainland anoles share functional convergence, but not phenotypic convergence with island anoles?

. Presented at the Joint Division of Vertebrate Morphology and Comparative Biomechanics (DVM/DCB) Northeast Regional SICB Meeting, New Bedford, MA. (November 2014)
Anderson, Christopher V., Hudson, Derrek S., Deban, Stephen M..

Tongue projection in aquatic and terrestrial environments: the effect of drag on a high-powered ballistic movement

. Presented at the Society for Integrative & Comparative Biology, Austin, TX. (January 2014)
Anderson, Christopher V..

Thermal effects on the biomechanics and motor physiology of ballistic prey capture in chameleons

. Presented at the Joint Division of Vertebrate Morphology and Comparative Biomechanics (DVM/DCB) Northeast Regional SICB Meeting, New Haven, CT. (October 2013)
Anderson, Christopher V., Tolley, Krystal A..

Contrasting thermal effects on movements powered by elastic recoil and muscle contraction in chameleons living along a temperature gradient

. Presented at the Society for Integrative & Comparative Biology, San Francisco, CA. (January 2013)
Anderson, Christopher V., Tolley, Krystal A., Deban, Stephen M..

Thermal selection on movements powered by elastic recoil and muscle contraction: contrasting thermal effects in chameleons along a temperature gradient

. Presented at the 7th World Congress of Herpetology, Vancouver, Canada. (August 2012)
Deban, Stephen M., Anderson, Christopher V., Larghi, Nicholas P., Sandusky, Paula.

Evolution of elastic mechanisms in salamander tongues

. Presented at the Society for Integrative & Comparative Biology, Charleston, SC. (January 2012)
Anderson, Christopher V., Larghi, Nicholas P., Creemers, Shelby, Deban, Stephen M..

Thermal effects on the performance, motor control, and muscle dynamics of tongue projection in a plethodontid salamander

. Presented at the Society for Integrative & Comparative Biology, Charleston, SC. (January 2012)
Anderson, Christopher V., Deban, Stephen M..

Effects of temperature on in vitro muscle dynamics of chameleon feeding muscles

. Presented at the Society for Integrative & Comparative Biology, Salt Lake City, UT. (January 2011)
Anderson, Christopher V., Deban, Stephen M..

Thermal effects on the performance, motor control, and muscle dynamics of tongue projection in chameleons

. Presented at the 9th International Congress of Vertebrate Morphology, Punta del Este, Uruguay. (July 2010)
Sheridan, Thomas, Anderson, Christopher V., Deban, Stephen M..

Scaling relationships of the tongue apparatus of the family Chamaeleonidae

. Presented at the Society for Integrative & Comparative Biology, Seattle, WA. (January 2010)
Anderson, Christopher V., Deban, Stephen M..

Effects of temperature on the motor control of chameleon feeding

. Presented at the Society of Integrative & Comparative Biology, Seattle, WA. (January 2010)
Anderson, Christopher V., Deban, Stephen M..

Chameleons maintain high-performance tongue projection at low temperature

. Presented at the Society of Integrative & Comparative Biology, Boston, MA. (January 2009)
Anderson, Christopher V., Deban, Stephen M..

Temperature insensitivity of chameleon tongue projection: Maintaining performance at low temperature via an elastic power amplifier

. Presented at the Joint Meeting of Ichthyologists and Herpetologists, Montreal, Canada. (July 2008)