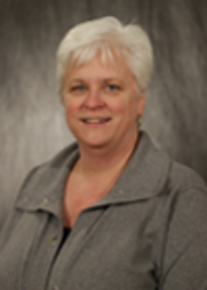 Julie Johnson
Clinical Professor
Pediatrics
Bio:
med school at Wayne State University in Detroit, Michigan Rehabilitation medicine residency at the University of Colorado. Practice Pediatric PM&R at Sanford in Sioux Falls. Have been with the PA program at USD since January 2015
---
Teaching Interests:
musculoskeletal, neuro, women's health, dermatology, IPE, teamwork
---
Research Interests:
wisdom in PA students, Care in Guatemala, IPE, Teamwork
---
Education:
Bush Medical Fellowship, Pediatric Rehabilitation and Physician Leadership, various, 2000
MD, wayne state university SOM, 1988
BS, Biology, Hope College, 1984
---
Licensures and Certifications:
MD, SD board of medical licensure
---
Grants:
Increasing interprofessional collaborative competencies through video cases and Team STEPPS module implementation, School of Health Sciences Research and Scholarship Seed Grant. (2016)
---
Publications:
Citations listed below are presented in a standardized, modified format for display purposes only. They do not necessarily reflect the preferred style and conventions of the faculty member or discipline.
Lucas Molitor, Whitney, Naber, Allison, MacCabe, Angela, and Johnson, Julie. Increasing Interprofessional Collaborative Competencies in OT Education. Vol. 73, Iss. 4. The American Journal of Occupational Therapy, 2019. (DOI: 10.5014/ajot.2019.73S1-PO7039)
Cerny, Shana, Svien, Lana, Johnson, Julie, and Hansmeier, Bethany. Using International, Interprofessional Service Learning to Promote Transcultural Self-Efficacy and Interprofessional Attitudes in Health Science Students. Journal of Occupational Therapy Education, 2018, 2018.
Zimney, Kory, Louw, Adriaan, and Johnson, Julie. Effects of Pain Neuroscience Education on Physician Assistant Students Understanding of Pain and Attitudes and Beliefs about Pain. South Dakota Medical Journal.
---
Awards and Honors:
Outstanding Faculty award for Distinguished Service, USD Health Sciences, 2017
---
Presentations:
Lucas Molitor, Whitney, Johnson, Julie, MacCabe, Angela, Naber, Allison.

Increasing interprofessional collaborative competency through curriculum development and knowledge translation

. Presented at the Nexus Summit, Minneapolis, MN. (July 31, 2018)
MacCabe, Angela, Potter, Kari, Johnson, Julie.

"Interprofessional education collaboration beyond rehabilitation medicine: The how to of planning for success utilizing an IPE simulated emergency as a case example."

. Presented at the Nexus Summit Fair Resource Exchange, Minneapolis, MN. (July 2018)
Zimney, Kory, Louw, Adriaan, Johnson, Julie, Peppers, Susan, Farrell, Kevin.

Effects of Pain Neuroscience Education on Physician Assistant Students Understanding of Pain and Attitudes and Beliefs about Pain

. Presented at the Eastern South Dakota Research Symposium, Sioux Falls, SD. (May 30, 2018)
Svien, Lana, Johnson, Julie.

Building a NEXUS Network of Partners: Strategies for Building Relationships, Infrastructure, and Action Plans

. Presented at the NEXUS , Minneapolis, MN. (August 21, 2017)
AnisAbdellatif, Musheera, Berg-Poppe, Patti, Johnson, Julie, Cerny, Shana, . Presented at the First annual University of South Dakota/ U.S.A. - Tafaol Center/Bahrain, International Down syndrome Awareness Colloquium, Bahrain/ UAE/ Egypt/ Saudi Arabia. (March 21, 2016)