Coronavirus Update: In response to additional information regarding the global coronavirus (COVID-19) pandemic, USD will move all classes online and postpone graduation ceremonies until further notice. All USD-hosted events are canceled through May 15. More Info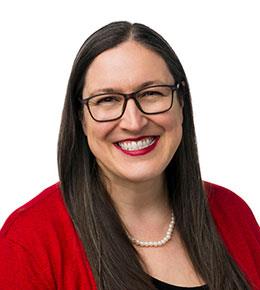 Kari Oyen
Assistant Professor
COUNSELING & PSYCHOLOGY IN EDUCATION
Bio:
Kari A. Oyen, PhD, LP, NCSP, is an Assistant Professor of School Psychology at the University of South Dakota.
---
Teaching Interests:
School Psychology Practicum, Systems Prevention, Crisis Intervention, Child Psychopathology, Behavior Interventions, Principles and Practices of School Psychology, and Personality and Behavior Assessment
---
Research Interests:
Rural School Psychology, Comprehensive Behavioral and Mental Health Services in Rural Settings, Systems Prevention and Impact on Student Outcomes
---
Education:
Ph D, School Psychology, The University of South Dakota, 2016
Ed.S., School Psychology, The University of South Dakota, 2008
BA, Psychology, Augustana University, 2005
---
Licensures and Certifications:
Licensed Psychologist, South Dakota Board of Examiners of Psychologists
South Dakota School Psychology Certification, South Dakota Department of Education
Nationally Certified School Psychologist, National Association of School Psychologists
---
Grants:
Understanding the Landscape of Child Maltreatment in Rural Settings, Center for the Prevention of Child Maltreatment. Grant Role: Principal. (2019 - Present)
Idaho Rural PBIS Implementation Project, Department of Defense. Grant Role: Other. (2018 - 2024)
Factors That Help New Teachers Persist to Teaching in Rural Settings., BUsh Foundation in Sub-contract with NDSU. Grant Role: Co-Principal. (2017 - 2018)
The Mediating Role of Teacher Self-Efficacy., School of Education. Grant Role: Co-Principal. (2018)
---
Publications:
Citations listed below are presented in a standardized, modified format for display purposes only. They do not necessarily reflect the preferred style and conventions of the faculty member or discipline.
Hajovsky, Daniel B., Oyen, Kari A., Chesnut, Steven R., and Curtin, Susan J.. Teacher?student relationship quality and mathematics achievement: The mediating role of teacher self-efficacy.. Psychology in the Schools, 2019.
Oyen, Kari A.. Transforming best practices into actions that can make a difference. Edited by John Desrochers, 6-7. Vol. 45, Iss. 8. Bethesda, MD: Communique, 2017.
Oyen, Kari, Eklund, Katie, and von der Embse, Nathaniel. The Landscape of Advocacy in Public Schools: The Role of School Psychologists. Washington, D.C.: Psychological Services.
Oyen, Kari A., and Wollersheim-Shervey, Sarah. An Examination of Critical Elements of Positive Frameworks: Impact in Rural Environments for School-based Practitioners. Contemporary School Psychology.
Oyen, Kari A.. Challenges unique to rural school psychology. In

Introduction to School Psychology

, edited by Dr. Matt Burns. New York, NY: Oxford University Press.
---
Awards and Honors:
President's Certificate of Achievement, National Association of School Psychologists, 2019
Excellence in Service Award, University of South Dakota School of Education, 2019
School Psychologist of the Year, South Dakota Association of School Psychologists, 2015
Distinguished Service Award, Center for Disabilities-USD Sanford School of Medicine, 2014
---
Presentations:
Oyen, Kari.

The Impact of Trauma on Problem Behavior: Considerations for School-Based Professionals

. Presented at the 19th Annual Community Response Conferende, Sioux Falls, SD. (October 4, 2019)
Oyen, Kari.

Advancing the value of your role and best practices for children: Ignite your inner advocate!

. Presented at the Nebraska School Psychologist's Association Annual Fall Conference, Lincoln, NE. (October 3, 2019)
Oyen, Kari, Cowan, Kathy.

Building grassroots advocacy: Promoting role to decision-makers.

. Presented at the Public Policy Institute, Washington, DC. (July 16, 2019)
Oyen, Kari, Baker, Paul.

Igniting grassroots advocacy for the colorado society of school psychologists.

. Presented at the State Advocacy Training, Denver, CO. (June 19, 2019)
Oyen, Kari, Faustino, Peter.

Tweet, tweet. Using social media to advocate to decision-makers.

. Presented at the NASP Annual Convention, Atlanta, GA. (March 1, 2019)
Cowan, Kathy, Strobach, Kelly, Oyen, Kari, Dockweiler, Katie.

Promoting your role & enhancing your value with decision-makers.

. Presented at the NASP Annual Convention, Atlanta, GA. (February 26, 2019)
Oyen, Kari.

Advancing the Value of Your Role and Best Practices for Children: Ignite Your Inner Advocate!

. Presented at the OSPA Annual Fall Conference, Edmund, OK. (November 2, 2018)
Cowan, Kathy, Oyen, Kari, Dockweiler, Katie.

Promoting Your Role & Enhancing Your Value With Decision-Makers

. Presented at the NASP 2018 Annual Convention, Chicago, IL. (February 15, 2018)
Kuznik, Annie, Oyen, Kari.

Strengths and Limitations of a Rural College Access Program

. Presented at the NASP 2018 Annual Convention, Chicago, IL. (February 14, 2018)
Oyen, Kari A., Strobach, Kelly.

Navigating ESSA for school based mental health providers

. Presented at the 22nd Annual Conference on Advancing School Mental Health, National Harbor, MD. (October 19, 2017)
Oyen, Kari A., Von De Embse, Nate.

Achieving policy solutions with effective grassroots advocacy

. Presented at the National Public Policy Institute, Washington, DC. (July 18, 2017)
Cowan, Kathy, Oyen, Kari.

Advancing school psychologists as highly qualified mental and behavioral health providers

. Presented at the NASP 2017 Annual Convention, San Antonio, TX. (February 2017)
Oyen, Kari A., Wollersheim-Shervey, Sarah.

Positive behavior interventions and supports for rural schools

. Presented at the NASP 2017 Annual Convention, San Antonio, TX. (February 2017)