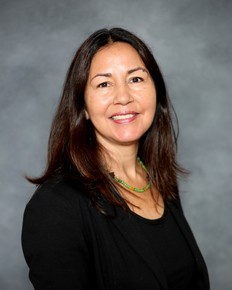 Kathy LaPlante
Instructor, MSW
SOCIAL WORK
Education:
Master of Social Welfare, Social Work, University of California Berkeley, 2002
Social Work, Northeastern State University, 1991
---
Research:
Rosebud Sioux Tribe Attorney General's Children Exposed to Violence Demonstration Program: Phase I, Dept. of Justice
---
Grants:
Integrating Family-Centered and Trauma Informed Care into Practice among Pediatric Healthcare Providers, USD School of Health Sciences. Grant Role: Supporting. (2019 - 2019)
Community based participatory research: Assessing general well-being of American Indian Older Adults in South Dakota, University of South Dakota. Grant Role: Co-Principal. (2013 - 2014)
Mental health literacy among rural older adults, University of South Dakota. (2012 - 2013)
South Dakota Child Welfare Training Project, National Child Welfare Workforce Institute. (2010 - 2013)
---
Publications:
Citations listed below are presented in a standardized, modified format for display purposes only. They do not necessarily reflect the preferred style and conventions of the faculty member or discipline.
Lee, Yeon-Shim, Roh, Soonhee, Moon, H, Lee, Kyoung Hag, LaPlante, Kathy, and Burnette, Catherine E.. Andersen's behavioral model to Identify correlates of breast cancer screening behaviors among indigenous women. Journal of Evidence-Informed Social Work, 2019. (DOI: doi: 10.1080/26408066.2019.1650316.)
LaPlante, Kathryn D.. The Indian Child Welfare Act and foster youth cultural identity -. American Psychological Association - Children, Youth and Family Newsletter, 2017.
Norris, Debra, and LaPlante, Kathy. NCWWI tribal traineeship programs: Legacies & lessons learned.. Albany, NY: National Child Welfare Workforce Institute, 2013.
Lawler, Michael J., LaPlante, Kathy, Giger, Jarod T., and Norris, Debra. Overrepresentation of Native American children in foster care: An independent construct?. Edited by Yo Mo Lee, PhD, 95-110. Vol. 21, Iss. 2. London, UK: Journal of Ethnic & Cultural Diversity in Social Work, 2012. (DOI: 10.1080/15313204.2012.647344)
---
Presentations:
LaPlante, Kathy.

Panelist - Indian Child Welfare Act - A History of Legal Challenges

. Presented at the Blood Memory Film Panelist, USD Law School. (January 31, 2019)
Norris, Debra, LaPlante, Kathy.

Resilience & Circle of Courage: A Tool for Cultural Responsiveness

. Presented at the Rural Social Work conference, Indiana. (July 2012)
Norris, Debra, LaPlante, Kathy.

Betwixt & Between Child Welfare in Rural SD

. Presented at the 36th Annual Institute on Social Work and Human Services in Rural Areas, Northwestern State University of Louisiana. (July 2011)