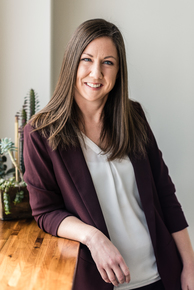 Leah Seurer
Assistant Professor
COMMUNICATIONS STUDIES
Bio:
I earned my PhD in Communication Studies from the University of Denver with a primary focus on interpersonal and family communication and a secondary focus on qualitative methods.
---
Teaching Interests:
My teaching focuses on interpersonal and relational communication courses and qualitative method courses. In addition, I am building a course pertaining to the "Dark Side" of personal relationships and a course examining the intersection of family communication and health communication.
---
Research Interests:
My research agenda focuses on two primary avenues of scholarship. First, I examine the various ways in which individuals discursively construct meanings of family and familial identities when these identities do not align with culturally privileged understandings of family. This work has allowed me to explore historically underrepresented types of families in family communication research such as lesbian co-mothers and foster families and underrepresented familial experiences such as mental illness within the family. This current and future work is primarily informed by Relational Dialectics Theory and the thinkings of 19th century philosopher Mikhail Bakhtin. My second primary research agenda is focused on crystalizing and encouraging the growth of Critical Interpersonal and Family Communication (CIFC) within the larger field of Family Communication Studies. CIFC calls for scholars to focus on centering research around issues of power and families and seeks to diversify the field of Family Communication through the growth of critical theories such as Relational Dialectics Theories and critical research practices and methods.
---
Education:
Ph D, Family and Interpersonal Communication; Communication Studies, The University of Denver, 2015
MA, Communication Studies, The University of South Dakota, 2010
BS, Communication Studies, The University of South Dakota, 2008
---
Grants:
CURCS Mini-Grant, Center for Academic & Global Engagement. Grant Role: Principal. (2017 - Present)
---
Publications:
Citations listed below are presented in a standardized, modified format for display purposes only. They do not necessarily reflect the preferred style and conventions of the faculty member or discipline.
Seurer, Leah. Constructing Motherhood and Daughterhood Across the Lifespan. In

Chapter Seven: Communicating about Mental Health in the Mother-Daughter Dyad

, edited by Allison Alford and Michelle Miller-day. New York, NY: Peter Lang , 2019.
Suter, Elizabeth A., and Seurer, Leah. Relational Dialectics Theory: Realizing the Dialogic Potential of Family Communication. In

Engaging Theories in Family Communication: Multiple Perspectives (2nd ed.)

. Taylor & Francis, 2017.
Baxter, Leslie, Suter, Elizabeth A., Thomas, Lindsey, and Seurer, Leah. The dialogic construction of "adoption" in online foster adoption narratives, 193-213. Vol. 15, Iss. 3. Journal of Family Communication, 2015. (DOI: 0.1080/15267431.2015.1043431)
Suter, Elizabeth A., Seurer, Leah, Webb, Stephanie K., Grewe, Brian, and Koenig-Kellas, Jody. Motherhood as contested ideological terrain: Essentialist and queer discoruses of motherhood at play in female-female co-mothers' talk, 458-483. Vol. 82, Iss. 4. Communication Monographs, 2015. (DOI: http://dx.doi.org/10.1080/03637751.2015.1024702)
Suter, Elizabeth A., Baxter, Leslie, Seurer, Leah, Thomas, Lindsey, and . Discursive constructions of the meaning of "family" in online narratives of foster adoptive parents, 59-78. Vol. 81, Iss. 1. Communication Monographs, 2014. (DOI: http://dx.doi.org/10.1080/03637751.2014.880791)
Krupinsky, Ally, Goettsch, Kristen, and Seurer, Leah. Impact analysis of loved one peer coaching on persons with the disease of addiction. Sioux Falls, SD: South Dakota Medicine.
Seurer, Leah. Family Communication in Health Contexts. In

Communication in Family Contexts: Theories and Processes

, edited by Kristina Scharp & Elizabeth Dorrance Hall . New York, NY: John Wiley & Sones.
---
Awards and Honors:
Top Paper Award, Division of Family Communication, National Communication Association, 2013
---
Presentations:
Seurer, Leah.

Talking about survival, life, and death: Examining different family perspectives

. Presented at the NCA Convention, Baltimore, MD. (November 16, 2019)
Seurer, Leah.

"God doesn't make mistakes": Memorable messages, adjustment, and grief following family death

. Presented at the NCA Convention, Baltimore, MD. (November 16, 2019)
Seurer, Leah.

The Struggle is Real: Promoting Survival in the Academy through Sharing Stories of Struggle

. Presented at the NCA Convention, Baltimore, MD. (November 14, 2019)
Seurer, Leah.

Unpacking Power and Privilege: Critical Pedagogy in Family and Interpersonal Communication

. Presented at the NCA Convention, Salt Lake City. (November 9, 2018)
Seurer, Leah, Droser, Veronica.

"Don't cry in public!"-Memorable messages and death in Family Communication

. Presented at the International Association of Relationship Research Conference, Fort Collins. (July 12, 2018)
Seurer, Leah.

Feminism in the classroom: Using pop-culture to help students understand difficult ideas

. Presented at the Denver Comic Con, Denver, CO. (June 16, 2018)
Seurer, Leah.

Creating Critically Engaged Citizens: Utilizing Diverse Pedagogical Strategies to Promote Civic Responsibility and Inclusive Behavior

. Presented at the NCA Convention, Dallas, TX. (November 17, 2017)
Seurer, Leah.

Advancing the Practical Legacy of Interpersonal: Envisioning the Methodological Realization of Critical Interpersonal Communication

. Presented at the NCA Convention, Dallas, TX. (November 16, 2017)