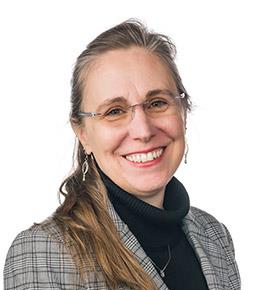 Lisa Bonneau
Assistant Provost
ACADEMIC AFFAIRS
Teaching Interests:
Non-Majors Biology, Ecology, Conservation
---
Research Interests:
Assessment and Learning in Biology and Natural Sciences, Restoration and Conservation of Fish and Aquatic Communities
---
Education:
Ph D, Zoology, Oklahoma State University, 2002
MS, Biology, Missouri State University, 1996
---
Licensures and Certifications:
VALUE Institute Certified Scorer, AAC&U
---
Publications:
Citations listed below are presented in a standardized, modified format for display purposes only. They do not necessarily reflect the preferred style and conventions of the faculty member or discipline.
Bonneau, Lisa, Zerr, Ryan, Kelsch, Anne, and Hawthorne, Joan. Assessing the Impact of General Education on Student Learning. In

Generally Speaking: The Impact of General Education on Student Learning in the 21st Century

, edited by M.J. Smith and K.L. Tarantino. Gorham, ME: Myers Education Press, 2019.
Bonneau, Lisa. Patterns in Student Ratings of Instruction, 6-10. Iss. Summer. Intersection, 2018.
Buitrago-Suarez, Uriel A., Mojica Corzo, Jose I., and Bonneau, Lisa. Habitat perturbation and survival strategies of the Andean catfish Astroblepus mariae (Fowler, 1919), 36. Vol. 39, Iss. 150. Revista de la Academia Colombiana de Ciencias Exactas, Físicas y Naturales, 2015. (DOI: 10.18257/raccefyn.100)
Hitt, Nathan P., Bonneau, Lisa, Jayachandran, Kunjuraman V., and Marchetti, Michael P.. Freshwater Ecosystems and Biodiversity., 5-16. Vol. 5. New York, New York: Lessons in Conservation/Network of Conservation Educators and Practioners, Center for Biodiversity and Conservation, American Museum of Natural History, 2010.
Echelle, Alice F., Echelle, Anthony A., Bonneau, Lisa, Allan, Nathan L., and Karges, John. Effects of a restoration effort on an endangered pupfish (Cyprinodon bovinus) after genetic introgression by a non-native species. In

Homenaje al Doctor Andres Resendez Medina.

, edited by A.J. Contreras-B. and Ma.de L. Lozano-v. Monterrey: Universidad Autonoma de Nuevo Leon., 2004.
---
Awards and Honors:
Missouri Governor's Award for Excellence in Teaching, 2012
---
Presentations:
Vidler, Laura, Bonneau, Lisa.

Coaching as a Mechanism to Improve Campus Assessment Strategies

. Presented at the AAC&U General Education and Assessment Conference, San Francisco, CA. (February 15, 2019)
Bonneau, Lisa, Grieve, Kimberly.

Dismantling Silos to Promote Student Learning and Success

. Presented at the AAC&U General Education and Assessment Conference, San Francisco, CA. (February 15, 2019)
Bonneau, Lisa, Grieve, Kimberly.

No More Silos: Improving Assessment Through the Development of a Systematic Institutional Process of Gathering Student Learning Outcome Data

. Presented at the Association for the Assessment of Learning in Higher Education Annual Conference, Salt Lake City, UT. (June 7, 2018)
Bonneau, Lisa.

Assessment Upgrade: Using Technology and Social Media to Improve Assessment.

. Presented at the Higher Learning Commission Annual Conference, Chicago, IL. (April 9, 2018)
Moran, James, Bonneau, Lisa, Raney, David.

Program Review, Strategic Planning, and Budgeting: Data Tools to Improve Student Success.

. Presented at the Higher Learning Commission Annual Conference, Chicago, IL. (April 8, 2018)
Bonneau, Lisa.

Implementation of a Software Platform for Assessment and Strategic Planning: Leading Through and After an Upgrade.

. Presented at the Women in Educational Leadership Conference, Lincoln, NE. (October 2, 2017)
Moran, James, Bonneau, Lisa, Raney, David.

Using Data to Improve: The Provost Office's Perspective.

. Presented at the Higher Learning Commission Annual Conference, Chicago, Illinois. (April 2017)
Bonneau, Lisa, Lowden, Dennis.

The Land Ethic: A learning community with Environmental Science and Professional Ethics.

. Presented at the National Learning Communities Conference, Atlanta, Georgia. (2009)