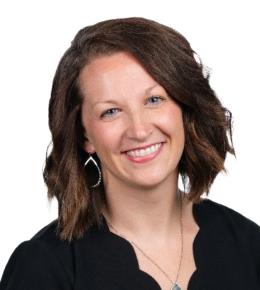 Mackenzie Feldhacker
Assistant Professor
OCCUPATIONAL THERAPY
Bio:
My clinical experience includes inpatient/outpatient rehabilitation, home healthcare, skilled nursing, and rural healthcare. I am a Certified Lymphedema Therapist, certified through the Lymphology Association of North America and a certified CarFit Event Coordinator.
---
Teaching Interests:
I teach course content related to the philosophical and theoretical foundation of occupational therapy, neurology of occupation, preparatory methods and physical agent modalities, physical health conditions, and environmental influences.
---
Research Interests:
My scholarship interests include occupation-based intervention and quality of life with lymphedema, occupational therapy's distinct role in multidisciplinary interventions, and student learning and professional development.
---
Education:
BS, Health Sciences, Creighton University, 2012
OTD, Occupational Therapy, Creighton University, 2012
---
Licensures and Certifications:
Licensed Occupational Therapist, South Dakota Board of Medical and Osteopathic Examiners
Certified Event Coordinator, CarFit
Certified Lymphedema Therapist, Lymphology Association of North America
Licensed Occupational Therapist, State of Iowa
Board Certified Occupational Therapist, National Board for Certification in Occupational Therapy
---
Grants:
Health Utilization and Needs of Caregivers, USD School of Health Sciences Research Committee. Grant Role: Co-Principal. (2021 - 2022)
---
Publications:
Citations listed below are presented in a standardized, modified format for display purposes only. They do not necessarily reflect the preferred style and conventions of the faculty member or discipline.
Ikiugu, Moses, Feldhacker, Mackenzie, Schneider, Jenae, and Wangberg, Rebecca. Mental health and well-being of informal caregivers for adults with traumatic brain injury: A meta-analysis. Thorofare, New Jersey: Annals of International Occupational Therapy, 2021.
Lohman, Helene, Coppard, Brenda M., and Raber, Mackenzie. Orthotic Intervention for Nerve Injuries. In

Introduction to Orthotics: A Clinical Reasoning & Problem-Solving Approach

, 293-323. Iss. Fourth Edition. St. Louis, MO: Elsevier Mosby, 2015.
Feldhacker, Mackenzie, and Kamphoff, Keri. Occupational therapists addressing quality of life issues for clients with lymphedema. OTJR: Occupational, Participation, & Health.
---
Awards and Honors:
Early Career Teaching Excellence Award for Commitment to Student-Centered Learning, USD School of Health Sciences, 2020