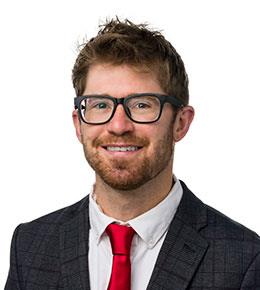 Matt Dewald
Assistant Professor
PHYSICAL THERAPY
Bio:
I'm a graduate of USD twice (Go 'Yotes)! I have worked in South Dakota, Iowa and Colorado with Board Certifications in both Sports Physical Therapy and Orthopedic Physical Therapy.
---
Teaching Interests:
Musculoskeletal Physical Therapy, Sports Physical Therapy, Dry Needling, and Movement Science.
---
Research Interests:
Running Related Injuries, Dry Needling, EMG Studies and Diagnostic Ultrasound.
---
Education:
DPT, Doctor of Physical Therapy, University of South Dakota, 2008
BS, Psychology, University of South Dakota, 2005
---
Licensures and Certifications:
Clinical Specialist in Sports Physical Therapy, American Board of Physical Therapy Specialist
Emergency Medical Responder, American Red Cross
SASTM Method of Instrument Assisted Soft Tissue Mobilization
Functional Dry Needling Level 1, Kinetacore
Functional Dry Needling Level 2, Kinetacore
Clinical Specialist in Orthopaedic Physical Therapy, American Board of Physical Therapy Specialist
Certified Strength and Conditioning Specialist, National Strength and Conditioning Association
BLS for Healthcare Providers, American Heart Association
Protecting Human Research Participants, National Institutes of Health
---
Presentations:
Cross, Patrick, Black, Brett, Johnson, Megan, Wienk, Brian, Nelson, Heidi, Dewald, Matt.

Physical therapists' knowledge of continuous therapeutic ultrasound parameters.

. Presented at the 2020 Spring IPTA Conference, Des Moines, IA. (2020)
Dewald, Matt, Deiter, Andrew, Gross, Eric, Moravec, Grant, Willis, Dylan.

Short-term effects of dry needling on hamstring length in an adult population.

. Presented at the BCU Excellence Event. (2019)
Dewald, Matt, Campbell, Alicia, Love, Brenden.

Effects of transverse abdominal isometric exercise on inter-rectus distance: A case study.

. Presented at the BCU Excellence Event. (2018)
Pat, Hauer, Haacke, Todd, Jorgensen, Tyson, Reyes, Andrele, Robertson, Dane, Dewald, Matt.

EMG assessment of novel exercises to maximize gluteus medius activation.

. Presented at the BCU Excellence Event. (2018)
Dewald, Matt, Ecklund, Julia, Murphy, Jestin, Leloux, Anna, Whitten, Brandon.

The effects of dry needling on runners.

. Presented at the BCU Excellence Event. (2018)
Klappa, Susan, Klappa, Scott, Adams, Jason, Cross, Patrick, Dewald, Matt, Hauer, Pat, Nelson, Heidi, Strong, Eric, Wienk, Brian.

Understanding good research: beyond the classroom and journal club.

. Presented at the Combined Sections Meeting 2018, New Orleans, LA. (2018)
Dewald, Matt, Cross, Patrick, Wienk, Brian, Klappa, Susan.

DPT students' confidence improves with sideline coverage experience.

. Presented at the Spring Iowa Physical Therapy Association Meeting, Des Moines, IA. (2018)
Wienk, Brian, Dewald, Matt, Strong, Eric, Nelson, Heidi, Cross, Patrick, Hauer, Pat, Klappa, Susan.

Integrated clinical correlations model develops social responsibility while meeting the healthcare needs of underserved multicultural populations.

. Presented at the Combined Sections Meeting. (2017)
Klappa, Susan, Strong, Eric, Wienk, Brian, Dewald, Matt, Nelson, Heidi, Hauer, Pat, Adams, Jason, Cross, Patrick, Lloyd, Megan.

Beyond PICO, CAT walks, and journal clubs, cinematography connects students to EBP.

. Presented at the Educational Leadership Conference, Columbus, OH. (2017)
Dewald, Matt, Klappa, Susan, Wahab, Jaimie.

Dry needling as a novel treatment of clonus and spasticity.

. Presented at the Iowa Physical Therapy Association Spring Conference, Des Moines, IA. (2017)
Hauer, Pat, Gazda, Rachel, Gunderson, Drew, Herbold, Grace, Knudson, Mickey, Lynch, John, Dewald, Matt.

EMG Activation during a Compound Bow Shot: A Pilot Study.

. Presented at the IPTA State Meeting, Des Moines, IA. (2017)
Dewald, Matt.

Clinical Pearls of training runners for injury prevention and performance.

. Presented at the North Central Regional Conference, St. Paul, MN. (2017)
Dewald, Matt.

Dry Needling

. Presented at the Northwest District Iowa Physical Therapy Association Meeting, Sioux City, IA. (2016)