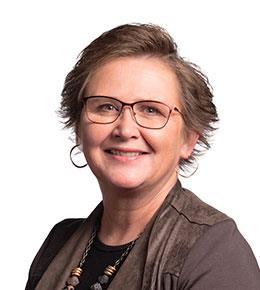 Robin Wiebers
Associate Dean
EDUCATION
Bio:
Before coming to USD in 2011, I taught Spanish and French in Beresford, SD. In 2000 and 2008, I was a mentor in USD's PDC program. In 2000, I completed my masters in curriculum and instruction. In 2008, I completed my preK-12 admin. degree and doctoral coursework in curriculum and instruction.
---
Teaching Interests:
Field experiences<br>Student teaching<br>Early years of teaching
---
Research Interests:
Building positive teacher/student relationships that promote academic achievement.<br><br>Danielson Model of evaluation
---
Education:
EDD, Secondary Education, University of South Dakota, 2014
PreK-12 Administration Degree, Administration, The University of South Dakota, 2008
MA, Curriculum and Instruction, The University of South Dakota, 2001
BA, French, South Dakota State University, 1990
---
Licensures and Certifications:
k-12 administration
K-12 French Teacher
k-12 Spanish Teacher
---
Publications:
Citations listed below are presented in a standardized, modified format for display purposes only. They do not necessarily reflect the preferred style and conventions of the faculty member or discipline.
Suzanne, Kaback, and Wiebers, Robin. School Context Factors That Support Beginning Teacher Effectiveness. In

Network for Excellence in Teaching

..
Kindle, Karen, Shudak, Nicholas, Wiebers, Robin, Campoli, Ayana, Baron, Mark, and EastonBrooks, Donald. Teacher Residency in South Dakota, 1-17. Vermillion, SD: University of South Dakota: Center for Educational Research, 2016.
Shudak, Nicholas, and Wiebers, Robin. The Professional Development Center as a Collaborative Apprenticeship. In

University Partnerships for Preservice and Teacher Development

, edited by Blessinger, P. and Carfora, B. . Vol. 10. Emerald Group Publishing.
---
Presentations:
Kindle, Karen, Wiebers, Robin.

Developing the Mentoring Minsdet

. Presented at the National Center for Teacher Residencies Symposium, Chicago, IL. (May 17, 2018)
Kindle, Karen, Wiebers, Robin.

Developing the Mentoring Mindset

. Presented at the NCTR Annual Symposium, Chicago, IL. (May 2018)
Wiebers, Robin M., Kindle, Karen J..

The Induction and Mentoring of Mentors: Training Educators as Coaches of Pre-Service Teachers

. Presented at the AACTE Annual Meeting, Baltimore, Maryland. (March 2, 2018)