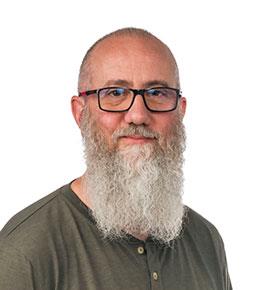 Scott Mollman
Associate Professor
THEATRE
Bio:
Scott has been Technical Director and/or Production Manager at the USD Playhouse, Omaha Theater Company for Young People, the Utah Musical Theatre Company in Ogden, Utah, Hilberry Repertory Company in Detroit, MI and the Black Hills Playhouse in Custer, South Dakota.
---
Teaching Interests:
I have strong interest in scenery automation, rigging and production process.
---
Research Interests:
Developing a "Green" scene shop. New and less expensive ways of constructing scenery.
---
Education:
MFA, Technical Theatre, Wayne State University, 2004
BFA, Fine Arts-Theatre, University of South Dakota, 1996
---
Licensures and Certifications:
EMS Safety 1st Aid, CPR and AED instructor license , EMS Safety
EMS Safety 1st Aid, CPR and AED license , EMS Safety
Powered industrail lift trucks, Herc-U-Lift INC.
---
Research:
Advanced Motion Control AWU, Shakespeare Theatre, Washington DC, (2008 - 2008)
---
Grants:
ArtWorks, National Endowment for the Arts. Grant Role: Co-Principal. (2018 - 2019)
South Dakota Shakespeare Festival, Sanford Vermillion. (2017 - 2017)
South Dakota Shakespeare Festival, Sanford Vermillion. (2016 - 2016)
South Dakota Shakespeare Festival, City of Vermillion. (2016 - 2016)
Project Grant: South Dakota Shakespeare Festival, South Dakota Arts Council. (2016 - 2016)
South Dakota Shakespeare Festival, United Way. (2015 - 2016)
South Dakota Shakespeare Festival, Vermillion Chamber and Development Company. (2015 - 2015)
Project Grant: South Dakota Shakespeare Festival, South Dakota Arts Council. (2015 - 2015)
South Dakota Shakespeare Festival, Vermillion Chamber and Development Company. (2014 - 2014)
Matching Dollars Challenge Grant, South Dakota Department of Tourism. Grant Role: Co-Principal. (2012 - 2012)
South Dakota Shakespeare Festival, Vermillion Chamber and Development Company. (2012 - 2012)
Project Grant: South Dakota Shakespeare Festival, South Dakota Arts Council. Grant Role: Co-Principal. (2012 - 2012)
Facutly Travel Grant, Centers for Teaching and Learning. Grant Role: Principal. (2011 - 2011)
Mobile Computing Breakthroughs in the Performing Arts, MCI Best Practices Grant. Grant Role: Principal. (2011 - 2011)
South Dakota Shakespeare Festival, Vermillion Area Community Foundation. (2016)
South Dakota Shakespeare Festival, Vermillion Area Community Foundation. (2015)
Project Grant: South Dakota Shakespeare Festival, South Dakota Arts Council. (2014)
MCI Scholarship of Teaching and Learning Mini Grant, Center for Teaching and Learning. Grant Role: Co-Principal. (2011)
---
Awards and Honors:
Knutson Distinguished Professor Award, USD College of Fine Arts, 2016
Knutson Distinguished Professor Award, USD College of Fine Arts, 2016
---
Presentations:
Mollman, Scott, Pellecchia, Anthony.

Effects: Air is for more than just breathing.

. Presented at the Omaha Community Playhouse Career Expo, Omaha, NE. (February 26, 2013)
Mollman, Scott, Black, Mary, Hillhouse, Heather, Tysinger, Zach.

Platforms Revisited: A discussion of Stock Platforms

. Presented at the United States Institute of Theatre Technology, Inc, Charlotte, NC. (March 9, 2011)