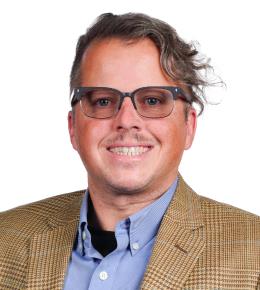 Sean Kammer
Professor
LAW SCHOOL
Bio:
Dr. Sean M. Kammer is a professor of law. Prior to joining the USD Law faculty, he taught natural resources law courses at Lewis & Clark Law School in Portland, Oregon and legal history at the University of Nebraska. A graduate of Duke Law School, Professor Kammer also earned his doctor of philosophy in history from the University of Nebraska.
---
Teaching Interests:
Natural Resources Law<br>Environmental Law<br>Torts <br>Minerals and Energy<br>Legal History<br>Advanced Legal Writing<br>Foundations of Law
---
Research Interests:
Public Lands<br>Wilderness<br>Legal Profession<br>Legal History
---
Education:
Ph D, History, University of Nebraska, 2015
JD, Duke University School of Law, 2004
BA, History, University of Wyoming, 2000
---
Publications:
Citations listed below are presented in a standardized, modified format for display purposes only. They do not necessarily reflect the preferred style and conventions of the faculty member or discipline.
Kammer, Sean. Sarah E. Christopherson, Reserving a Place for Nature on Spaceship Earth: Rethinking the Role of Conservation Easements, 43 Columbia J. Envt'l. L. 1 (2018)..
Kammer, Sean. Whether or Not Special Expertise is Needed: Anti-Intellectualism, the Supreme Court, and the Legitimacy of Law, 63 S.D. L. Rev. 287 (2018)..
Kammer, Sean. Book Review, Middle West Rev., Spring 2017, at 97 (reviewing R. Alton Lee, Sunflower Justice: A New History of the Kansas Supreme Court (2014))..
Kammer, Sean. No-Analogue Future: Challenges for the Laws of Nature in a World Without Precedent, 42 Vt. L. Rev. 227 (2017)..
Kammer, Sean. Railroad Land Grants in an Incongruous Legal System: Corporate Subsidies, Bureaucratic Governance, and Legal Conflict in the United States, 1850-1903, 35 L. & Hist. Rev. 391 (2017)..
Kammer, Sean. Ashley K. Hoffman, Smoking Out Forest Fire Management: Lifting the Haze of an Unaccountable Congress and Lighting Up a New Law of Fire, 60 S.D. L. Rev. 41 (2015)..
Kammer, Sean. "No Trespassing": Railroad Land Grants, the Right of Exclusion, and the Origins of Federal Forest Conservation, 90 N.D. L. Rev. 87 (2014)..
Kammer, Sean. Book Review, 73 Annals of Iowa 385 (2014) (reviewing Larry Haeg, Harriman vs. Hill: Wall Street's Great Railroad War (2013))..
Kammer, Sean. Book Review, 36 Kan. Hist. 137 (2013) (reviewing John N. Mack, Bucking the Railroads on the Kansas Frontier: The Struggle Over Land Claims by Homesteading Civil War Veterans, 1867-1876 (2013))..
Kammer, Sean. Coming to Terms with Wilderness: The Wilderness Act and the Problem of Wildlife Restoration, 43 Envt'l L. 83 (2013)..
Kammer, Sean. Public Opinion is More than Law: Popular Sovereignty and Vigilantism in the Nebraska Territory, 31 Great Plains Q. 309 (2011)..
Kammer, Sean. The Railroads Must Have Ties: A Legal History of Forest Conservation and the Oregon & California Railroad Land Grant, 1887-1916, 23 Western Legal Hist. 1 (2010)..
---
Presentations:
Kammer, Sean.

You Don't Buy or Sell that Kind of Place: Crater Lake National Park, Indian Treaty Rights, and Wilderness as Contested Ground

. Presented at the Western History Association's 52nd Annual Conference, Denver, CO. (October 6, 2012)
Kammer, Sean.

Friend or Foe of the Forest: The Southern Pacific Railroad and Federal Land Management in Oregon, 1887-1916

. Presented at the Western History Association's 50th Annual Conference, Lake Tahoe, NV. (October 2010)
Kammer, Sean.

Squatter Sovereignty, 'Self-Made Men,' and the Nebraska Frontier

. Presented at the The Thirty-First Mid-America Conference on History, Norman, OK. (October 2009)