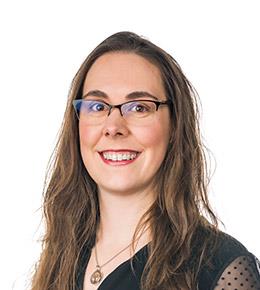 Sonja Kraus
Assistant Professor, Cello/Double Bass, Rawlins Piano Trio
MUSIC
Bio:
Dr. Sonja Kraus, a native of Germany, is an internationally acclaimed cellist, teacher, and music scholar, whose concertizing and teaching career has taken her through Europe, Asia, Latin America, and the United States. Currently, Kraus holds the position of Assistant Professor of Cello/Bass at the University of South Dakota and is the cellist in the renowned Rawlins Piano Trio. Prior to joining the faculty at the University of South Dakota, Kraus was the Cello Professor at the Universidad de Especialidades Espíritu Santo as well as the principal cellist of the Orquesta Filarmónica Municipal de Guayaqil in Ecuador. Kraus holds her bachelor's in Cello Performance and Pedagogy from the State University of Music and Performing Arts in Stuttgart (Germany) as well as a master's and doctoral degree from the Jacobs School of Music - Indiana University Bloomington where she studied with Prof. Emilio Colón, the 2017 Artist of the year by the New York Classical Music Society. Kraus is a sought-out performer, clinician, and instructor of masterclasses throughout the US, Latin America, and Germany with invitations to the Colegio Universitario San Gerónimo de La Habana (Cuba), Conservatorio de Música de Puerto Rico, Jacobs School of Music - Indiana University (IN), Chapman University (CA), and University of Lincoln (NE). Kraus participated in several music festivals around the world including Habana Clásica, the International Chamber Orchestra of Puerto Rico, and the Fresno Summer Orchestra Academy. As a researcher, Kraus focuses on broadening the cello repertoire by identifying manuscripts and creating editions of unpublished cello works from the classical era, currently focusing on three Cello Concertos by Franz Anton Hoffmeister.
---
Teaching Interests:
Cello, Double Bass, Chamber Music, Chamber Orchestra, String Methods, String Pedagogy, Music Theory, Music Appreciation
---
Research Interests:
Franz Anton Hoffmeister, Unpublished Cello Repertoire of the 18th-19th Century, Music Education in Third World Countries, Injury Rehabilitation and Prevention<br>
---
Education:
DM, Cello Performance, Indiana University - Jacobs School of Music, 2019
MA, Cello Performance, Indiana University - Jacobs School of Music, 2013
BA, Cello Performance and Pedagogy, State University of Music and Performing Arts Stuttgart, 2012
---
Grants:
Touring Arts Roster, Rawlins Piano Trio, South Dakota Arts Council. Grant Role: Co-Principal. (2020 - 2022)
---
Publications:
Citations listed below are presented in a standardized, modified format for display purposes only. They do not necessarily reflect the preferred style and conventions of the faculty member or discipline.
Kraus, Sonja. Franz Anton Hoffmeister's Concerto for Violoncello and Orchestra in D Major - A Scholarly Performance Edition. Edited by Dr. David Lasocki, 134. Bloomington, IN: IU Scholar Works, 2019.
---
Awards and Honors:
Dissertation Competition Award, Indiana University, 2017
Dissertation Award, Cusanuswerk, 2016
Popper Competition, 1st Prize, Fresno State University, 2015
Eva Heinitz Scholarship Award, Indiana University, 2015
Round Top Festival Institute Award, James Dick Foundation for the Performing Arts, 2015
Graduate Tuition Award, Indiana University, 2014
Indianapolis Matinee Musicale Competition, 1st Prize, Indianapolis Matinee Musicale, 2014
---
Presentations:
Kraus, Sonja.

It's all about that bass...and cello technique

. Presented at the Nebraska Music Education Association Conference, Virtual. (October 24, 2020)
Kraus, Sonja.

Intonation and Shifting

. Presented at the Virtual Cello Camp 2020, (virtual) Melbourne, Australia. (July 3, 2020)
Kraus, Sonja.

It's all about that bass...and cello technique

. Presented at the Minnesota Music Educators Association Midwinter Clinic, Minneapolis, MN. (February 14, 2020)
Kraus, Sonja.

It's all about that bass...and cello technique

. Presented at the Iowa Music Educators Association Conference, Ames, IA. (November 22, 2019)
Kraus, Sonja.

Developing Creativity and Talent

. Presented at the Honors Seminar, Lincoln, NE. (October 31, 2019)
Kraus, Sonja.

Franz Anton Hoffmeister's Concerto for Violoncello and Orchestra in D major - A Scholarly Performance Edition

. Presented at the Doctoral Defense, Bloomington, IN. (September 3, 2019)
Kraus, Sonja.

Motivation - Purpose - Planning

.
Kraus, Sonja. Presented at the College Music Teaching, Indiana University Bloomington. (March 4, 2019)
Kraus, Sonja.

You got the job! Now what?

. Presented at the Project Jumpstart, Indiana University Bloomington. (March 4, 2019)
Viquez Cordoba, Luis Adolfo, Sanderson, David, Galu, Ioana, Kraus, Sonja.

Orchestral Conducting Masterclass and Reading Session with Repertoire for the Public School Program

. Presented at the South Dakota String Teachers Association Annual Conference, Mitchell High School. (February 23, 2019)