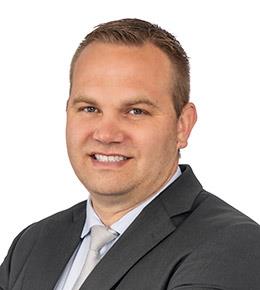 Tyler Custis
Assistant Professor
BEACOM SCHOOL OF BUSINESS
Education:
JD, University of South Dakota, 2013
MBA, University of South Dakota, 2012
BS, Texas A&M University, 2007
---
Publications:
Citations listed below are presented in a standardized, modified format for display purposes only. They do not necessarily reflect the preferred style and conventions of the faculty member or discipline.
Golden, McKenna, Custis, Tyler, and Cornelsen, Erin. The Pursuit of Steady Growth: A Case Study of Brixmor Executive Fraud, 171-186. Vol. 24. Research on Professional Responsibility and Ethics in Accounting, 2021. (DOI: http://doi.org/10.1108/S1574-076520210000024009)
Simsek, Serhat, Albizri, Abdullah, Johnson, Marina, Custis, Tyler, and Weikert, Stephan. Predictive Data Analytics for Contract Renewals: A Decision Support Tool for Managerial Decision Making, 718-732. Vol. 34, Iss. 2. Journal of Enterprise Information Management, 2020. (DOI: https://doi.org/10.1108/JEIM-12-2019-0375)
Barclay, Rachel, and Custis, Tyler. Facilitators of Corruption: A Case Study Involving Credit Suisse in Mozambique, 71-81. Vol. 21. Journal of the Academy of Business Education, 2020.
Ragothaman, Srinivasan, and Custis, Tyler. GAAP Violations at Thor Industries: What are the Lessons?. Journal of Forensic and Investigative Accounting, 2020.
Custis, Tyler, Hoben, Meghan, and Larsen, Payton. Big Money, Corruption, and Black Markets: A Closer Look at the Legal and Economic Effects of Amateurism in Division I NCAA College Athletics, 399-415. Vol. 9, Iss. 4. Sport, Business and Management: An International Journal, 2019. (DOI: https://doi.org/10.1108/SBM-09-2018-0070)
Horton, Thomas, DeGroot, Drew, and Custis, Tyler. ADDRESSING THE CURRENT CRISIS IN NCAA INTERCOLLEGIATE ATHLETICS: WHERE IS CONGRESS?. Milwaukee, Wisconsin: Marquette Sports Law Review, 2016.
Sorbe, Josh, Custis, Tyler, and Weinandt, Mandie. The NCAA's Breaking Point for Equal Opportunity: A Title IX Perspective on Name, Image, and Likeness Sponsorship Legislation. Journal for the Study of Sports and Athletes in Education.
---
Awards and Honors:
Best Paper Award, 2019 Information and Communication Technologies on Organizations and Society 5th International Conference, 2019
---
Presentations:
Ragothaman, Srinivasan, Custis, Tyler, Christianson, Melissa.

Wells Fargo Fake Accounts Scandal

. Presented at the Summer Accounting Institute, Beacom Hall, Vermillion, SD. (July 13, 2021)
Sorbe, Josh, Custis, Tyler, Weinandt, Mandie.

The NCAA's Breaking Point for Equal Opportunity: A Title IX Perspective on Name, Image, and Likeness Sponsorship Legislation

. Presented at the Beacom Scholar Series, Vermillion, SD. (April 21, 2021)
Ragothaman, Srinivasan, Custis, Tyler, Christianson, Melissa.

Wells Fargo Fake Accounts Scandal and Internal Control Failures

. Presented at the Summer Accounting Institute, Virtual. (July 2020)
Golden, Mckenna, Custis, Tyler, Cornelsen, Erin.

The Pursuit of Steady Growth: A Case Study of Brixmor Executive Fraud

. Presented at the Beacom Scholar Series , Vermillion, SD. (April 22, 2020)
Simsek, Serhat, Albizri, Abdullah, Johnson, Marina, Custis, Tyler, Weikert, Stephan.

Predictive Data Analytics for MLB Contract Renewals: A Decision Support Tool for Managerial Decision Making

. Presented at the ICTO 2019 Conference: The Impact of Artificial Intelligence on Business and Society, Lille, France. (October 24, 2019)
Ragothaman, Srinivasan, Custis, Tyler.

Wells Fargo Fake Accounts Scandal and Internal Control Failures

. Presented at the AAA - Forensic Accounting Midyear Conference, St. Louis, MO. (March 2, 2019)
Ragothaman, Srinivasan, Christianson, Melissa, Custis, Tyler.

Wells Fargo Fake Accounts Scandal and Internal Control Failures

. Presented at the Beacom Scholar Series, Beacom Hall, Vermillion, SD. (February 2019)
Ragothaman, Srinivasan, Christianson, Melissa, Custis, Tyler.

Wells Fargo Fake Accounts Scandal: What are the Lessons?

. Presented at the Mountain Plains Business Conference, Omaha, NE. (October 27, 2018)
Custis, Tyler.

Family Business Research Findings

. Presented at the Prairie Family Business Association Annual Conference, Sioux Falls, SD. (April 12, 2018)
Custis, Tyler.

Solving The NCAA Crisis

. Presented at the Beacom Scholar Series, Vermillion, SD. (March 30, 2016)