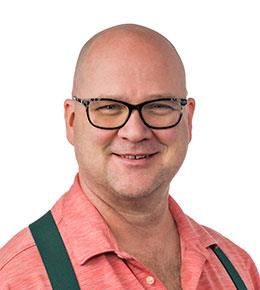 Victor Shonk
Associate Professor
THEATRE
Bio:
Victor E. Shonk is a scenic designer. He has designed scenery for theatre, opera, Industrials, and television (2005 Regional Emmy Award). His work has been seen in Ohio, Michigan, Mississippi, Massachusetts, Pennsylvania, New York, Wisconsin, and California.
---
Teaching Interests:
Scenic Design, Model Building, Scenic Painting, Period Styles, Property Construction, Drafting
---
Research Interests:
Communication through the use of scale models, Props construction techniques, Theatrical pedagogy.
---
Education:
MFA, Scenic Design, The Ohio State University, 2010
Theatre/Scenic Design, Ohio University, 1996
---
Licensures and Certifications:
Certificate of Acheivment , Herc-U-Lift Inc.
---
Grants:
CFA Travel Funds Grant, USD College of Fine Arts. (2018 - 2018)
1/2" Scale Pre-visulization Model Box for Media, Lighting and Scenery, United States Institute for Theatre Technology. Grant Role: Co-Principal. (2017 - 2019)
CFA Travel Funds Grant, USD College of Fine Arts. (2017 - 2017)
Mobile Computing (MCI) Grant, Center for Teaching and Learning. (2015 - 2015)
---
Publications:
Citations listed below are presented in a standardized, modified format for display purposes only. They do not necessarily reflect the preferred style and conventions of the faculty member or discipline.
Shonk, Victor. Romeo and Juliet. Vol. 2017. Taipei City: World Stage Design, 2017.
Shonk, Victor. Shapes Game. In

Projects for Teaching Scenic Design: A Compendium Volume 2

, edited by Tammy Honesty, Gion DeFrancesco, and Brian Rugggaber, Asst. Editor, 31-1 & 2. Vol. 2. Syracuse, NY: The United States Institution for Theatre Technology, Inc., 2016.
---
Awards and Honors:
Achievement in Projection Design Commendation, Kennedy Center American College Theatre Festival, 2019
Achievement in Scenic Design Commendation, Kennedy Center American College Theatre Festival, 2019
Achievement in Scenic Design Commendation, Kennedy Center American College Theatre Festival, 2019
Achievement in Scenic Design Commendation, Kennedy Center American College Theatre Festival, 2018
Belbas-Larson Award for Excellence in Teaching, Nomination, University of South Dakota, 2017
Achievement in Scenic Design Commendation, Kennedy Center American College Theatre Festival, 2017
Achievement in Scenic Design Commendation, Kennedy Center American College Theatre Festival, 2017
BroadwayWorld Sioux Falls Regional Award-Nomination, BroadwayWorld, 2015
BroadwayWorld Sioux Falls Regional Award-Nomination, BroadwayWorld, 2014
BroadwayWorld Sioux Falls Regional Award-Nomination, BroadwayWorld, 2014
Theatre Roundtable Award, Columbus Theatre Roundtable, 2011
Emmy Award, Ohio Valley Emmy Award Chapter, 2005
Patron Scholarship, Ohio University-Lancaster, 1992
Patron Scholarship, Ohio University-Lancaster, 1991
Patron Scholoarship, Ohio University-Lancaster, 1990
Portfolio Scholarship, Columbus College of Art and Design, 1988
---
Presentations:
Shonk, Victor. Presented at the Stage Management Class, Zoom Meeting. (April 21, 2020)
Shonk, Victor.

Theatrical Drafting, AutoCAD

. Presented at the Missouri Thespian Festival, Kansas City, MO.. (January 9, 2020)
Shonk, Victor.

Teaching, Mentoring, and Modeling Design Presentations

. Presented at the United States Institute of Theatre Technology, Ft. Lauderdale, FL. (March 14, 2018)
Shonk, Victor.

Bamboo

. Presented at the United States Institute of Theatre Technology, St. Louis, MO. (March 2017)
Shonk, Victor.

What's Your Story?

. Presented at the Kennedy Center American College Theatre Festival, Des Moines, IA.. (January 24, 2017)
Shonk, Victor.

Shapes Game

. Presented at the LAMB Recruiting Event, Sioux City, IA. (January 12, 2016)
Shonk, Victor.

Decorate the Walls: Romeo and Juliet

. Presented at the United States Institute for Theatre Technology, Cincinnati, Ohio. (March 18, 2015)
Shonk, Victor.

Theodolite, a Fun Prop to Build

. Presented at the United States Institute for Theatre Technology, Cincinnati, Ohio. (March 18, 2015)