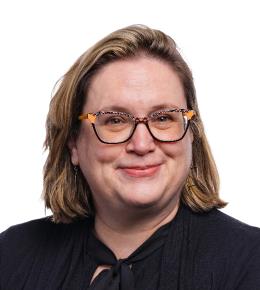 Wendy Hess
Professor
LAW SCHOOL
Bio:
Wendy Hess is an Associate Professor and Director of the Fundamental Legal Skills and Legal Writing Program. Her legal practice experience includes: directing the Prison Reform Project at the Public Justice Center, a non-profit law office in Baltimore, MD, where she also worked on educational access for children in foster care and enforcement of freedom of information laws; serving as the Francis Murnaghan Appellate Advocacy Fellow where she worked on poverty law and civil rights appellate cases in state and federal courts; and provision of civil legal services to prisoners and pretrial detainees in Central Pennsylvania with the Pennsylvania Institutional Law Project. She also completed two judicial clerkships, one for a judge on the Maryland Court of Appeals and the other for a judge on the U.S. District Court for the District of Maryland. Bar Admissions: South Dakota, Maryland, Washington DC
---
Teaching Interests:
Legal Skills, Client Interviewing & Counseling, Legal Writing, Juvenile Justice, Psychology & Law, Employment Discrimination, Gender & the Law
---
Research Interests:
Law Teaching Methods & Practices, Juvenile Transfer, Feminist Legal Theory
---
Education:
JD, Law, University of Denver College of Law, 1998
BA, Psychology; Government & Politics, University of Maryland, 1995
---
Licensures and Certifications:
South Dakota Bar Membership
Mediation, Phoenix School of Law
Maryland Bar Membership (inactive), MD Bar
DC Bar Membership (inactive), DC Bar
---
Publications:
Citations listed below are presented in a standardized, modified format for display purposes only. They do not necessarily reflect the preferred style and conventions of the faculty member or discipline.
Hess, Wendy. Addressing Sexual Harassment in the Legal Profession: The Opportunity to Use Model Rule 8.4(g) to Protect Women from Harassment, 96 U. Det. Mercy L. Rev. 579 (2019)..
Hess, Wendy. Emily Verhine, South Dakota's Data-Driven, Evidence-Based Juvenile Justice Reform, 62 S.D. L. Rev. 579 (2017)..
Hess, Wendy. Slut-Shaming in the Workplace: Sexual Rumors & Hostile Environment Claims, 40 NYU Rev. L. & Soc. Change 581 (2016)..
Hess, Wendy. Workplace Rumors About Women's Sexual Promiscuity as Gender-Based Insults Under Title VII, 31 ABA J. Lab. & Emp't L. 447 (2016)..
Hess, Wendy. Kids Can Change: Reforming South Dakota's Juvenile Transfer Law to Rehabilitate Children and Protect Public Safety, 59 S.D. L. Rev. 312 (2014)..
Hess, Wendy. Just Kids: Baltimore's Youth in the Adult Criminal Justice System, Just Kids Partnership (2010)..