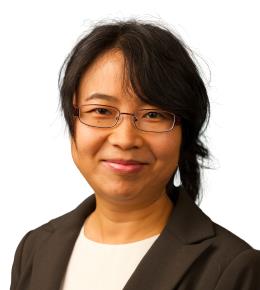 Ying Deng
Associate Professor
BIOMEDICAL ENGINEERING PROGRAM
Bio:
2001-2003, Postdoctoral researcher in Biomedical Engineering, Tsinghua University, China; 2004-2007, Postdoctoral researcher in Bioengineering, Rice University, Houston; 2008-Present, Assistant Professor of Biomedical Engineering, University of South Dakota, Sioux Falls.
---
Teaching Interests:
For graduate students: Tissue Engineering, Biomedical Engineering, Biotechnology for Biomedical Engineers, Experimental Design and Data Analysis in Biology. For undergraduate students: Biomedical technology.
---
Research Interests:
Tissue Engineering, antimicrobial, & biomaterial.
---
Grants:
EPSCoR RII Track-1: Understanding the rules at the boundaries of multicellular life, SDSMT. Grant Role: Supporting. (2019 - 2024)
EPSCoR Track-2: Data Driven Material Discovery Center for Bioengineering Innovation, NSF. Grant Role: Supporting. (2019 - 2023)
Orthopedic Implant Materials with Bacteria-resistant and Osteogenic Functions. Grant Role: Principal. (2013 - 2016)
Biomimetic Nanofibrous Scaffold for Annulus Fibrosus Engineering, South Dakota Board of Regents. Grant Role: Principal. (2010 - 2011)
Center for Engineered Biomedical Devices, Armed Forces Institute for Renerative Medicine. Grant Role: Co-Principal.
---
Publications:
Citations listed below are presented in a standardized, modified format for display purposes only. They do not necessarily reflect the preferred style and conventions of the faculty member or discipline.
Deng, Ying, and Lv, Wei. Biofilms and implantable medical devices. Edited by Ying Deng and Wei Lv. Sioux Falls: Woodhead publishing, 2017.
Bo, Yang, Lv, Wei, and Deng, Ying. Drug loaded poly(glycerol sebacate) as a local drug delivery system for the treatment of periodontal disease. Iss. 59. Sioux Falls: RSC Advances, 2017.
---