2021 Summit League Scholar-Athlete of the Year Awarded NCAA Postgraduate Scholarship
Soon after walking the commencement stage and receiving his diploma for a B.S. in chemistry, track and field scholar-athlete Jesse Sullivan discovered he was awarded a $10,000 post-graduate scholarship from the NCAA because of his academic and athletic excellence during his four years at the University of South Dakota.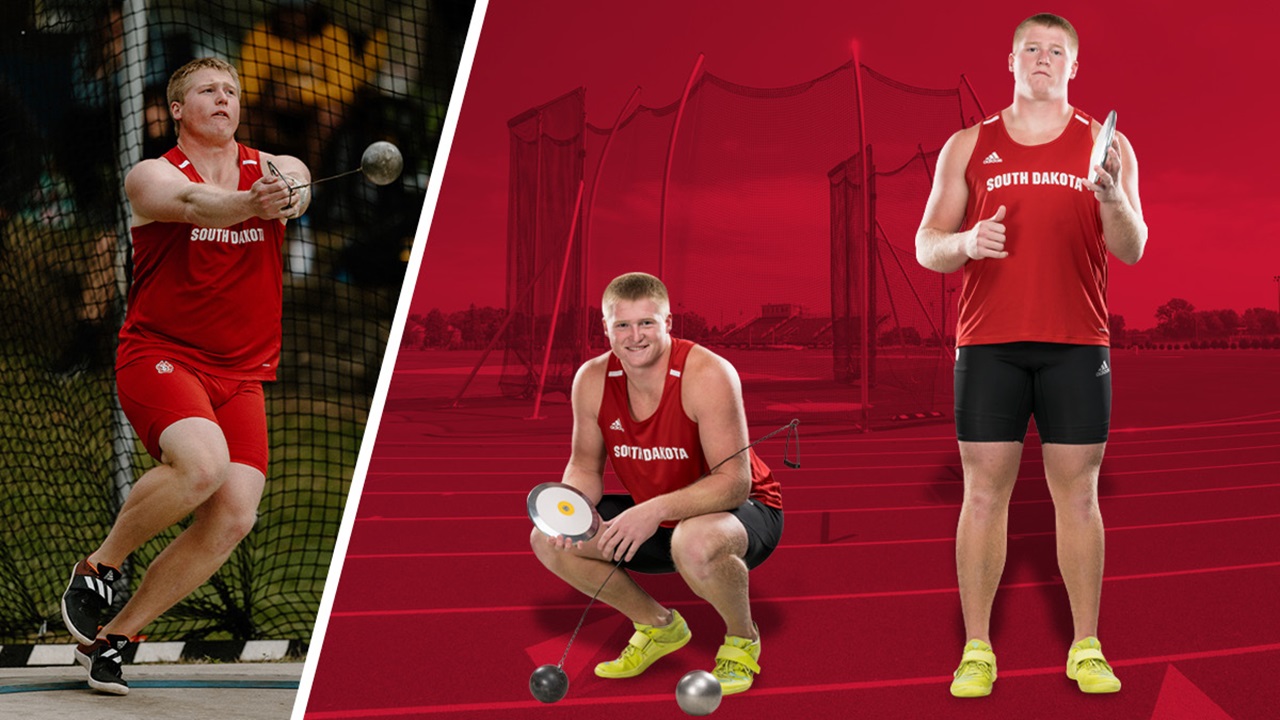 The NCAA Postgraduate Scholarship program was created in 1964 to promote and encourage postgraduate education by awarding the association's most accomplished student-athletes $10,000. The NCAA awards 126 scholarships across all sports and divisions each year. Awardees must carry a minimum 3.2 grade-point average, be nominated by the faculty athletics representative and intend to pursue graduate studies.
"I will be attending the University of Nebraska Medical Center (UNMC) in August to pursue my M.D.," Sullivan said. "Med school is pretty expensive, and this scholarship will really help me lighten the financial burden and be less stressed about the cost."
The Nebraska native maintained excellence as a student-athlete. In the classroom, he recently earned a Bachelor of Science degree in chemistry with minors in mathematics and biology, with a 4.0 GPA as an Honors student. On the field, Sullivan's intercollegiate athletics record includes participation in NCAA DI Men's Track and Field, and placing or winning the weight throw, hammer throw, shot put and discus.
Sullivan was the 2021 Summit League Scholar-Athlete of the Year, the most prestigious individual award presented annually by the league to one male and one female. Sullivan is a two-time Summit League Champion in the discus and a six-time all-league honoree. He broke the Coyote program record in the hammer throw at the Summit Championships this spring.
Sullivan has planned on attending medical school since his junior year of high school and appreciates how doctors can make patients feel more comfortable in uncomfortable settings.
"Becoming a doctor will allow me to accompany patients through difficult parts of life, which is something I want to do," Sullivan said.

Sullivan believes the chemistry degree he earned at USD will better prepare him for his medical school classes.
"Having a chemistry background will help me understand the basics of how the body works," Sullivan said. "I'll understand the molecular level a little bit better, so I think there's going to be classes that I'll have a head start on compared to some other students."
He attributes his success in academics to his professors and research opportunities. Sullivan spent time researching through the Research Experience for Undergraduates (REU) program where he focused on topics like metal-organic super container molecules. His thesis work focused on research Sullivan did with Professor CY Jiang, Ph.D.
"I've been a part of a research group every summer since I came to USD, and I've absolutely loved it," Sullivan said. "All my research experience is part of what helped me get into medical school and has really deepened my appreciation for what science is."
Several chemistry professors helped Sullivan balance his academic load with challenging track schedules and helped him discover his passion for chemistry.
"Rick Wang, associate professor of chemistry, was probably the first one that made a really big impact," Sullivan said. "Joe Vitt, associate professor of chemistry, did a good job of making me enjoy chemistry my freshman year and that was part of the reason why I switched from the medical biology major to chemistry. I had James Hoefelmeyer for inorganic chemistry, and he taught my favorite chemistry class. He was also a friendly person who made things really achievable during COVID."
Sullivan earned multiple departmental awards, scholarships and academic achievements during his time at USD.
"Jessie is an outstanding student and an accomplished athlete," Hoefelmeyer, Ph.D., chemistry department chair, said. "Jessie consistently demonstrates excellent scholarship. He was at the top of the class in Inorganic Chemistry and has an ability to master difficult concepts. His example is inspiring and energizing to students and faculty. In addition to his excellent contributions in the classroom, he was a valued member of the summer undergraduate research experience at USD. We are excited to see him off to medical school in the upcoming fall."

Balancing a full-time athletic and academic schedule is challenging; however, Sullivan believes he is prepared for the time commitment medical school will bring this fall.
"It made me learn how to compartmentalize what I was doing," Sullivan said. "That made me much more efficient and has also helped me prepare for medical school. I'm a little less worried going into the fall just because I know I handled a pretty crazy schedule between academics and athletics at USD. Now that I'll just be a full-time student, it'll be a little bit easier of a transition for me."
Sullivan will be joined at UNMC by his fiancé Taylor Olnes, who also graduated from USD this spring. Together they will both study to become doctors.
"We're debating on what specialty program would work best so that we can stay together and work, but I could definitely see myself doing family practice," Sullivan said. "It's really cool to build relationships with patients over extended periods of time. I can also see myself doing some sort of surgery because I've shadowed a couple of surgeons and I respect what they do, and the operating room is pretty cool."