A Pathway to Success: USD's Medical Biology Undergraduate Major
Since its founding in 2012, the medical biology major at USD has graduated nearly 400 students equipped with the skills and knowledge to pursue careers and graduate study in health-related fields. It's one of the most popular majors in the USD College of Arts & Sciences – home to the Department of Biology.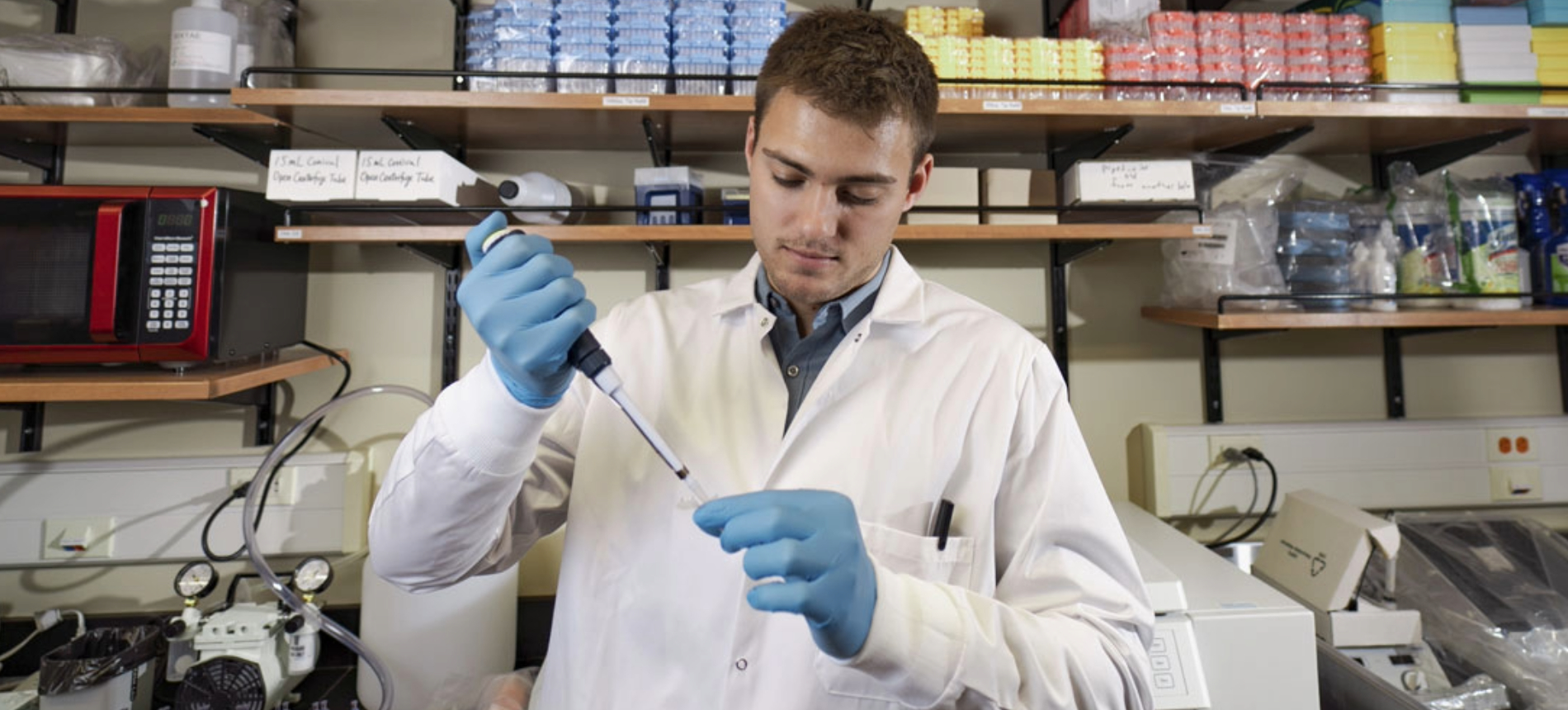 In October 2023, Ruby Hawks had just finished her first block of medical school classes and was enjoying a well-deserved break of a few days before starting the next session of intense coursework.
"It was kind of a doozy," said Hawks, a first-year student at the University of South Dakota Sanford School of Medicine who received her undergraduate degree from USD in May 2023. "People often compare medical school to trying to drink out of a fire hose. I concur."
Hawks felt up to the challenge, however – due not only to her hard work and study skills, but also to the preparation she received through her undergraduate degree in medical biology at USD.
"The medical biology program sets you up for success," she said.
Since its founding in 2012, the medical biology major at USD has graduated nearly 400 students equipped with the skills and knowledge to pursue careers and graduate study in health-related fields. It's one of the most popular majors in the USD College of Arts & Sciences – home to the Department of Biology.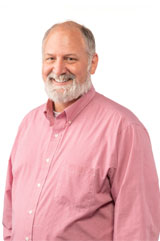 Jacob Kerby, Ph.D., professor and chair of biology, said the department formed the medical biology major when USD joined other U.S. medical schools in adopting new prerequisites recommended in a report by the Association of American Medical Colleges and the Howard Hughes Medical Institute.
While students who plan to apply to medical school can major in any subject, "medical biology is the only major on campus that includes all of the prerequisites for medical school built into it," Kerby said.
In the program, general courses in biology, chemistry and physics join additional required courses in physiology, anatomy, genetics, biomedical ethics, writing and math, among others.
These include undergraduate courses taught by faculty members of USD's Sanford School of Medicine, the only medical school in South Dakota.
"One of the special things about USD is that our students need to take biochemistry to get into medical school anywhere, and they need to take anatomy as well," Kerby said. "But, here, they literally take them with the same professors who would be teaching them in medical school. Being on campus with the medical school is a huge beneficial factor."
Of the medical biology graduates who go on to medical school, the vast majority attend the USD Sanford School of Medicine.
USD is also home to the Nolop Institute for Medical Biology, named for alumnus Keith Bradley Nolop, M.D., who graduated with an undergraduate degree from USD in 1975. The institute provides a fully funded scholarship each year to an incoming medical biology student and research grants to undergraduates performing medically oriented research.
Kerby highlights the opportunities available to medical biology students. "We have a great biology department that does a lot of research, and we have close ties with the medical school," he said. "Medical biology students are doing research on human health problems such as the flu, heart disease and cancer."
Unique Support for Medical Biology Students
Hawks was the second student to receive the Nolop Scholarship when she came to USD in 2019 after graduating from high school in Hartford, South Dakota. USD fulfilled all the requirements she had for a college – broad liberal arts education, frequent interactions with medical students and faculty members during her undergraduate years, and a location close to home. "I'm a big family person," said Hawks, the oldest of three children.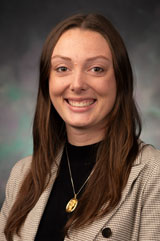 Her Nolop Scholarship also fostered connections with faculty in the biology department, such as the one she forged with Kerby, who became her research mentor. An ecologist who focuses on amphibian populations, Kerby tapped Hawks to join his research team, where she studied the effects of contaminants on false map turtles in the Missouri River.
While not directly related to human health and medicine, her research on turtles was a crucial part of her preparation for medical school, Hawks said. "Being able to do research develops a huge skill set," she said. "You learn to work as a team, read scientific papers and write about your own research."
Hawks initially considered a career as a medical examiner. An experience with in-home health care prompted her to reconsider.
"I got to know the person I was taking care of and also their family, which was really neat," she said.
Hawks now thinks a career in family medicine in a rural community might be a good fit. "Knowing my patients and what they need and being able to advocate on their behalf – that sounds really cool," she said. "I grew up in a small town. Being able to give back to a small community would be great."
Alex Bergeson '21, B.S., was the first ever Nolop Scholar and is now in his second year at the Sanford School of Medicine He agrees with Hawks that the medical biology degree gave him a leg up at the start of medical school.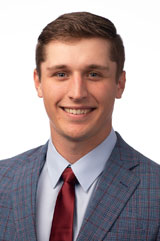 "You can hit the ground running in your first semester," he said. "It's an amazing program that prepares you to excel in medical school."
Bergeson plans to become an orthopedic surgeon, a choice he initially made in his junior year of high school after shadowing a surgeon for three hours every other day for a semester.
Residencies in this medical specialty require extensive research experience. Bergeson said he's thankful his undergraduate years included a research project on sprint performance in Anolis lizards in the lab of Christopher Anderson, Ph.D., associate professor of biology. "It's important to learn about the research process early on," he said. "When I start my medical school research projects, it won't be completely foreign to me."
Bergeson will spend his third-year clinical experience in Parkston, South Dakota, as part of the medical school's Frontier And Rural Medicine (FARM) program. "Being in a rural community is something I'm very much looking forward to," he said.
Alumni Physicians Weigh In
Several classes of students have completed all four years of the medical biology program and then went on to attend and earn their Doctor of Medicine degrees from USD's medical school. Now, some of those graduates – such as Cole Hensley, Kjerstin Hensley and Bogdan Anton – are taking part in post-medical-school residency training at major medical centers throughout the country.
"I completely believe the medical biology major prepared me for medical school," said Cole Hensley '17, B.S., '21, M.D., an emergency medicine resident physician and resident clerkship director at McLaren Macomb Medical Center near Detroit, Michigan. He is originally from Brandon, South Dakota.
"I think back on the third- and fourth-year courses in medical biology when I was doing anatomy dissection and physiology and those kinds of courses," he said. "It was the culmination of what we had learned so far in biology, organic chemistry and physics. Everything just started to click. It just made going into that first year of medical school so much smoother."
Among the undergraduate medical biology courses that stand out to Cole Hensley is Human Gross Anatomy, which is open only to medical biology and health sciences students who have completed 60 credits and have at least a 3.0 grade point average. The course's dissection lab uses the same instructor and facilities as the Sanford School of Medicine and is supported by Sanford's Body Donor Program.
"In very small groups, we actually do dissection ourselves as fourth-year students," he said. "Fellow medical students from all over the country, in big and small schools, did not have that experience. It's definitely something that's unique to do as an undergraduate."
In his residency program through Michigan State University, Cole Hensley serves as the resident clerkship director, where he directs and instructs medical students during their emergency medical rotation. Eventually, he and his wife Kjerstin Hensley '19, B.S., '23, M.D., who is completing her residency in emergency medicine at the William Beaumont University Hospital in Royal Oak, Michigan, want to return to South Dakota to practice medicine and teach medical students.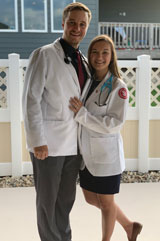 Early on, Cole Hensley chose emergency medicine as his specialty. Cole Hensley saved a hiker's life in Utah during medical school, which helped solidify his choice. Even before that experience, Cole Hensley recognized the fulfilling nature of working in an emergency room.
"The beautiful thing about emergency medicine is I don't get to say no," he said. "I see every patient regardless of why they come in – from stubbed toes to stabbings to everything in between. I love the excitement of not knowing what's coming in and how I'm going to be able to help someone."
Kjerstin Hensley, also from Brandon, shares her husband's affinity for emergency medicine. "I knew that I wanted to be somewhere that never turned anyone away," she said. "I wanted to be part of a team. I'm a team-oriented person. I knew that I wanted to have an evolving career. Emergency medicine is constantly changing."
Kjerstin Hensley came to the medical biology program after she shadowed health professionals as a high school student. "Physician was the best fit for me," she said. "I was looking for a challenge."
The program's coursework provided a worthy and exciting challenge, especially a biochemistry course taught by Pasquale Manzerra, Ph.D., assistant dean of medical student affairs and professor of basic biomedical sciences. "And it was great that he was the professor of our biochemistry class in medical school, too," she said.
In addition to the courses, Kjerstin Hensley said the medical biology courses introduced her to faculty members who served as mentors. A recipient of the USD Sanford School of Medicine Alumni Student Scholarship, she had regular meetings with the program's student advisor, Gerald Yutrzenka, Ph.D., professor emeritus of basic biomedical sciences, as well as faculty in the biology department.
"I had multiple professors I could talk to and use as a sounding board," she said. "I could always reach out to them and ask their opinion. That was very influential in getting me to where I am today."
Bogdan Anton '17, B.S., '21, M.D., a third-year psychiatry resident at the University of Massachusetts Chan Medical School, said experience in the Gross Anatomy Lab helped ease the transition to medical school.
"They teach anatomy at a breakneck pace in medical school," Anton said. "I felt a lot more comfortable having already gone through it once."
He also recalls Mammalian Physiology taught by Ken Renner, Ph.D., now professor emeritus of biology, as particularly useful to his medical school education.
A gifted student who immigrated to the U.S. from Romania at age 11, Anton said he found himself on the pre-med and medical school track primarily due to family expectations. "Thankfully, I found psychiatry and that gave me the motivation to keep going," he said. "I got lucky, I found something I'm really passionate about."
His current passion is addiction psychiatry. "It's fascinating in so many ways," he said. "Addiction hijacks all the reward pathways and takes over the brain. I also recognize that patients with substance use disorders are oftentimes marginalized. It's a patient population I can make a real impact on by serving."
Not Just for M.D.s
Not all USD graduates with a degree in medical biology enter medical school. Some students come into the program knowing they plan to pursue other professions, while others may make that choice during their studies or after graduation.
Medical biology alumna Lindsey Montileaux Mabbutt '17, B.S., earned her Master of Public Health with a specialization in American Indian public health from North Dakota State University and a doctorate in dental surgery from the University of Washington. She currently practices public health dentistry at the Swinomish Indian Tribal Community Dental Clinic in La Conner, Washington, about 90 minutes north of Seattle. Mabbutt is a member of the Oglala Lakota Nation and grew up in Sioux Falls.
As a first-generation college student, Mabbutt said the medical biology degree at USD took away the stress of choosing classes that would satisfy requirements for future graduate study.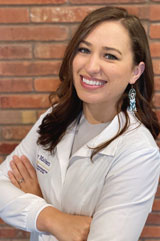 "To be honest, I was fumbling. I had no idea what I was doing," she said. "I told my advisor that I wanted to be a doctor and she said, 'OK, here's a path."
The busy track athlete and Kappa Alpha Theta sorority member appreciated how the classes progressed and built on each other as she completed her undergraduate work. An interest in public health prompted her to get her graduate degree in the field and become a research coordinator for a large National Institutes of Health grant at the University of Washington, where she started dental school.
"I knew I wanted a clinical degree and I fell in love with dentistry," she said. With her bachelor's degree in medical biology and Master of Public Health, she was well-qualified for her program. "I had everything covered for dental school," she said.
Another 2017 graduate of the program, Tim Skog, earned his Ph.D. in neuroscience in 2023 from the University of Iowa. The Worthington, Minnesota, native chose the medical biology major to prepare him for a future clinical profession that included options such as occupational therapy and physical therapy as well as medical school.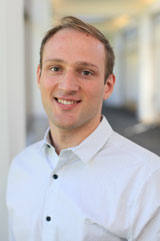 While an undergraduate, Skog performed research in the lab of Cliff Summers, Ph.D., Nolop Distinguished Professor of Biology, and spent time shadowing a physician. The experience pushed him to reevaluate his postgraduate plans. "I found I enjoyed my time in the lab more than my time shadowing in the clinic," he said. "I was a better fit at the bench rather than the bedside."
His medical biology undergraduate degree served him well in his neuroscience graduate program. "The challenging courses paid off," Skog said. "I had extensive knowledge of biochemistry, and that made me unique among my cohort in graduate school."
The neuroscience Ph.D. is pivoting again after earning his terminal degree and is leaving the academic realm to become a medical writer for Trilogy Writing and Consulting, an international company that focuses on writing regulatory documents for pharmaceutical and biotech companies.
"I realized that what I truly liked about research in grad school was crafting the story about the data, and then I learned about the field of medical writing," he said.
Skog's broad liberal arts education at USD laid the foundation for this next career move. "I developed a lot of my writing skills in my Honors seminars, and I worked at the Writing Center for two years," he said. "I did a lot of writing as an undergraduate and I always liked science. I just never knew I could marry the two until a few years ago."
The Program's Future
As biology chair, Kerby and faculty involved in the medical biology major constantly assess the program's offerings and make changes that enhance the experience of undergraduate students. A new addition is the option to take a semester-long class to prepare students for the Medical College Admission Test (MCAT).
Kerby also organizes a professional pathways series for students majoring in any of the biology department's programs. Students attend these regular meetings to talk with professionals from a variety of fields.
Not every medical biology major will attend medical school, of course. Competitive admissions policies are only part of the reason. The medical biology major and other options at USD give students the ability to change direction if they choose.
"That's the great part of being at USD," Kerby said. "We get a lot of high school students who have been told, 'You're smart, you should be a doctor.' Then they come to college and realize they really like math and can major in that and get a job. Or they might not like blood. They can also switch degrees in the biology department."
USD medical biology students are equipped for a wide range of options after graduation, Kerby said. "No matter what future careers our graduates end up in, we take pride as a department in knowing that they all leave here with a high-quality education that prepares them for whatever might lie ahead."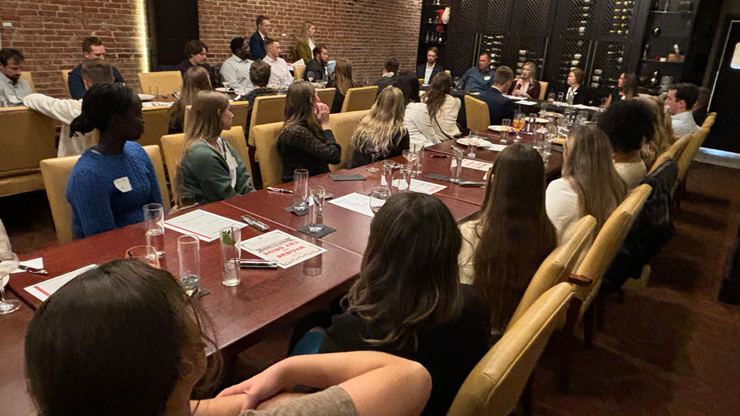 Earlier this month, the University of South Dakota Knudson School of Law's Health Law Society hosted a panel event, "Synergizing Medical and Legal Expertise for Elevated Patient Care," that brought together over 70 legal and medical professionals and students.
The University of South Dakota Knudson School of Law's Debtor-Creditor Club, a student organization established just this year, sent four students to the American Bankruptcy Institute Midwestern Conference at the University of Missouri-Kansas City last month.
Two former students of the University of South Dakota's Summer Program for Undergraduate Research in Addiction (SPURA) – Sophia Van Buskirk and Ahmed Nahian – recently had their research highlighted at the 2023 Symposium on Substance Use Research.