A Salute to Patriots
Krisztian Zsigmond Fasi is a testament to the U.S. Navy's unofficial motto, "Non sibi sed patriae: Not for self, but for country."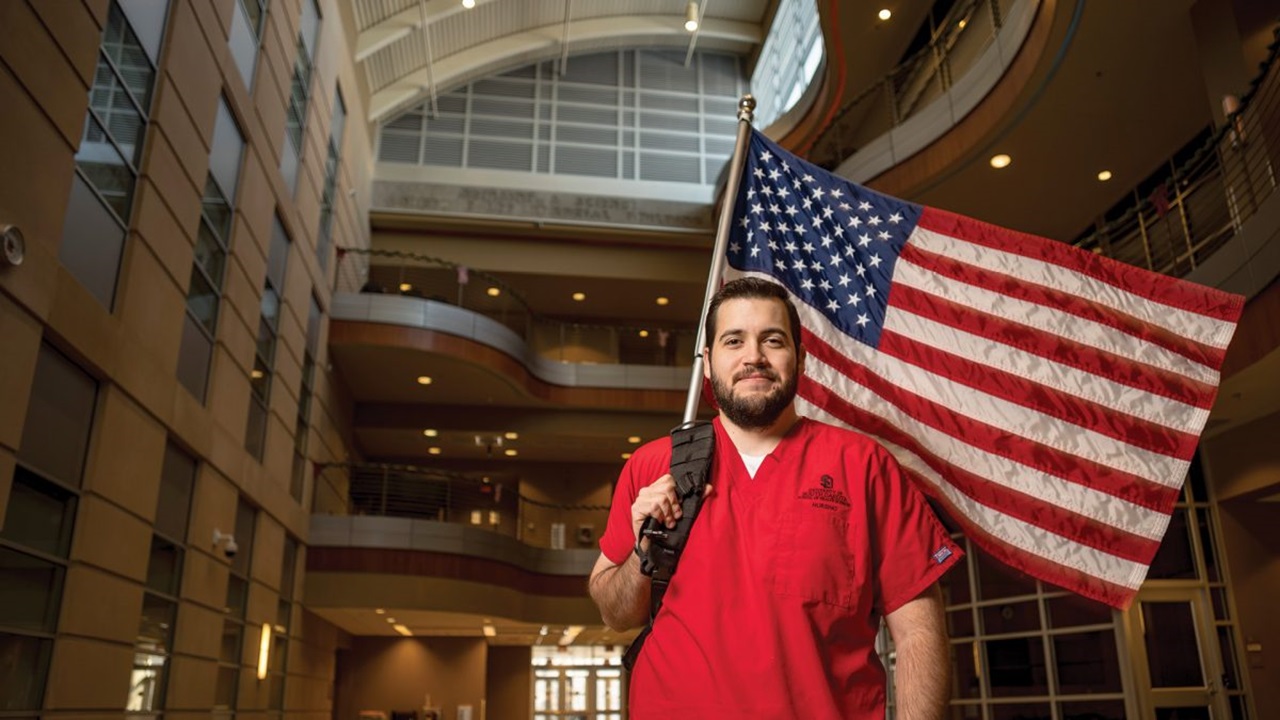 It's why, in 2015, he took it upon himself to carry a 4-foot-long flagpole flying the American flag strapped to his backpack any time he stepped on USD's campus. Not the most comfortable mode of travel, to be sure, but Fasi was committed to inspiring campus change in honor of his country.
Fasi, a Navy veteran and nursing student at USD, noticed that there was limited prominence for the American flag on USD's campus. After bringing the issue to campus leadership, he learned there used to be a flag in the center of campus prior to the new student center being built, but it had not been included in the final design plans for the Muenster University Center.
It wasn't until later that Fasi learned that four individuals, Greg Huckabee, an associate professor in the Beacom School of Business, USD alumnus and Vietnam-era veteran Gary Conradi of Sioux Falls, USD and ROTC alumnus John Holter and Ted Muenster, president emeritus of the USD Foundation, had already been forming plans for a memorial to honor three USD alumni who each earned the Congressional Medal of Honor, the military's highest acknowledgment of exceptional heroism. Those recipients are Capt. Joe Foss '39, Capt. Arlo L. Olson '40 and Col. George E. "Bud" Day '49.
While Fasi initially had a simple dream of fundraising $5,000 to erect a singular flagpole, with the support of university leadership, the idea quickly grew into a $200,000 project that paid proper tribute to USD's longstanding tradition of producing brave men and women who lead the nation's efforts to protectAmerica's freedom.
This plan eventually became known as the Patriots Plaza project, and Fasi was soon added to the project's steering committee to share his passion for the initiative.
"The idea of taking an originally $5,000 project idea and growing it to this large of a scale is very admirable, and I'm excited," Fasi said. "I started the project because I felt I could easily get it funded on my own through different organizations, but I know I couldn't raise $200,000 alone!"
The Patriots Plaza project was first announced during USD President Sheila K. Gestring's State of the University address in September, and later formally launched at the Coyote Football Military Appreciation Game on Nov. 9. The on-campus memorial will be located between the Beacom School of Business, the Al Neuharth Media Center and the School of Law and will commemorate the first 100 years of the Army ROTC at USD, pay tribute to USD's three Congressional Medal of Honor recipients and honor all military members and veterans.
The plaza will have a large , horseshoe-shaped walkway circling its concrete center. A flagpole will display both the American flag and the POW/MIA flag and will be flanked by two flagpoles, one flying the South Dakota flag and the other flying the University of South Dakota flag. It will also feature busts of Foss, Olson and Day and a sponsored "wall of honor" listing individual veterans. Stockwell Engineers of Sioux Falls has been selected to design the final concept, said Brian Limoges, assistant vice president of facilities management at USD.
Gestring said the university is so committed to seeing the Patriots Plaza completed that the university has committed up to $100,000 in matching funds to ensure its timely completion.
USD is fully committed to creating a dynamic student experience at USD, and I am proud that this project started with one of our students demonstrating his civic engagement on campus," Gestring said. "This tribute will be an area where the university and community can come together to thank and remember our service members and veterans in a powerful way, and I am excited to see it completed."
The Patriots Plaza is expected to be constructed by this fall, with plans to celebrate a formal groundbreaking on May 22 and dedicate the plaza on Nov. 11, 2020, Limoges said.
According to Muenster, "no state in the union respects military service more than South Dakota and it's an important part of our culture."
Tom Brokaw, former news anchor for NBC Nightly News and one of USD's most distinguished alumni, is one of the project's early supporters and said USD has a long and distinguished record of military service and "every reason to be proud."
"That service is part of the DNA of the prairie experience and deserves prominent attention within the university community," Brokaw said. "What better way than to erect a permanent tribute to three USD alumni who earned the Medal of Honor?"
In addition to its three Medal of Honor recipients, USD also graduated the first two women in the nation to be commissioned in the Regular Army through its ROTC program in 1976—Cindy Orton and Sandy Koopman.
Lt. Col. Dan Sundberg, chair of the military science department and member of the Patriots Plaza steering committee, said the location is an ideal spot on campus to pay tribute to service members and veterans.
"Symbolically, if you think of the business school as representing the power of capitalism on campus, the law school as the rule, the journalism school as the freedom of the press and the MUC as our assembly area—it's the perfect spot on campus where it's surrounded by the pillars of America," Sundberg said.
Sundberg said USD has approximately 120 alumni who are currently serving in the military, and he hopes the new plaza serves as a way of calling USD's military alumni home to campus. He also hopes it sparks new passion for USD's ROTC program, which he hopes to
grow in the future.
"ROTC is important because we need smart, strong young men and women to defend America's vital national interests," he said. "We need smart people out there leading our formations, and particularly in South Dakota and the upper Midwest, we produce the best officers out there. We have a unique, Midwestern work ethic and we can easily integrate into diverse populations and succeed."
The Patriots Plaza has renewed a sense of patriotism and excitement on campus, and Sundberg hopes it is away to "fuel that fire in the future." Fasi shares that optimism and is pleased that his idea took flight.
"I never thought that a small, $5,000 idea would turn into this," he said.