An Ultimate Bequest
Donating one's body to medical education benefits future health care professionals and their patients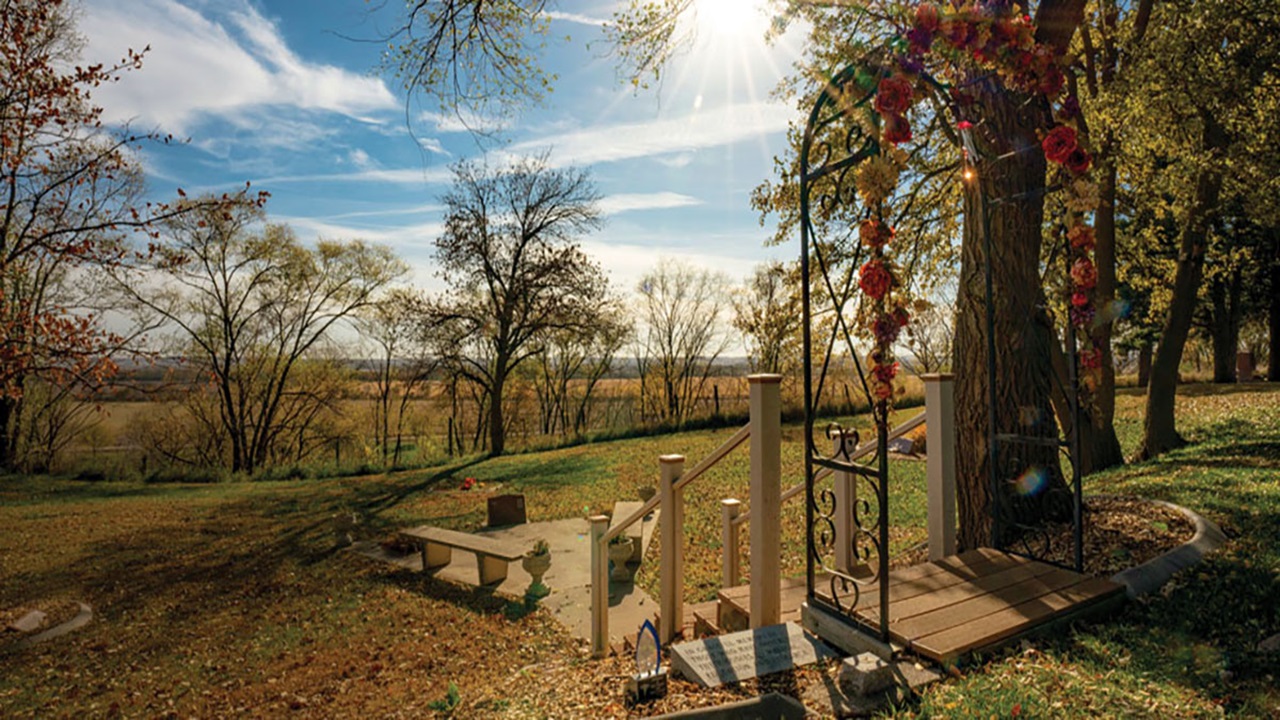 Health and medical students at USD and elsewhere in South Dakota and the upper Midwest are able to learn about human anatomy thanks to a program managed by the University of South Dakota Sanford School of Medicine. This program delivers an indispensable aspect of knowledge to those being prepared to serve as physicians, therapists, nurses, physician assistants and in other health care fields. It is a program—the body donor program—that relies on generous donations, an ultimate donation, really. Those who donate their bodies to health care education typically do so to satisfy deeply personal purposes, including advancing the expertise of future health care providers.
In a park-like space on a bluff-side summit overlooking the Missouri River is a modest outdoor memorial dedicated to those who have given their bodies to medical education. This scene at Bluff View Cemetery on the eastern edge of Vermillion, South Dakota, is at once calming and dramatic, and it overlooks a breathtaking panorama of the river's expansive valley. Peering southward through ash and maple trees, the visitor to this setting surveys the Missouri's vast floodplain, a place speckled with forests, meadows and croplands, and much further distant—on the far side of the
valley—are densely wooded hills bordering the river's channel in Nebraska. This is a big, bold landscape, but in this special circumstance, a visitor's thoughts become intimate and reflective.
This is where a person can come to ponder the importance of a decision that changes lives. This is where a person can come to contemplate becoming a body donor to serve the needs of students requiring exacting knowledge of the human anatomy. This is also where a family can come to comprehend and appreciate the enormity and value of that decision.
On a chilly, overcast afternoon in late September, small groups arrive at the outdoor memorial. The atmosphere is fertile with reverence, despite the gloomy weather. Descending a short stairway before pausing on a small plaza, each visitor faces markers and stones etched with messages thanking body donors. Gratitude is the prevailing sentiment of this memorial.
Visiting families remembered their loved ones. There were siblings clutching one another. One group sat silently on a concrete bench. An elderly woman stood alone, gazing above the river valley, into the sky.
Each group kept to themselves, maintaining a private bereavement in this public place. For many, this was a moment to recall how much they missed a loved one, and to ponder how their loved one had shared his or her body with college-aged students for their in-depth study. It is a powerful, poignant relationship, this linking of a family's personal loss with a loved one's gift to strangers.
A tall gentleman accompanied his sister, arms wrapped around her shoulders. They were from the East and West Coasts, respectively, and they had come to this memorial in the middle of the country to honor their sister, a body donor to the USD program.
"We didn't know our sister had become a body donor," the fellow explained. "Her death was sudden, and because of that we struggled with it. Then we learned about her donation. We think body donation is extremely important, a selfless thing to do, and we respect our sister for deciding to do it. The one thing I would add is that I wish she had notified us about her decision to become a body donor. Communication within a family about such a decision and other matters regarding post-death decisions and conditions is very important, and open communication helps facilitate closure by surviving family members."
He later shared that his parents had both been body donors, reflecting a generosity that likely influenced his sister.
From the memorial at Bluff View Cemetery, family members traveled to the USD campus for a formal service acknowledging and honoring body donors and their families. It is an annual event organized by medical and health care students from USD's Sanford School of Medicine and School of Health Sciences.
Held in the atrium of the Andrew E. Lee Medicine and Science Building, the event attracted a large crowd, with main floor seating completely occupied by a mixture of students, future body donors and families or friends of body donors, past and future. Looking down from chairs on the building's upper levels were more students. Seating capacity in Lee Med's atrium is sizeable, and for this event every chair was taken. It was obvious that many students benefit from the program, and it was also obvious that their appreciation for those who donate their bodies to help them understand anatomy is profound.
Early in the service, body donors and family members approached the small elevated stage in single file to light candles to signify their direct association to the body donor program. The event's program included musical presentations by students featuring instrumentals and vocals that evoked veneration and gratitude. Between musical numbers, selected students addressed those who had gathered. Their heartfelt speeches reminded everyone of the deep appreciation felt by these students regarding the generosity of body donors and the importance of their donation.
Justine Van Zee is a second-year student in USD's physical therapy program, and she spoke at the event, directly acknowledging and thanking the donor who aided her education. "You not only helped educate me on the beautiful workings of the human body," Van Zee explained, "but you also impacted my classmates and me with how to treat and successfully diagnose patients that we will work alongside in our future professions. Although there is a general structure of the human body for me to learn while in the classroom, I was overwhelmed with wonder with how you were different than anything a book could ever teach me. Through my time spent with you, I was able to see how you were not a diagram in a textbook, but a human who was loved, respected and admired by so many. In other words, you were more than just anatomical structures joined together; you were a presence that promoted a sense of compassion, service and humility."
USD Sanford School of Medicine second-year medical student Andrew Foley analogized his experience studying anatomy with receiving a memorable gift. "Learning anatomy from a human body donor," Foley stated, "is like receiving a Christmas present from a complete stranger."
He added, "I'm not just thankful for the incredible physical gift our donors give to us. The careful considerations and powerful decisions made by these incredibly selfless people astounds me. Who could possibly provide such a perfectly calculated act of benevolence for a complete stranger?"
Kimberly Velk is a second-year student in USD's physician assistant studies program. Velk's personal expression of gratitude and her explanation of what she learned because of body donation was written in the form of a letter to her body donor. "The first time I was introduced to you," Velk said, "I was left speechless. It was hard to imagine how someone could be so generous as to donate their body so I, alongside my classmates, could learn from your wisdom. I want you to know I will never forget you. You have provided me with a gift I can never repay to you directly; however, by allowing me to learn from you, dear donor, you have made me into a better practitioner. Through your generosity, I have gained more insight and understanding than I could have ever imagined. You have not been just my donor, but my mentor. Thank you, dear donor, for all that you have taught me. To the family of my donor, I would like to thank you as well. You have shared your daughter, mother, sister and friend with me. The lessons I have learned from your loved one will be carried with me for the rest of my life."
It was apparent from listening to the speeches that student feelings toward the anonymous donor of the body that taught them anatomy were vibrant and animated and revolved around the concept of the donor as an irreplaceable instructor. Though not all medical and health students express themselves so clearly and beautifully as those students who spoke, every student shares a great appreciation, respect and gratefulness for the generous donation to their learning and growth.
Sara Bird, coordinator of USD's body donor program, echoed that sentiment. "We view our body donors as teachers. They are teaching our health care students."
Bird pointed out that the program serves students studying health professions not only at USD but also at other schools and universities. Bird listed Northern State University, South Dakota State University, Presentation College, Briar Cliff University, Northwestern College and Lake Area Technical Institute as recipients of body donation. Students from several of those institutions joined their contemporaries from USD at the honoring event. "We serve a statewide and regional mission," explained Bird.
In the crowd at the Lee Med memorial was Don Truhe and his wife, Brenda, both body donors. Each of Don's parents were body donors, and Don made up his mind to follow that example when he attended a body donor service after his father entered the program about 10 years ago. "The ceremony is always impressive," said Truhe, who described attending several events, including the year his father entered the program. "It was comforting to our family when my father's gift was honored, and each ceremony reminds me how smart and how appreciative the students are. Their impressive statements are a highlight of each program."
The body donor program currently faces a shortage of donors, and this shortage impacts learning opportunities for students. "Donations are down about 60 percent," said Bird. "And that has caused us to reduce or even cancel several features of the teaching program."
According to Bird, the requirement for each school year is about 60–65 body donations. During the 2018–2019 school year the number of bodies available for USD and other institutions relying on the USD program is 36. "It is a challenge for us to provide anatomy education based on our reduced body donation numbers," Bird explained.
"Learning anatomy from a human body donor is like receiving a Christmas present from a complete stranger." - Andrew Foley, student, USD Sanford School of Medicine
The reduced number of bodies means the number of students working with a single body increases. "This means there will be less time for each student to examine and learn unique aspects of human anatomy," noted Bird. "Another consequence is that we're not able to accommodate requests from other schools. This year we've actually had to turn down other schools."
Death and body donation can be uncomfortable topics, Bird reminded, especially among family members. Certain aspects related to death can be difficult to resolve, including an individual's interest in body donation when other family members are unsure about the idea. "It can be gratifying observing families and individuals overcome their apprehensions about body donation," she said. "There is a beauty and a liberation to the process. It results in something happening that is so very meaningful and impactful."
Bird is optimistic that the shortage will be overcome. She is planning to spend more time speaking with families and individuals who express an interest in the program. "This program is so vital and so rewarding. There are many positive aspects to becoming a body donor. Becoming a teacher, for example, as part of a contribution to students and health care education, carries with that contribution an extraordinary generosity and beauty."
To learn more about the USD Body Donor Program that is administered by the University of South Dakota Sanford School of Medicine, please contact Sara Bird, program coordinator, at 605-677-5555, or Sara.Bird@usd.edu. You may also visit the program website at www.usd.edu/bodydonor.