At the Center of It All
Jay Perry discusses vision, growth and future of USD – Sioux Falls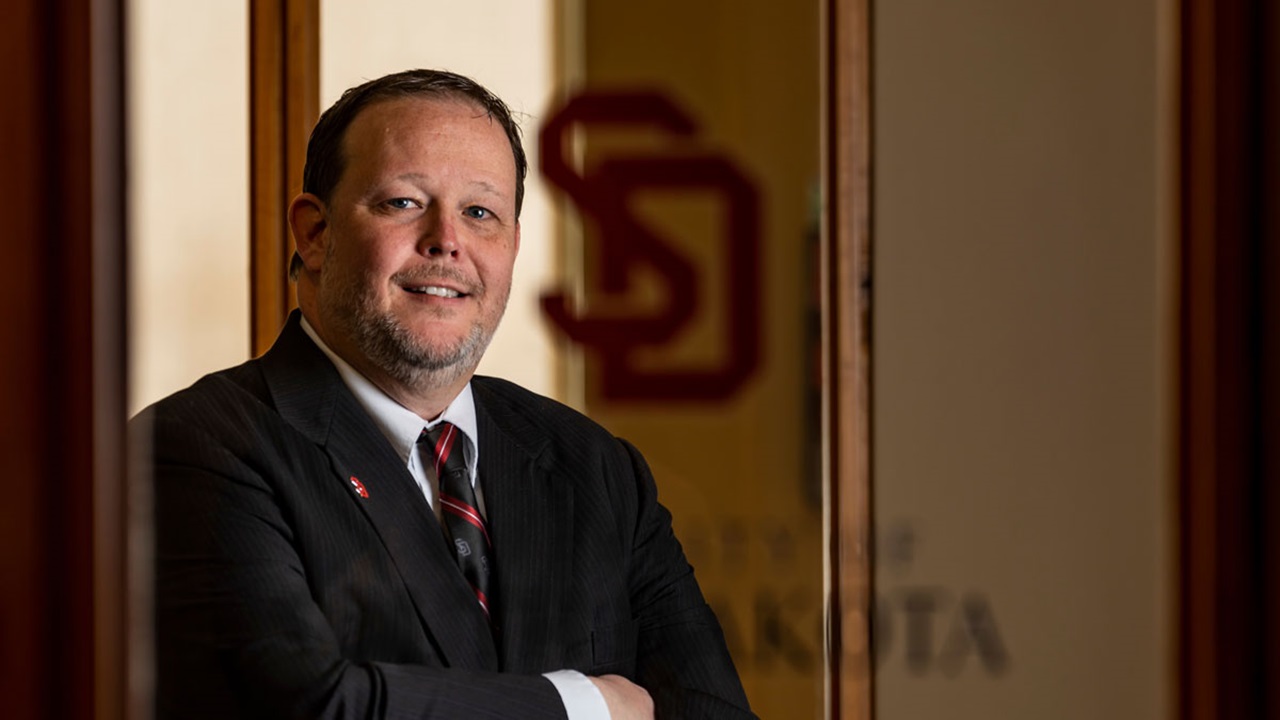 The University of South Dakota announced this summer that it is expanding its presence in Sioux Falls to meet the state's growing workforce demands and the area's projected population growth.
At the helm of the Sioux Falls campus is Jay Perry, Ph.D., the new vice president of USD – Sioux Falls.
USD is not unfamiliar to Perry as he worked for nearly eight years for the South Dakota Board of Regents as the vice president for academic affairs and senior advisor for policy and planning.
When USD President Sheila K. Gestring contacted him about USD – Sioux Falls, Perry was quick to agree to take on an exciting new opportunity.
"USD is seizing upon all the great opportunities there are in the Sioux Falls area. The 2020-2022 census report stated that two thirds of the population growth in the state of South Dakota occurred in Minnehaha and Lincoln counties. We also know that there are projections for a 20% increase in high school graduates in South Dakota in the next 10 years, most of which are going to be in Sioux Falls," Perry explained.
"There's this once-in-a-generation opportunity to educate more South Dakotans at the post-secondary level that we haven't had for decades," he continued. "This is what makes USD – Sioux Falls the most exciting spot in higher education in South Dakota right now."
Many of the high school students graduating from the Sioux Falls area will want to stay close to home while pursuing their studies, Perry said.
"USD – Sioux Falls offers these students the opportunity to receive an affordable and accredited education without having to leave Sioux Falls and the surrounding area," he said. "Whether it's because of family or work obligations, they're not comfortable attending a four-year college, or some other life circumstance where they are place-bound, USD – Sioux Falls will provide them with opportunities for a great education."
According to Perry, USD – Sioux Falls will become a health sciences hub, complementary to Vermillion's campus. Several graduate level courses and programs will relocate to the Sioux Falls campus, including the Master of Public Health, the Master of Social Work and USD's new CRNA program. All Sioux Falls-based nursing classes and a nursing skills lab that were previously located at USD's health sciences center in Sioux Falls will also move. Two statewide, federally funded programs – the Center for the Prevention of Child Maltreatment and the Center for Rural Health Improvement – will also relocate to USD – Sioux Falls.
"Moving the health sciences programs to this site is going to create a buzz – an atmosphere that makes USD – Sioux Falls a vibrant location with faculty, staff and students," Perry said. "It will begin to feel more like a campus, or a neighborhood."
With the health sciences programs in one location in Sioux Falls, students will learn in an interprofessional, team-based environment, replicating modern hospitals and clinics that have adopted this approach to health care.
"Any time students and faculty from a variety of disciplines can interact with each other and learn from each other, it creates innovation," Perry said. "Big ideas will emerge from this environment."
USD – Sioux Falls allows for the partnerships with Sanford Health and Avera to continue to grow and provides students with unique opportunities for clinical education, internships and future careers. USD – Sioux Falls will also tailor its health sciences courses to fill workforce shortages and other areas of need.
"Health care providers in the community will know where to go when they need assistance, whether that's the workforce pipeline, programming or ideas they're working on," said Perry. "It's going to be a convenient one-stop shop that can bring health sciences together and respond to community needs quicker and more efficiently. At the same time, our students will have access to important clinical experiences that will better prepare them to be leaders in their profession."
In addition to being a health care hub, USD – Sioux Falls will prepare students for entrepreneurship and tech-based careers.
The campus' proximity to the USD Discovery District will provide students with valuable research opportunities, access to jobs after graduation and exposure to innovative businesses.
"Students will see cutting-edge businesses being built and technology being developed, and they will be exposed to ideas and processes that can't be replicated anywhere in the state but at the Discovery District in Sioux Falls," said Perry. "These businesses will then have a pool of students from USD – Sioux Falls who can apply for internships or part-time jobs, preparing them for the workforce and creating a pipeline for the growing economy."
Perry's excitement about USD – Sioux Falls is palpable. As he describes the goals and vision for USD's Sioux Falls campus, he looks out his window.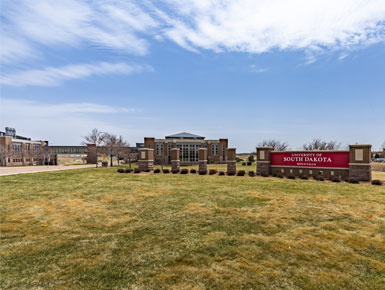 "In 5-10 years, this skyline is going to be vastly different. There will be people around, Discovery District buildings up and many opportunities for our students," Perry said. "We might be crawling to this goal right now, but in five years, we won't just be running – we'll be sprinting. We're doing some very interesting and unique things here.
"This is where students will want to be. Sioux Falls is the health care center of the state. The financial center of the state. It's where there are cutting-edge tech and STEM jobs. The opportunities, network and community that students want when they graduate are largely centered in Sioux Falls right now."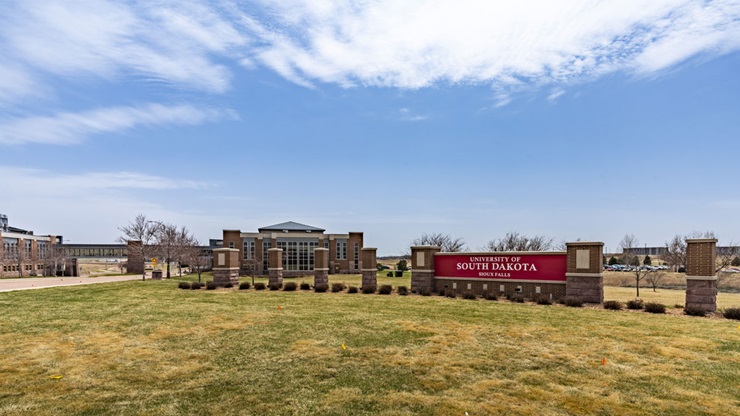 The University of South Dakota is expanding its presence in Sioux Falls to meet the state's growing workforce demands and the area's projected population growth, emphasizing degree offerings in health care, business and education.