Changing the Game
Hahler Drives Global Transformation at Google
Alongside his professional accomplishments is a strength that cannot be quantified: a lifelong passion for understanding the human experience.

No two days ever look quite the same for Travis Hahler.
By day, the University of South Dakota alumnus and South Dakota native is leading global change and transformation for Google. Often traveling across the country and even around the world, Hahler has become accustomed to working on planes and has found that sometimes his best ideas come while he's 30,000 feet above the earth. He's driving change for Silicon Valley's biggest tech giant – and he's doing it all from the heartland.
But by night, Hahler's building on his own dreams through his new startup, The Neurological Nomad. As an independent consultant, Hahler brings neuroscience, neuropsychology and psychology to business executives at large and small organizations and teaches them how to drive change the right way – with people at the forefront.
In just a decade, Hahler has built an impressive resume helping Fortune 500 companies drive business and culture transformation through his work at companies like Protiviti and Deloitte Consulting. Those experiences led to being recruited by Google in 2018, one of the world's largest tech organizations known for its culture of continuous adaptation, transformation and innovation. At just 33 years old, he's already developed a reputation as a notable leader in the tech industry, entrepreneur and public speaker – and he's just getting started.

Global change and transformation lead
In his role as Google's global change and transformation lead, Hahler develops strategies to help executives plan for and implement large-scale changes throughout the organization.
"My job is to help create a people-centric roadmap for implementing these changes that will be efficient, effective, and most importantly, adopted and utilized," Hahler said. "Google has learned that implementing technology is easy enough, but helping executives drive meaningful and lasting change to behavior and culture is more difficult. It's a role I love because when I do it right, my work helps to drive incredible business results but also protects employee mental health and wellbeing while driving a positive culture."
He attributes his success to his ability to not only understand how people think, but to connect how overcoming people's natural resistance to change can benefit an organization's bottom line. Those skills were developed and honed at the University of South Dakota, where he studied psychology and business.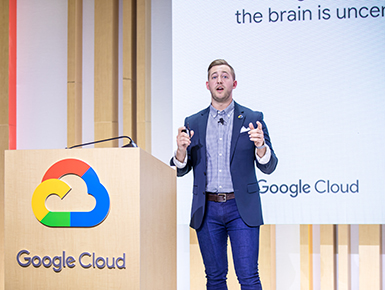 "My superpower in the boardroom is my knowledge of human behavior and neurology, which started back at USD when I was studying psychology," Hahler said. "I knew I had an interest in how humans work at a neurological level, but I didn't know where to go with it, so I dove into learning about business and pursued an MBA and went to work in corporate America. I quickly started to see how my 'superpower' was a differentiator which led to me enrolling part time in neuropsychology and neuroscience programs at Harvard. I started to piece together a methodology for helping executives and leaders understand change at a neurological level and spoke at a few local conferences which received rave reviews and before I knew it, I was speaking 2+ times per month both publicly and privately to help leaders become better leaders of change."
Life at Google:
"Everyone always wants to know about the perks at Google and if it lives up to what they saw in the movie 'The Internship' with Owen Wilson and Vince Vaughn. I can attest that everything you saw in that movie is pretty accurate. Our offices are incredible places that have all the amenities you could want to keep you coming back. Google's philosophy is that they want to optimize your day by making it easy for you to focus on work, so they bring things to our offices that people need like gyms, free meals, coffee shops, masseuses, barbers, etc. Beyond the cool offices though, Google does an incredible job of taking care of our people with top health benefits and support for things like caring for sick family members or adoption and surrogacy."
Work-Anywhere Mindset:
"People always assume I live in San Francisco. While a beautiful and fun city to visit, not my thing. I've lived in a number of places including South Dakota, Denmark, Minneapolis and Chicago and have enjoyed all of them, but I currently reside in Dakota Dunes, South Dakota. I was fortunate enough in my role to be able to work remotely and travel often for my job. South Dakota is where I was born and raised, and I always knew I wanted to eventually be back in the area and close to friends and family."
Lessons Learned:
"Any talent or skill can become a career and your education can be used in ways that you may never dream of. I thought my psychology degree meant I needed to be a therapist or a counselor, but instead my time spent studying psychology created a love of human behavior that ended in building my own company and became one of my greatest assets in my business world job.
Always learn. I have had amazing jobs, I have had jobs that I knew wouldn't last long, I've had great managers, and I've had terrible managers but the one thing they all have in common is that I made sure to learn from all of them. The good jobs taught me about what I enjoyed, and the bad jobs taught me about things I should look out for or avoid in other roles. My good bosses have taught me incredible skills about how to be a leader, an advocate, and a partner across the business, and my bad bosses have taught me how I never want to be as someone in that role, how not to treat others, and how not to behave. If you focus on the learning piece, even the worst of times can seem more tolerable.
Don't be afraid to be bold but humble. I think South Dakotans have a beautiful humility that not only makes us likable but makes us trustworthy. In my experience, humility has gotten me far in building relationships and being bold has given me the opportunity to show what I can do and that I'm not afraid to fail. Embrace the humility, embrace the bold!"