Empowering Women Entrepreneurs: A Conversation with Sadie Swier
University of South Dakota alumna Sadie Swier '18 has been named director of South Dakota CEO East Women's Business Center (SD CEO East) in Sioux Falls.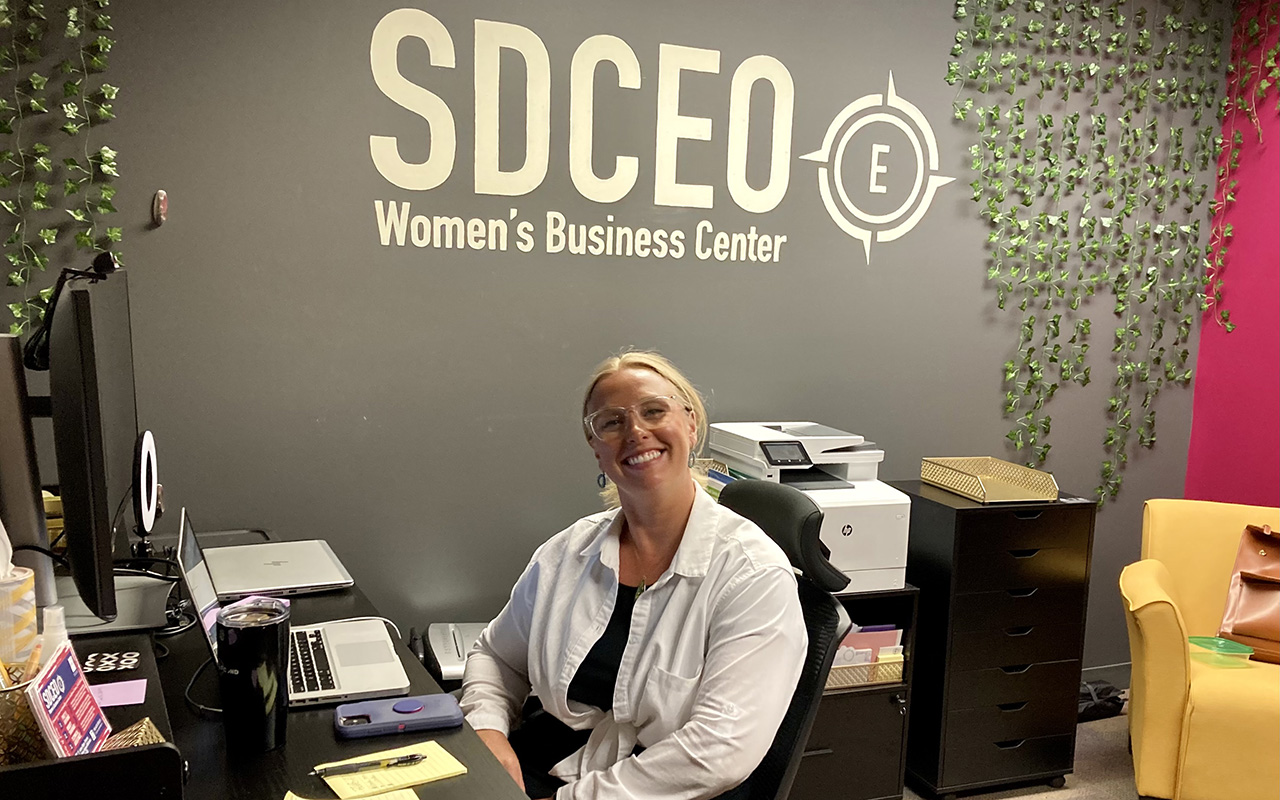 Prior to her new role, Swier, who has a communication studies degree from USD, served as community outreach manager at Downtown Sioux Falls, Inc. Swier worked with over 250 business members, generated economic impact, developed strategic planning, built community, oversaw marketing and conducted event planning. Swier was hired by SD CEO to cover eastern South Dakota to continue the established momentum and lead the next chapter of the organization alongside SD CEO West to provide training, counseling and technical assistance to aspiring women business owners and entrepreneurs across the state.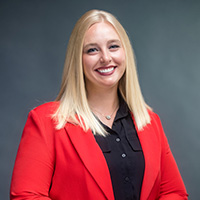 The SD CEO Women's Business Center focuses on empowering aspiring entrepreneurs and business owners in both business and life by listening, learning and providing guidance and resources to help aspiring business owners find success. SD CEO helps through in-person and virtual workshops and webinars to networking events, conferences and one-on-one free and confidential advising. The organization is split between SD CEO West and SD CEO East to reach both sides of the state effectively, due to the need in the region. As she settles in her new role, Swier shares her most impactful moments during her time at USD along with her career aspirations.
Q+A With Director of SD CEO East Women's Business Center Sadie Swier


What made you choose USD?
I toured the campus, and it was as cheesy as it sounds: It was just one of those things where I was like, "yeah, this is where I'm going to school." As a person who grew up in South Dakota, I knew the education and the level of experience I could get from USD would be amazing, and I didn't have to travel and spend a lot of money. It was completely worth it.
What is your favorite memory from USD?
I loved my time at USD. I have some of the best memories, I met so many lifelong friends and I did some dumb stuff, but I'm still alive today. On my personal and professional journey, I owe USD so much to that, and I'm still in contact with a lot of friends and professors who have become mentors. I knew I could get a really great education, and it was affordable, but I didn't realize how rich of an experience it was going to be.
How do you stay connected to USD?
I follow the Facebook group, I'm on the alumni newsletter and I love going to the Sioux Falls happy hours. I still love going to the Summit League basketball games too. Since I'm so close, I still love to come down to Vermillion and support USD.
Can you describe your new role as director of SD CEO East Women's Business Center?
It's a branch of the Small Business Administration (SBA) and is a federally funded program. This center is brand new and opened last August, so I get to go in there and really help start building that foundation. That'll consist of a lot of one-on-one meetings with business owners to see where they're at and how we can help them. We will meet with different entrepreneurs, but also folks who have that start-up spirit and are looking at doing something new.
Why is Sioux Falls the perfect location for this SD CEO East?
SD CEO recognizes that Sioux Falls, and the east side of the state, has a huge dense population of women business owners, so they wanted to hire someone on the east side of the state to cover this region. SD CEO originally covered the entire state, but now it is split between east and west to ensure both areas have a resource. Since the east side is brand new and just starting, I'm looking for office space downtown right now. There are just so many resources and so many other businesses downtown that it makes sense for this organization to be here, but I absolutely plan on traveling all over eastern South Dakota a lot.
What drew you to this new role?
I wanted to work in something that was part of a group making a difference in the world. So that's what got me into nonprofits and being able to help people achieve their dreams, especially women who want to start something new.
How will SD CEO East Women's Business Center contribute to the state?
I want to support the mission of the SBA and really empower the entrepreneurship community in South Dakota and across the region. I want to make an impact by working one-on-one with business owners. That might look like peeking at a business plan, working on marketing or even just being a sounding board and a shoulder to cry on. I think we all know that those are the kinds of relationships that really make a difference. Providing that support, especially for women business owners, makes me so pumped and so excited.
How will you aid women interested in becoming business leaders in the state?
I think women need that extra layer of support and safe space, especially in the business realm. So I can't wait to provide that through SD CEO East and be more connected to the business communities. We are seeing many more businesses open up in the rural communities, and making sure that they're connected to the resources, especially from the SBA, is going to be very impactful.


How can USD students get involved with SD CEO East in Sioux Falls?
Students can get involved if they want to learn more about the entrepreneurship community by reaching out to us. They can come to any of the events that we're planning on hosting. I want to get to Vermillion and potentially host an event. If a USD alumnus wants to apply for upcoming job positions we have, I'd love to see that. In general, I hope knowing that this is an organization being run by a USD alumna creates some excitement from fellow Coyotes.