Grant Funding to Support USD in Celebrating First-Generation Students in November
The University of South Dakota is proud to announce that they are one of 53 institutions from across the nation to be selected for a 2023 First-Generation College Celebration Grant from NASPA's Center for First-Generation Student Success.
The grant funding will help USD raise awareness and celebrate the accomplishments of first-generation students, faculty and staff, and alumni.
"As a first-generation college student, I find it meaningful that USD was chosen to receive this grant, as it demonstrates the university's commitment to fostering a campus where every student is valued and supported in their pursuit of higher education," said Jordon Bonstrom, director of the Opportunity Center. "It signifies a dedication to creating a welcoming and supportive environment for all students, regardless of their backgrounds."
During the week of Nov. 8 – which is nationally recognized as First-Generation College Celebration (FGCC) day – USD and the First-Generation Student Organization (FGSO) will collaborate with departments, faculty and staff, students and alumni across campus to celebrate first-generation students.
"First-Generation Celebration Week is an excellent opportunity to raise awareness about the challenges for and accomplishments of first-generation students," said Bonstrom. "It's a time to showcase achievements, share stories and foster a supportive environment. It's also a reminder that higher education should be accessible to all."
The celebrations will begin on Monday, Nov. 6, with a kick-off event in the Muenster University Center. From 11 a.m. – 1 p.m. in the MUC Pit, students, faculty and staff are invited to decorate pins to wear to signify that they are first-generation college students. The schedule of events for the rest of the week is as follows.
Tuesday, Nov. 7
11 a.m. – 1 p.m., MUC: FGSO will table and invite students to decorate tote bags.
11 a.m. – 1 p.m., USD – Sioux Falls Science and Technology 107: Students, faculty and staff are invited to hang out, enjoy snacks and play trivia.
Wednesday, Nov. 8
4 p.m., MUC Ballroom: First-generation students are invited to participate in an "I'm First" video and photoshoot, where they can share their stories of being a first-generation college student. The content will be used by FGSO to share with future first-generation students and promote resources available to them at USD.
4:30 p.m., MUC Ballroom: First-generation faculty, staff and alumni speakers will discuss the challenges and successes that they have experienced as well as support resources they took advantage of. Refreshments and pizza will be served.
Thursday, Nov. 9
4-6 p.m., Charlie's Cupboard: FGSO will volunteer and table at Charlie's Cupboard.
Yearlong, USD provides substantial support to first-generation students through various programs and initiatives. This includes the work of TRIO Student Support Services, which educates the campus community on the importance of supporting first-generation students. Additionally, the Retention & Persistence Committee works to ensure support for first-generation students is integrated into every area of campus. First-generation students also receive intentional support through the Opportunity Center and Office for Multicultural Affairs, who co-advise FGSO.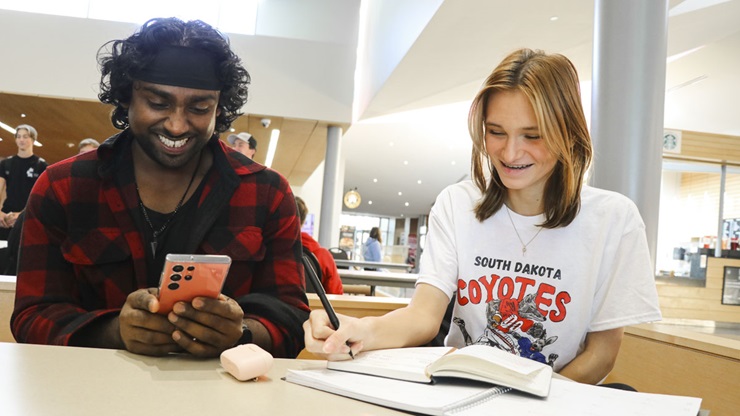 The University of South Dakota is committed to preparing students to be the best they can be personally, academically and professionally. However, students often face barriers – such as financial challenges, food insecurity and mental health problems – that might hinder them from taking advantage of their full potential.