Guest Column | Erik Muckey
Lost&Found, a non-profit organization out of Sioux Falls, South Dakota, works to eliminate suicide in young adults, ages 15-34, by connecting them with the tools and community for everyday resilience and self-care.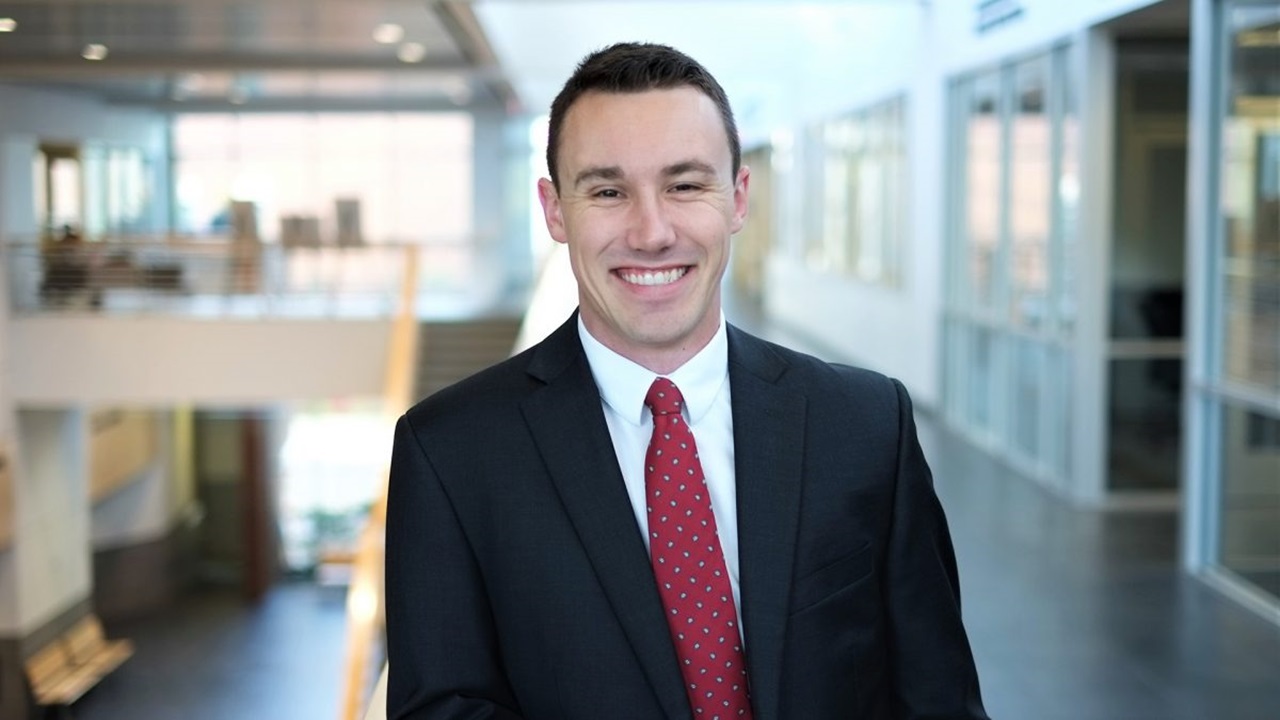 Lost&Found was launched in 2010 and has since grown to serve five campuses in South Dakota: USD, South Dakota State University, University of Sioux Falls, Dakota Wesleyan University and Augustana University, with more to come in 2020.
Erik Muckey '14, a USD economics graduate and Lost&Found's executive director, has been with the organization since the beginning. He helped form the original board of directors in 2010 and was responsible for leading and advising the founding chapter teams at USD and SDSU.
Erik is also a founding partner of PASQ, a professional services outsourcing and consulting firm for rural communities, and he serves on the boards of several social ventures spanning Minnesota and South Dakota. He also just received a dual Master of Public Policy and Master of Business Administration degree from the University of Minnesota this spring.
This USD alumnus is doing great things, but perhaps Erik's greatest calling is the one he's leading through Lost&Found to prevent suicide for young adults.

USD: Why is it important South Dakota college students have access to the resources Lost&Found provides?
Erik: South Dakota bears a remarkable resemblance to the rest of the country, in that around one in four college-aged students must deal with a mental health condition at some point during their academic career. Much like the rest of the country, we also do a fantastic job of raising awareness of the need to seek help. Unfortunately, demand for services frequently outpaces the supply of available counselors statewide, and that places students in a bind. Where do they go for help when they may on a waiting list for therapy? How do they cope, right now, when it may be difficult to bear the challenges they face? How do students and campuses equip themselves for the next crisis or the next surge in demand?
That's where Lost&Found comes in. We partner with as many mental health organizations in the state as we can to ensure that we support existing programs, direct students to the places where they can get support and actively help all students increase their resilience--and, in effect, give them a stronger ability to live well and build protective factors against suicide.
Mental health impacts may be one of the lesser talked about concerns of the COVID-19 outbreak, but we are well aware of the fact that our programs may be needed now more than ever.
USD: Let's talk about how Lost&Found has adapted to the pandemic. Typically, its chapters provide in-person workshops on the college campuses to increase understanding of a particular resilience skill. How has Lost&Found changed tactics, while also maintaining contact with students, during the COVID-19 pandemic?
Erik: With the virus kicking in full swing starting in March, and as students were not able to return to their campuses, Lost&Found took a few actions to help keep things moving.
Over the last two months, Lost&Found co-hosted over 20 Facebook Live events with partners from around the region to share our Resilience for Self program with the public.
Because our students were spread across the country, it only seemed right to share this program with anyone on Facebook. The results were incredible, and we have reached over 34,000 people through the 20 sessions to-date.
In addition to the live sessions on Facebook, Lost&Found created a COVID-19 resource page on its website to provide statistics and guidance, teletherapy and virtual behavioral health resources, student loan and employment resources and connection to Lost&Found's social media platforms. Combining this resource page with our Instagram and Facebook campaigns focused on building resilience and staying connected to community, Lost&Found has reached over 350,000 unique users online since March 8.
USD: How has USD's chapter of Lost&Found changed since the pandemic?
Erik: The USD Lost&Found chapter hosted the annual Nikki's 5K Run and Walk virtually for the first time. Typically run in the fall, the 14th Nikki's Run raised $1,000 to support the USD Lost&Found chapter's resilience programs as well as Nikki's Fund, an emergency fund that defrays cost of mental health access for USD students. Nikki's Run was started in 2005 in honor of Nicole Vallie Harris, daughter of former Freedom Forum employee Janine Harris, after dying by suicide in June of that year.
The virtual run was a fantastic way to connect alumni, friends and mental health advocates to support USD's student body and their mental health as we all try to navigate an increasingly difficult and complex time.
USD: You grew up in Corsica, South Dakota. What does it mean to you that Lost&Found is doing such great work to provide support and services to college students in South Dakota?
Erik: The mission of Lost&Found is very personal to me for my own experiences with depression and suicide ideation, not to mention losing friends to suicide over the years. As a co-founder of the organization, it does mean even more to me that Lost&Found's roots can be found at USD and that it has grown to its size and impact here in South Dakota. As Lost&Found grows to a regional and national footprint, I am incredibly proud that we have built something for South Dakota students that can be translated to so many other places around the country. There are few things more special to me than highlighting USD and South Dakota, and Lost&Found presents a deeply meaningful path for doing so.
USD: Lost&Found is currently growing to more South Dakota college campuses, and even to Minnesota. Why do you think the organization has been so successful?
Erik: Lost&Found has taken the time to not just build relationships with students, faculty, staff, counselors, and administrators, but we place much (if not, all) of our effort into understanding what is really needed before we act. If we're going to partner with any campus, it is absolutely essential to know what the needs of students are, what their attitudes toward mental health look like and what resources are immediately available to support them.
It is just as essential to know what challenges counseling centers, administrators, staff and faculty face in serving their students.
No matter which position a person may be in when working for an institution of higher education, there is a common purpose that unites them: a love for serving students.
Lost&Found is ultimately a student-centric organization, but without institutional support, it is difficult to sustain long-term programs and impact that will ultimately best serve students.
That's where Lost&Found has found its success: the ability to serve both students and campus leaders extremely well and meet their respective needs.
----
To learn more about Lost&Found, visit their website at https://lafprevention.org/.
You can find USD's chapter of Lost&Found on Facebook @wearehereusd.