Herbster Set to Depart South Dakota Athletics
University of South Dakota Athletic Director David Herbster announced his resignation Aug. 14 to pursue a new career opportunity on the community relations team for Sanford Health's southern market in Sioux Falls. His last day at USD will be Aug. 30.
As part of his new position, Herbster will be responsible for building collaborative relationships with local business leaders and community non-profit organizations, as well as finding new opportunities for business development and strategic partnerships for Sanford Health.
Herbster has served as USD's athletic director for the past decade, having become the university's 13th athletic director in 2013, following the university's transition to Division 1 athletics. Prior to that, he served as USD's interim athletic director for one year and was with the university as an associate athletic director and deputy athletic director since 2007.
The university will launch a national search for a new athletic director in January, with the goal of naming a new leader ahead of the 2024 Summit League Tournament. Corey Jenkins, USD's senior associate athletic director for operations and facility management, will serve as interim athletic director. Mike Alden, former University of Missouri athletic director and CEO of MRJ Advisors, will serve as special assistant to the president during the transition.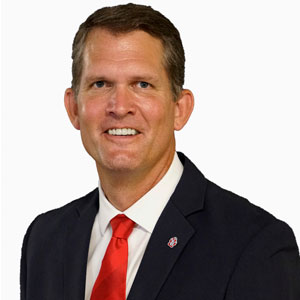 "The University of South Dakota thanks David for his exceptional service and dedication to our athletic program," said USD President Sheila K. Gestring. "As an integral part of the Coyote community for the last decade, David's leadership has left a lasting impact on the lives of our student-athletes, coaches, athletic trainers and staff. USD's athletic program has flourished over the past decade under his leadership, and we appreciate all his efforts in building a strong foundation for USD's future athletic success."
Under Herbster's leadership, USD's student-athletes have achieved remarkable success, including a historic NCAA Sweet 16 appearance by the women's basketball team, an Olympic silver medal, and national recognition for "Play of the Year" by Sports Illustrated. Throughout his tenure, he played a pivotal role in helping advance the university's athletic priorities, including the construction of the $73 million Sanford Coyote Sports Center, the $26.3 million DakotaDome renovation and the $31.25 million expansion to the USD Wellness Center. Under his leadership, attendance at athletic events increased significantly, with ticket sales growing by more than 510%. Herbster was instrumental in reorganizing the highly successful Howling Pack annual fundraising program, increasing membership by nearly 200% and annual funds by 520%. He was also named FCS Athletic Director of the Year by the National Association of Collegiate Directors of Athletics for 2020-2021.
USD's athletic programs have also maintained a strong history of academic success, with each team maintaining a cumulative GPA of 3.0 or higher in 2022. USD has had 58 Academic All-Americans in its program history, with 34 NCAA Postgraduate Scholarships.
"Beyond the victories and accolades, David has always placed the well-being and academic success of our student-athletes as the highest priorities," Gestring said. "His dedication to nurturing both their athletic talents and academic pursuits has left a lasting impact on countless lives."
Herbster said serving as USD's athletic director has been "a privilege and an honor," though the decision to pursue a new path was not one he made lightly.
"For the past 16 years, I have been blessed to work alongside so many outstanding student-athletes, coaches, staff, donors, fans and members of the campus community," he said. "Seeing where we were when I arrived on campus in 2007 to where we are now is truly amazing. The progress we have made athletically and institutionally is a testament to the strength and vibrancy of this campus."
"This is the right time for me and my family, and I know Coyote Athletics is in a position of strength moving forward. I want to thank President Abbott for first allowing me to lead Coyote Athletics, and to President Gestring for her ongoing support, guidance and leadership. I also want to thank all the student-athletes, coaches, staff and all of Coyote Nation for making this such a rewarding and memorable experience."
As the university begins its search for the next athletic director, it seeks an experienced leader who is prepared to build upon the momentum of USD's athletic program and grow its resources.
"Our focus is bringing a proven, high-integrity individual who puts student-athletes first and wins the right way," Gestring said. "We look forward to continuing a legacy of excellence in Coyote Athletics now and into the future."
The University of South Dakota presents four faculty members recognized for their outstanding research, chosen by external reviewers for their research accomplishments, publications and grant success.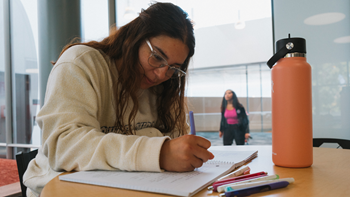 Rounding out its first year, Coyote Career Kickstart: Rural Recruitment, Retention and Completion is helping rural and underrepresented students succeed by providing mentorship opportunities, academic support and access to paid internships.
University of South Dakota President Sheila K. Gestring will deliver her 2023 State of the University Address on Thursday, Sept. 21 at 4 p.m. in Aalfs Auditorium of Slagle Hall.