Honoring the Life and Legacy of Elizabeth Cook-Lynn
The University of South Dakota honors the life and legacy of alumna and influential Native American scholar Elizabeth Cook-Lynn, Ph.D., who passed away on July 5.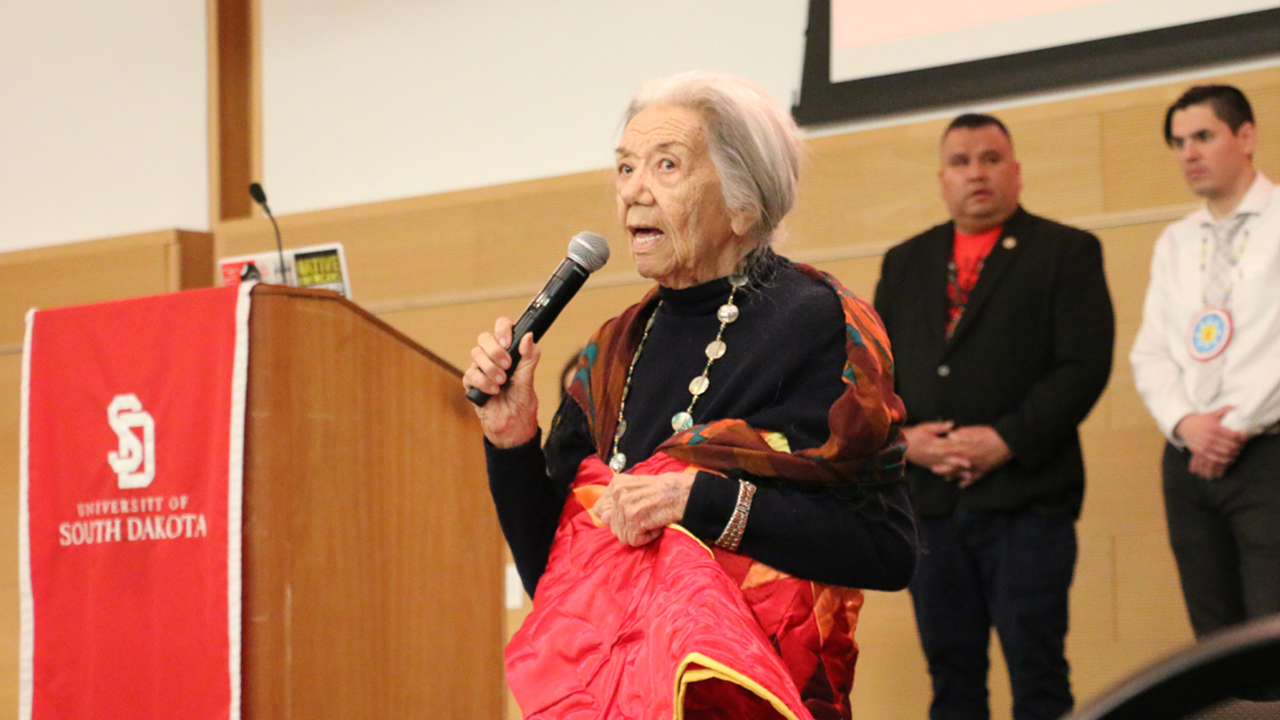 Cook-Lynn was born in Fort Thompson, South Dakota, and was a member of the Crow Creek Sioux Tribe. An editor, essayist, poet and novelist, Cook-Lynn became a foundational scholar and leading voice in the discipline of Native American Studies, Native Studies, Indigenous Studies and Native American politics, with a particular interest in tribal sovereignty. In 1985, she co-founded the Wicazo Sa Review, which was the first dedicated peer-review academic journal in the discipline of Native American Studies.
From 1971-1991, Cook-Lynn was a professor of Indian Studies and English at Eastern Washington University in Cheney, Washington, where she played an instrumental role in helping develop the Indian Studies program. She also served as a regular visiting professor at the University of California, Davis, and Arizona State University in Tempe.
Cook-Lynn graduated from the USD School of Education with her master's degree in counseling and psychology in education in 1971. In 2022, she was honored with a star quilt at USD's 10th annual Native Alumni Dinner for her contributions to Native Studies and higher education.
"Over the last 50 years, Dr. Cook-Lynn has been one of the most influential leaders in the field of Native American Studies," said John Little, Ph.D., director of Native recruitment and alumni engagement at USD. "She was a prolific writer and mentor who dedicated her life to fighting for better representation of Native people and the continuation of tribal sovereignty.
"She will continue to be reflected in the writings of all the Native and Indigenous scholars who she influenced," continued Little.
Cook-Lynn published a number of works across a variety of genres, including a highly influential article titled "Who Stole Native American Studies?" that explores the origins and challenges facing the discipline. Through this essay, Cook-Lynn lays out two major principles that would become the guiding concepts of Native American Studies, with the first being "Indigenousness" – which includes place culture and philosophy – and the second being "sovereignty" – which encompasses history and law.
As a Native American Studies and history professor at USD, Elise Boxer, Ph.D., director of the Institute of American Indian Studies, said that the knowledge shared by Cook-Lynn has influenced both her personal education journey and her way of teaching.
"The two principles put forth by Cook-Lynn continue to shape the discipline both inside and outside the classroom," said Boxer. "As a Dakota scholar, Cook-Lynn has guided my scholarship and how I teach Native American Studies. Every student I have had the privilege of teaching in my Introduction to Native American Studies course has read her work to better understand the origins of the discipline and challenges we continue to face in academia."
Throughout her life, Cook-Lynn served as a voice of Native American activism through her essays, fiction stories and poetry, and the impact of her work will continue to be felt both on USD's campus and beyond.
"Cook-Lynn's scholarship will continue to influence future generations, as she has claimed space for Indigenous intellectual traditions through her writing," said Boxer. "Her work and commitment to Indigenous peoples and nations will ensure the survival of another generation."