Krus and Tinguely Honored with Belbas-Larson Awards
Assistant Professor Tony Krus and Associate Professor Joseph Tinguely are the recipients of the 2022 University of South Dakota Belbas-Larson Awards for Excellence in Teaching. They will be recognized at the USD commencement ceremony, and they will each receive $5,000, a commemorative medal and a framed certificate.
Candidates for the awards are nominated by students and colleagues and selected by a faculty committee based on a variety of metrics such as demanding rigorous standards of performance, inspiring students to greater achievement and ensuring course content represents the highest standards in the field.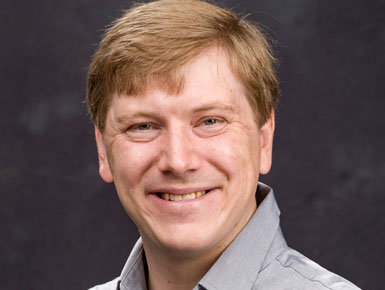 Tony Krus, Ph.D., RPA, honored in the non-tenured category, is an assistant professor in the Department of Anthropology and Sociology.
"Receiving the Belbas-Larson represents the highest honor of my career, as I have an enormous amount of respect for the previous Belbas-Larson recipients and the award's legacy," said Krus.
Krus joined the USD faculty four years ago. He teaches entry- and upper-level anthropology courses that include Introduction to Archeology, World Regional Geography, South Dakota Prehistory, Anthropology of Violence and Collapse of Societies. He also heads the Susan Tuve Archaeological Field School, which is focused on the survey and excavation of several 19th century sites in South Dakota's Clay County. Krus's research focuses on the development of archaeological chronologies with computational methods, often with an emphasis on understanding the relationships between ancient societies and the environment. While at USD, he has served as principal investigator or co-principal investigator on two National Science Foundation grants.
Krus said that teaching and mentorship are the most important parts of his position, and in his classes, he uses a number of methods for tapping into his own intellectual curiosity and love for learning. These include hands-on activities and assignments utilizing the teaching tools of the USD Archaeology Lab and field trips to archaeological sites.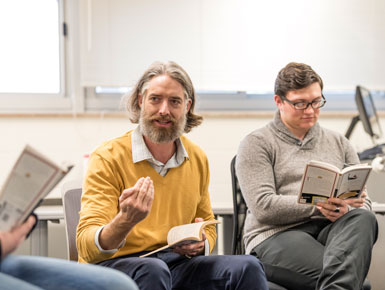 Joseph Tinguely, honored in the tenured category, is an associate professor in the Department of History.
"I credit this award to the excitement generated by the remarkable work of the philosophy students and to the impressive accomplishments of philosophy alumni who have gone on to successful careers in law, religious ministries, social services, coaching, politics and marketing," said Tinguely.
A native of North Dakota and Minnesota, Tinguely graduated with a Ph.D. in Philosophy from the New School for Social Research in New York City. Since coming to USD in 2012, he has helped steer his curriculum towards engaging with the real world through practical implications of philosophical theories. For example, he helped implement a degree specialization in "Ethics, Law, and Society" and introduced a senior capstone in which students demonstrate how their philosophical training equips them to address a moral issue central to their professional or civic goals. In addition to courses in ethics and political philosophy, Tinguely regularly teaches classes in the history of philosophy, on topics such as aesthetics and religion, and across the Honors curriculum.
Tinguely's book, "Kant and the Reorientation of Aesthetics," shows how categories drawn from beauty and art are crucial for making progress in our moral and political lives. He is the editor of the forthcoming "Palgrave Handbook of Philosophy and Money," which surveys the role of money in the history of ideas, and he is the organizer of international collaboration on "Historical and Interdisciplinary Considerations of Economies and Worldviews," sponsored by the National Endowment of the Humanities. Tinguely's research interest in the relation between money and ideas derives in part from his experiences teaching and advising students.
"Many entrepreneurs and leaders in business and culture have backgrounds in philosophy, and I want to bring that recipe for success to South Dakota," said Tinguely. "My job is to make intellectual introductions and then clear out of the way while being a cheerleader and defender for students who want to think for themselves and engage responsibly in professional and civic life."