Reaching the Community Through the Fine Arts
The USD College of Fine Arts had a problem.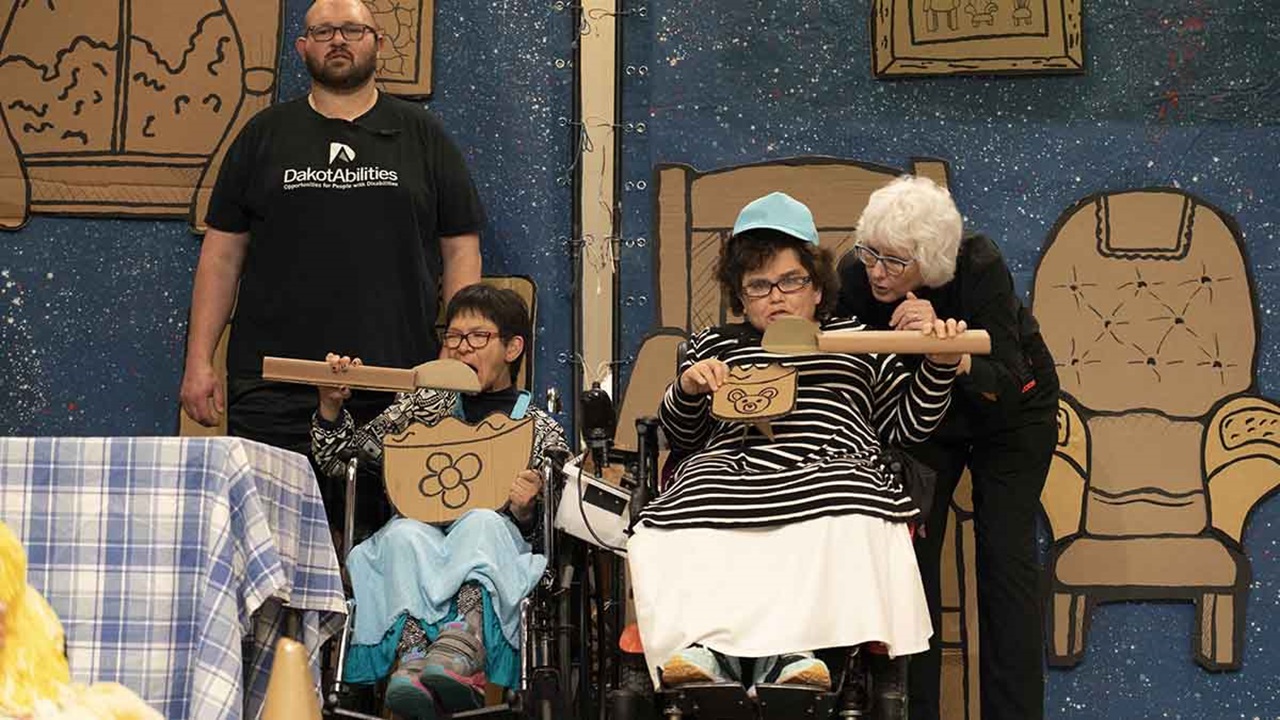 Beginning in 2020, restrictions stemming from the COVID-19 pandemic meant fine arts students were unable to perform or display their work for indoor audiences.

So, the college got creative, trucking traveling art projects around the state, hosting outdoor "opera pop-ups" and creating entire theatre productions over Zoom, just to name a few.

"It forced us to rethink everything," said Bruce Kelley, Ph.D., dean of USD's College of Fine Arts. "Some of those things would never have happened if it weren't for COVID."
Art in Community
Partnering with the community has always been part of the college's DNA, Kelley said. From concerts to art exhibits to theatrical productions, the fine arts are naturally geared toward engaging with the public but doing so became even more important as people found themselves isolated and lonely during the pandemic.
"Art can be enjoyed by all people, of all abilities, of all ages. Everybody enjoys it in their own way," Kelley said. "Because we couldn't be in our space, we were forced to go outside and into the community. And I really think that opened up some people's eyes."
Ariadne Albright, M.F.A., is the arts program coordinator at Sanford Health in Vermillion and an arts in health instructor at USD. She saw a request from the Centers for Disease Control Foundation, asking for grant proposals for art projects to help boost confidence in the COVID-19 vaccine, and decided to apply.
"I spent a good week sort of mulling over what kind of project would be accessible and also speak to our culture, and quilts were a natural fit," Albright said.
Using decorative art papers and recycled clothing, the quilts were made using five traditional patterns from around the state. On the quilts were written reflections on the pandemic by more than 400 South Dakotans from communities like Lemmon, Chamberlain, Pine Ridge and Watertown.
"It's the biggest grant I've ever been a part of, and I'm so grateful they gave us the chance," Albright said.
But the quilt project isn't the only way Albright has helped USD engage with the community. She is one of the creators of the
arts in health program
, a certificate program that trains artists and health care workers alike to bring the arts into a variety of settings, including assisted living homes, hospices, cancer wards and more.
I love training students to bring their creativity into environments where there are vulnerable populations that really appreciate them," Albright said.
While arts in health as an educational program is still in its infancy, the concept of using the arts to foster healing is gaining popularity.

"We've seen arts in health kind of take off in hospital settings, long-term care facilities and also helping a lot of younger patients to talk about what they're going through in different ways," said Cory Knedler, M.F.A., chair of USD's art department. "We sometimes find that people discover a lot of feelings that they're having through making art."

Both Knedler and Albright say they hope to expand the arts in health certificate to a full degree in the near future.

"I really credit the College of Fine Arts with taking a chance on a new field and now, we have quite a good footing and a national reputation," Albright said.

Other community outreach projects in the art department include the University Art Galleries' collaboration with Vermillion Middle School to create a mural in their common area.

Students selected the images they wanted to see in the mural and the crew assembled the mural during the lunch hour, so students could both see and participate in the mural's creation.
"We wanted to get the students' voices to represent what community meant to them," said Amy Fill, the director of the University Art Galleries. "It builds stronger relationships, relationships that may not have happened otherwise. We're all learning from each other."

Gallery staff plan to finish the mural this spring before launching another project in the middle school's library later on.

Art isn't the only area where the College of Fine Arts is extending its reach into the community. For the music department, COVID restrictions led to the birth of a popular new event, the Music Is Alive Festival. A free concert held in Vermillion's Prentis Park, the event started in October 2020 at a time when many people craved the social opportunities COVID had stolen from them.

"People were thirsty for that kind of event," said Department of Music chair David Holdhusen, Ph.D. "People could come and go, there was a chance to socialize. It became more of a community event than a concert, and I think that was a huge part of the success of that event."

Another opportunity that arose because of COVID were so-called "opera pop-ups," concerts featuring famous arias and duets that were held outdoors in Sioux Falls, Yankton and Vermillion.

"The audience response was tremendous," said Tracelyn Gesteland, D.M.A., a voice/opera professor at USD. "We would like to explore more opportunities to bring opera out to the public and hopefully inspire people to come to campus to see us on the main stage, as well."
Lasting Changes
Even as the pandemic begins to subside, the department says the changes it inspired will likely continue. For example, although concerts are now being held indoors again, they are routinely livestreamed for remote audiences, a practice that did not begin until the pandemic started.

"The live streams were something we had been working toward for a while, but COVID was the impetus to say, 'OK, this has to happen now,'" Holdhusen said. "We just have to figure out ways that we can continue to be visible outside of the traditional concert and really take our efforts to the people as much as possible, not just relying on them coming to us."

In the theatre department, university leaders have long standing relationships with community partners. In 1946, USD theatre professor Warren M. Lee — who later became dean of the College of Fine Arts — helped found the Black Hills Playhouse in Custer. Seventy-six years later, USD still assists the playhouse in creating theatre programs for people all over South Dakota.

One of these programs is the Oceti Sakowin & Dakota Players Theatre Experience, which helps educate South Dakota students about Lakota culture through online videos, worksheets and artistic activities.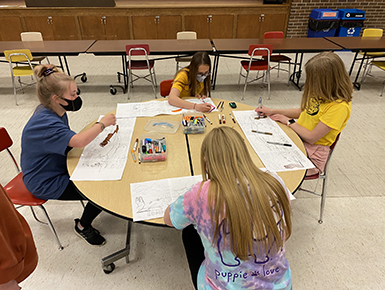 The project began during the pandemic with a request from the schools on the Rosebud Indian Reservation, who asked for programs created through the lens of Lakota culture that could be completed by students learning at home. With the help of Native artists and organizations, the program has seen great success and is planning to expand to classrooms across the state.

"Our goal is to make this a turnkey program, so teachers feel comfortable using materials to be able to authentically teach Lakota culture," said Linda Anderson, executive director of the Black Hills Playhouse. "We're hoping a lot of schools will pick up on this, because it's an important thing in South Dakota."
Unique Opportunities
Another program that USD and the Black Hills Playhouse are using to create partnerships with the greater South Dakota community is a project called The Expanding Stage. Since 2000, the program has partnered with organizations like Lifescape and DakotAbilities to help people of all abilities participate in theatrical productions.
"The beautiful part of these partnerships is we're all learning together," said Deb Workman, director of education for the Black Hills Playhouse. "We want to involve everyone from beginning to end."
Involving everyone means finding creative solutions, like adapting costumes for people in wheelchairs or pre-recording lines for those who are nonverbal.
"It's really about making everyone successful — we meet them where they are," Workman said.
No one is passed over for a part because of a perceived limitation; in a past production of Macbeth, the actor playing the eponymous main character communicated all of his lines using a voice actor.
"It really opened my eyes to what it means to be inclusive in theatre," Workman said. "Creative people think creatively, they think outside the box. This pushes you way outside the box."
Like many programs, The Expanding Stage faced unique challenges during COVID, but made sure the shows went on. For one production, Workman and her team coordinated with nine group homes in South Dakota to rehearse and record their scenes over Zoom, stitching each part together to create a cohesive story.
Despite the challenges, Workman says she sees the people she serves come alive when they have the chance to perform, and many family members have the opportunity to see their loved ones experience things for the first time.
"One mom came up to me and said, 'I've never seen my son dance,'" Workman said. "People need this. They need to be able to express themselves in different ways."
Anderson says that the College of Fine Arts helps enable the Black Hills Playhouse to continue to provide programs that enrich the lives of South Dakotans.
"Our goal is to have sustainable work for artists to be able to stay in South Dakota," she said. "The support from USD is a huge part of that."
Each of the departments within the College of Fine Arts helps create and strengthen bonds between USD and the state of South Dakota, and the communal nature of the fine arts makes their impact felt all the more deeply.
"The fine arts are meant to develop community and are meant to be enjoyed in community," Kelley said. "One of my goals within the College of Fine Arts is to reach out and make a difference, and we make a difference by interacting within our communities."