Service with Purpose: AWOL Shows Students Importance of Community, Engagement and Connection
By facilitating volunteer experiences and service-learning opportunities, Alternative Week of Off-Campus Learning, or AWOL, empowers students to serve their communities and prepares them to make a difference.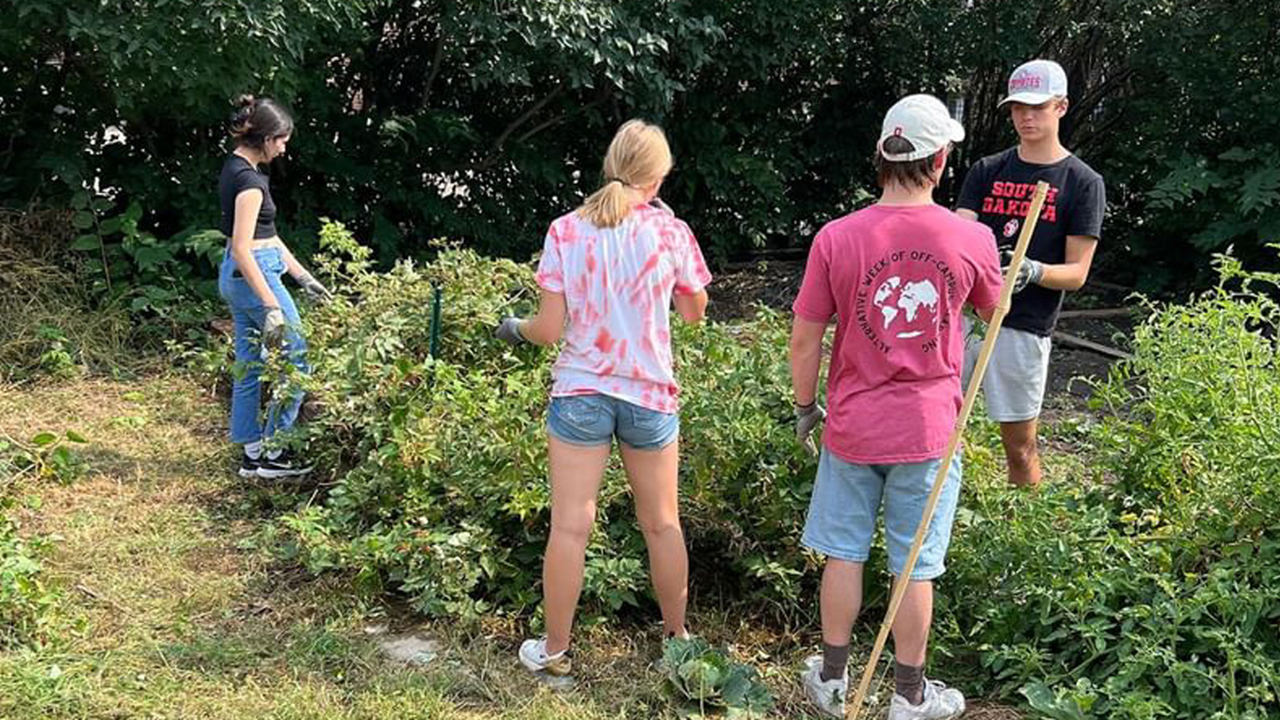 "AWOL is the epitome of what the Office of Service Learning is and does," said April Lee, assistant director of service learning and community engagement. "We help build relationships across campus and within the community by connecting USD students with volunteer opportunities."
AWOL is a co-curricular program at the University of South Dakota that sponsors opportunities for service learning, including alternative breaks during the university's winter, spring and summer breaks, as well as monthly alternative weekends during the academic year.
These breaks offer participants the opportunity to travel locally, nationally and internationally in groups of 8-15 to serve communities and gain new perspectives on social issues – from mental health and well-being to child poverty and health care.
Through AWOL breaks and weekends, students gain important volunteer experience; more importantly, they learn the value of giving back and serving communities in need.
"There's a social issue or focus, but when we contact the community, it's really important that the students learn right away that service work doesn't always look like what you thought it was going to," said Lee. "Our students might have had an entire agenda planned, but when they get there, it's important for them to listen to community members and understand what their vision is and what they'd like us to accomplish.
"For any student, being exposed to working with and serving others who are completely different from them is life changing."
Senior medical biology major Abby Erkonen has participated in several alternative weekends through AWOL, as well as an alternative break exploring health care access in Chicago.
"While I've learned numerous lessons throughout my time with AWOL, I think my biggest takeaway is the importance of educating ourselves on social issues and viewing them through the lenses of those most affected," said Erkonen. "This isn't always easy, and I've found myself questioning many false truths I have been taught over the course of my life.
"AWOL has allowed me to answer these questions through hands-on experiences and conversations with community members across the nation," she continued. "I've found that entering a situation with an open mind and a caring heart can take you a long way."
Currently in her second term as executive board president, Erkonen has also garnered invaluable professional skills through AWOL that are already setting her up for future success.
"I've developed my personal communication style and learned how to navigate conflict among my peers while making lasting connections across campus," Erkonen said. "I've learned that it's alright to not have the answer to every question – but if you take a humble approach and work through the problem alongside others, you'll be just fine."
In addition to alternative breaks and weekends, AWOL offers opportunities for students to get involved through New Yote Community Engage (NYCE), formally known as Serve & Learn, which is designed to introduce first-year students to volunteer opportunities on campus and in the Vermillion community. NYCE participants also get to move in a week early, allowing them to make connections across the university and get acclimated with life on campus prior to classes starting.
"NYCE is a great networking tool for students and is a great way for students to have a softer landing when they get here," said Lee.
For freshman Alex Vonderau, who is double majoring in political science and international studies, NYCE made getting used to life on campus a bit smoother.
"Getting involved with AWOL and making connections with a group of likeminded people before I moved in was helpful," said Vonderau. "Also, moving in a week early and being able to get a feel for campus for longer than a couple days before classes really put me at ease."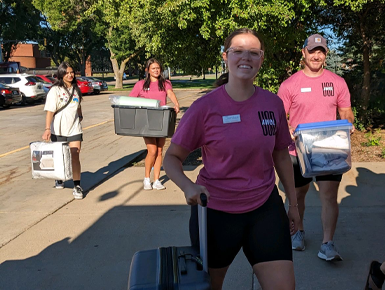 This year, AWOL had a record number of students participate in NYCE, with 27 students engaging in the week-long program. Through NYCE, students had the opportunity to meet with campus offices and resources, like Charlie's Cupboard, the Opportunity Center and more. They also met with Vermillion service organizations like United Way, volunteered in the community and helped with the university's Move-In Day.
"Aside from volunteering, we also emphasize community engagement," said Lee. "We hope to create active citizens, so by the time students graduate, they're ready to continue this in whatever new community they land in. We also hope students understand how important it is to make connections."
The University of South Dakota is launching Coyote Care to offer students in-the-moment support from counselors and connections to additional mental health resources, regardless of time of day or student location.
The University of South Dakota is proud to announce that they are one of 53 institutions from across the nation to be selected for a 2023 First-Generation College Celebration Grant from NASPA's Center for First-Generation Student Success.
As someone who stepped on to the University of South Dakota campus a "small-town, shy kid," and left "a very confident adult with plenty of support from the university," Nick Fey '17 understands the transformative power of mentorship and is committed to providing that same support to current students.