Sioux Falls Artist Uses Illustrations and Placemaking to Create Conversations
Since graduating from the University of South Dakota a decade ago, Zach DeBoer '12, B.F.A., describes how he is working to change the Sioux Falls community for the better through the transformative power of creative placemaking.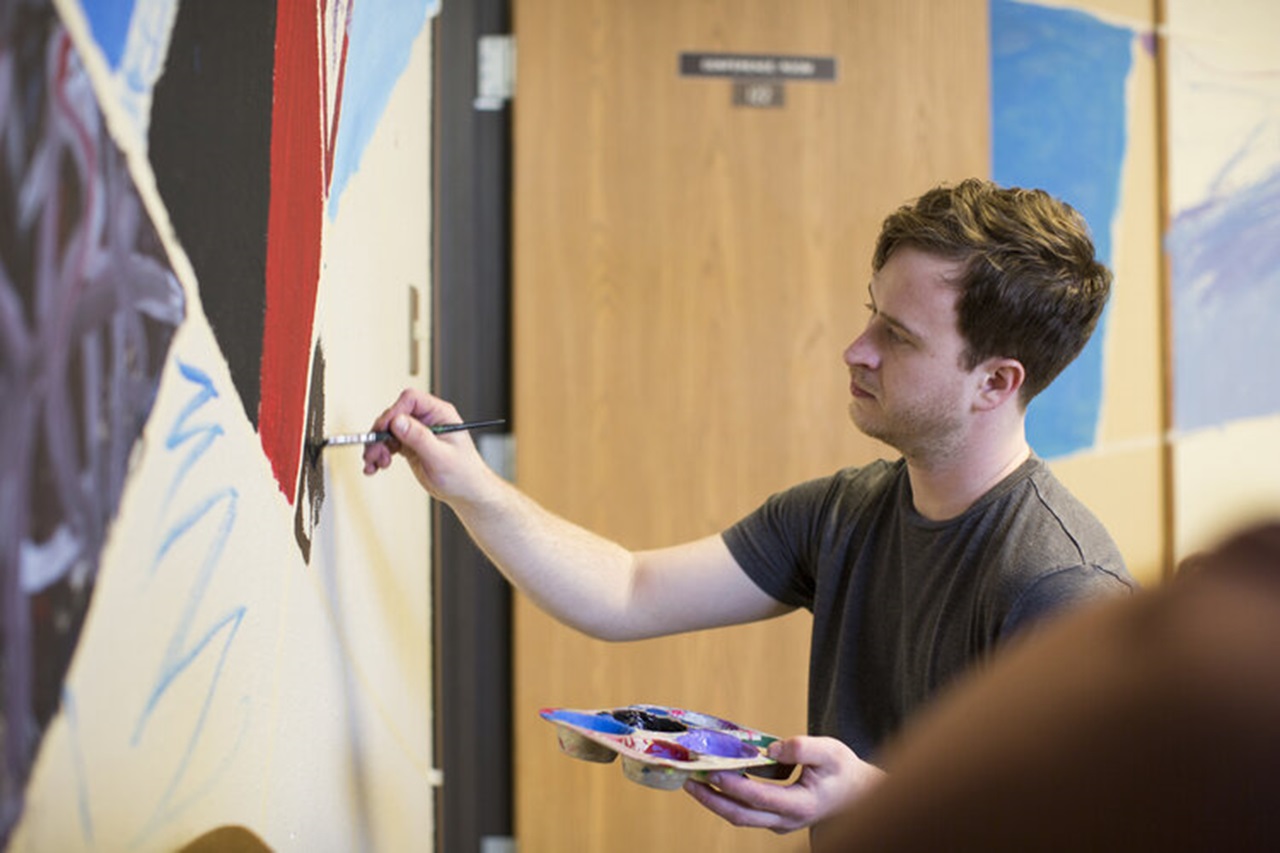 Creative placemaking is the process of artists, community developers and other city stakeholders using artistic strategies to create community change by adding vibrancy to a city.
DeBoer is the Artist in Residence for the South Dakota Arts Council and is passionate about public art integration, creating walkable places and designing more equitable cities.
"I do a lot of public artwork and advocacy work for walkability and pedestrian safety issues, so I am excited to do some murals to draw attention to those topics," DeBoer said.
DeBoer used his passions for civics and community engagement by running for Sioux Falls City Council in 2017. DeBoer's favorite civic engagement project has been advocating for the new Sioux Falls city flag.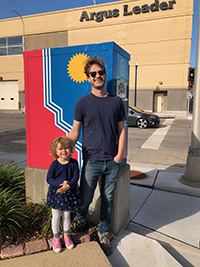 "I was a part of the advocacy efforts to design, promote and adopt the Sioux Falls city flag. After four years of growing a grassroots movement around the flag, our group was able to convince the city council to officially adopt the flag in 2018," DeBoer said. "Since then, it has become a symbol synonymous with Sioux Falls and can be found throughout the city."
Some of his past community projects include designing neighborhood enhancements, creating traffic wraps, visually enhancing dog parks and pop-up cafes. He believes public placemaking is vital to enhancing the community and bringing people together, while also creating conversations for change.
"Public art is a fantastic tool that cities can use to spur economic development, instill local pride and unify communities," DeBoer said. "Being able to assist in revitalizing or creating places that people will love is something very meaningful to me."

A project he is working on this summer is at the Great Plains Zoo in Sioux Falls.
"I'm doing some work with the Great Plains Zoo right now," DeBoer said. "I will be restoring some older murals and then painting a new mural in the bear exhibit."
DeBoer is looking forward to continually finding new ways to add vibrancy and safety to communities.
"I would love to work with smaller communities on strategic, long-term placemaking plans that can help them revitalize their main streets, create safer environments for pedestrians and energize the people that live there," DeBoer said.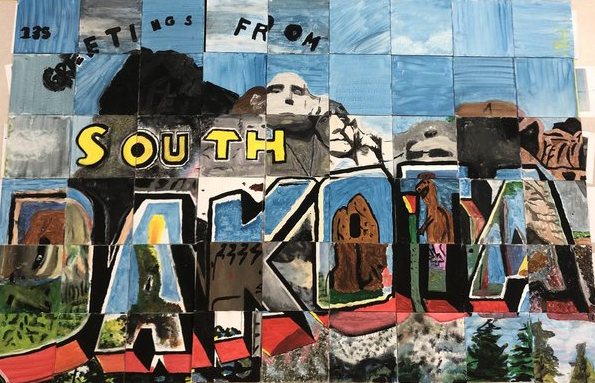 Creating a children's book
In 2019, DeBoer was approached to create illustrations for the children's book "Where's Charlie?" by authors Michelle Cwach '09 and Bailey Quanbeck '18. He was tasked with the challenge to depict iconic places special to USD and downtown Vermillion.
"Our collaborative effort started with finding some stores, shops or buildings that folks would connect with and recognize," DeBoer said.
DeBoer also included some of his own personal college favorites in the book.
"It was important to me to show the fine arts building in some way, shape or form," DeBoer said. "I was very happy to do a spread that included the John A. Day Art Gallery where I spent a lot of time when I was in college."

Before starting the illustrative process, DeBoer visited USD's campus to take pictures for reference.
"Walking through the buildings and campus, about a decade after I went to school there, was very surreal and fun," DeBoer said.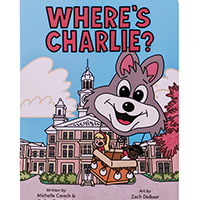 DeBoer's greatest challenge was incorporating the "search and find" flaps throughout the story.
"Having to think about how those flaps worked, and how to hide those characters within the flaps was an interesting and sometimes difficult exercise to do," DeBoer said.
DeBoer looks forward to Dakota Days where he can read "Where's Charlie?" with his four-year-old daughter, and they can share the spirit of USD in a new way.

Get your copy of "Where's Charlie" today!