Students Flock to Artificial Intelligence Offerings at USD's Computer Science Department
Student enrollment in the University of South Dakota's computer science programs has skyrocketed. Between fall 2021 and fall 2022, the number of undergraduate students grew 39% while the number of graduate students expanded by an astounding 184%.
Driving the increase is not only a national growth trend in computer science programs, but also a niche opportunity in South Dakota to study and specialize in artificial intelligence, or AI.
Leading the way in AI teaching and research at USD is KC Santosh, Ph.D., associate professor and chair of the Department of Computer Science. Santosh is an internationally recognized researcher on all aspects of AI, which harnesses the power of computers to process and analyze data in ways that mirror human intelligence.
AI is transforming how we live, work and play, creating a demand for experts in this field that is growing exponentially. From 2019-2029, the Bureau of Labor Statistics projects a 15% increase in computer and information technology occupations, which includes AI specialists and machine learning engineers.
Both undergraduate and graduate students at USD can earn a degree in computer science with a specialization in artificial intelligence. A certificate in AI is also available to undergraduate and graduate students who are majoring in other subjects. This fall, the department also introduced a new certificate in data science to provide a foundation in computer programming and machine learning to students majoring in computer science as well as in other disciplines.
"USD is home to South Dakota's premier programs in AI," Santosh says. "We are preparing students for careers in data science and machine learning. Expertise is needed to develop AI for good—AI for health care, AI for sustainable agriculture, AI for education, AI for security and defense, AI for economy, and much more."
A lot of that "AI-for-good" activity is happening here in South Dakota. Whether it's helping local banks prevent theft or health professionals make medical diagnoses, AI specialists design the systems using algorithms that learn from data and make predictions. The result: more accurate and reliable information and better decision making.
Recent USD graduate and Sioux Falls native Adam Grady '21, B.S. M.S., is a software engineer at the Sioux Falls office of Solarity, a company that uses AI to interpret clinical data in health care. Grady is part of a team of engineers that helps hospitals and clinics manage the huge amounts of clinical data collected.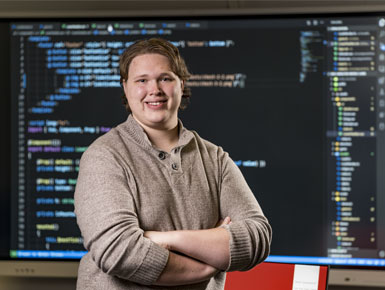 Grady earned his bachelor's and master's degrees in an accelerated 4 + 1 program, allowing him to save a year of tuition expenses and enter the job market sooner. Working at Solarity gives him the opportunity to apply his undergraduate and graduate training in software development and AI to help the medical community maintain comprehensive and accurate records.
"There is a massive network of information coming in and out of hospitals, and it's a struggle for them to manage all of that," Grady said.
The challenging and ever-changing field of AI and computer science in general appeals to Grady. "I just love the problem-solving aspect of what I do," he said. "Developing something and seeing it come together is so satisfying."
Grady adds that he also does website development on the side with his own company, Grady Development.
At USD, he took advantage of research opportunities available to computer science students. Grady worked with the USD School of Health Sciences to write a program that increased mammogram awareness among Native American women. The ability to take part in such opportunities while still a student was one of the best aspects of his time at USD, he says.
Another favorite aspect about the computer science department: Associate Professor Doug Goodman, Ph.D., a 36-year veteran of the department. "Dr. Goodman is an awesome professor," Grady says. "His door is always open, although you may find him playing Chinese Checkers with a student."
Siva Allu '22, M.S., another recent graduate of the program, now works as a software development engineer at Amazon in Seattle, Washington. Originally from India, Allu chose to attend graduate school at USD because of its reputation in AI.
"I don't come from a computer science background; I got my undergraduate degree in aeronautical engineering," Allu says. Learning about AI imaging during his studies drove him to pursue further education in the subject. "AI is the innovation of the century. A lot of future solutions to science problems will come from AI."
USD's program gained his attention due to Vermillion's low cost of living, the opportunity to work directly with professors in the department and research opportunities offered to students. "I was able to get a summer research project right away," Allu says.
Like Grady, Allu credits Goodman—particularly the professor's algorithm class—for his success in the field. "His class was tough. But when you have a tough class, you learn a lot." Allu also acknowledges Santosh and Instructor Zach Tschetter for their guidance and mentorship.
Current graduate student Suprim Nakarmi also came to USD after earning an undergraduate degree in engineering in his native Nepal. Studying AI emerged from an interest in serving people living in rural areas in low- and middle-income countries. "AI has a huge impact where experts are not available," Nakarmi says. "AI can help non-experts in those areas in health care facilities screen for diseases, for example."
He also has a research apprenticeship with Synthetik, a start-up based in Austin, Texas, which uses technology to mitigate threats such as terrorism and environmental events. After graduating next year, Nakarmi plans to work in industry before pursuing his Ph.D. USD's AI specialization, accessible faculty, low-cost tuition and the active student International Club all add up to a great experience for students from all over the world to pursue graduate studies here, he adds.
Shotabdi Roy '22, M.S., says USD's reputation in AI led her to apply after earning her bachelor's in electrical and electronic engineering in her home country of Bangladesh where she wrote her thesis on an AI-based object-detection robot. "I wanted to do my master's in artificial intelligence and computer vision, and when I saw Dr. KC Santosh's work, I was so amazed that I made up my mind to work under him. I didn't even apply to other universities," she says.
Currently, she works as a research associate in the lab of Arun Singh, Ph.D., assistant professor of basic biomedical sciences in the Sanford School of Medicine at USD, where Roy and her colleagues study motor and cognitive control networks in Parkinson's disease and other neurodegenerative and neuropsychiatric disorders. "Both of my degrees are perfectly blended here," Roy says. "I'm also working with human subjects which makes me feel so good because my research work will contribute to human well-being."
South Dakota native Josh Henderson earned his bachelor's degree in computer science this May and now serves as an instructor in the department while earning his master's degree here. "Growing up in South Dakota, I knew that USD had a good program and was intrigued by the chance to stay in state and still be at a program that allowed me to excel in my field and be prepared for working in computer science," he says.
Henderson plans to work in deep learning engineering and research after he graduates. "Remaining in South Dakota is an option, as there are a rapidly growing number of employers in computer science."
Annual Symposium Highlights AI's Far-Reaching Applications
In 2021, faculty members in departments across the University of South Dakota united to hold the university's first AI Symposium. Free and open to the public, hundreds of registered participants took part in the event online and on the Vermillion campus. This year, the symposium continued to bring in speakers on the latest developments in AI and draw professionals from academia, industry and government.
Past presentations include "Searching for dark matter with machine learning," "Using machine learning to better understand natural resource dynamics" and "The role of AI in decision-making."
The symposium is another way to position USD as a top educator of AI professionals in the region and beyond, says Santosh. "Our AI and data science programs at USD will contribute to preparing a workforce of young scientists who will maintain America's strategic position of command in science and engineering from South Dakota."
The IEEE Computer Science Society 2024 president elect Jyotika Athavale is set to be a keynote speaker for USD's 2023 AI Symposium.
Learn more about USD's computer science programs at usd.edu/Computer-Science.
The Council for Undergraduate Research and Creative Scholarship (CURCS) has selected 11 recipients for this summer's UDiscover summer research program. The University of South Dakota program is an academic opportunity for awardees to work under the guidance of their faculty mentor as paid student researchers and scholars, conducting projects over a 10-week period during the summer.