Three USD Students Receive Prestigious Gilman Scholarship
Three undergraduate students at the University of South Dakota – Jayda Hallman, TyAnn Hart and Aundria Lankford – were awarded the Gilman Scholarship, a prestigious, national competitive scholarship that supports students to study or intern abroad.
Funded by the Bureau of Educational and Cultural Affairs at the U.S. Department of State, the Benjamin A. Gilman International Scholarship Program seeks to broaden the student population that studies and interns abroad. The program awards up to $5,000 to scholarship recipients to offset the costs of studying or interning abroad such as program tuition, room and board, transportation and more.
Since 2012, 14 USD students have been awarded the Gilman Scholarship. This year is the first time three students have received the award in the same cycle.
"Having three USD students recognized by the Gilman Scholarship is an amazing accomplishment and a testament to the amount of hard work our students put into their education," said Jessica Winterringer, study abroad advisor at the Gallagher International Center. "This nationally competitive scholarship will give our students the chance to study abroad while providing them with skills critical to succeed in a globalized world."
Jayda Hallman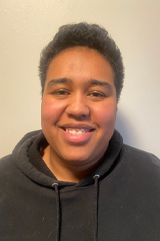 "I'm incredibly appreciative and grateful that Gilman selected me as one of the students to offer funds to," Hallman said. "It means a lot because studying abroad costs so much, and their help made my dream a reality."
A senior majoring in criminal justice and minoring in computer science, Hallman is using her Gilman Scholarship to study criminal justice in London. Hallman said she hopes this experience broadens her perspective and gives her an experience to share with people when she returns to the United States.
"I believe studying abroad is important because there are countless opportunities to meet new people from different places in the world and learn new information," Hallman added.
Hallman is undecided on her plans post-graduation, but she said she's excited to enjoy her experience abroad.
TyAnn Hart
"Being selected as a Gilman Scholar encouraged me to continue to set high goals for myself and put great effort into the pursuit of these aspirations," said Hart. "As a recipient, I was inspired knowing that the Gilman Scholarship is helping me pursue my passions by providing funds, guidance and a community of alumni. I am greatly appreciative to be given this opportunity to represent the Gilman community and become an advocate for international studies."
Hart is a senior pursuing a major in communication studies and minors in Spanish and media & journalism. She will use the Gilman Scholarship funds to participate in a USD faculty-led program in Spain over the summer where she will have the opportunity to learn more about Spain's culture, language and community.
"I have always hoped to study abroad to improve my Spanish speaking skills and learn more about intercultural communication," Hart said. "I knew studying abroad would be the perfect opportunity for me to connect and apply my undergraduate studies to an immersive experience."
Upon graduation, Hart said she plans to attend law school to learn about how she can advocate for others.
Aundria Lankford
"It is really great," Lankford said about receiving the scholarship. "It makes me feel like I am making the right decisions in my education."
Lankford, a senior majoring in German and minoring in international studies and Russian, is using her Gilman Scholarship funds to study abroad with USD's faculty-led program in the Republic of Georgia. Through this study abroad opportunity, she will learn more about the country and practice Russian.
"I think there are multiple reasons to study abroad," Lankford said. "Especially as a foreign language student, it is important to visit countries where my target language is being used."
After completing her undergraduate education, Lankford hopes to attend graduate school to study either East European studies or translation.