TRAC and Tech 2 Launch Programs Aim to Bring Innovation and Entrepreneurship to the State
Students and local startup companies seeking to bring an innovative mindset and entrepreneurial skills to the state of South Dakota can receive funding, mentorship and a degree with the Technology Readiness Acceleration Center (TRAC) and Tech 2 Launch (T2L) programs at USD.
Since launching in June 2020, TRAC has seen success in supporting entrepreneurship and developing research for market readiness since its creation.

TRAC aims to train student apprentices in technology development and the commercialization of technologies, which will create a pipeline of entrepreneurs to help increase innovation and economic and workforce development in the state of South Dakota.

TRAC began as a vision under Daniel Engebretson, Ph.D., vice president for research and sponsored programs, to transfer discoveries into useful inventions.

"A big driver for this program is to stop the brain drain in the state and get more businesses created that will be ran by our students and will later employ our students in the future," Engebretson said.

The program allows graduate students at USD an opportunity to participate in the program for two or three years. Students receive competitive stipends and spend their first year learning about intellectual property, entrepreneurship, technology development and laboratory skills development. Students then choose from a pool of over 100 technologies that are owned by USD or Sanford Health to focus on de-risking a research project for market application. In the second year of TRAC, students develop the technology, seek further funding and either create a startup company or form partnerships with established industry partners.

Engebretson discovered there is a need for a program like TRAC because there are very few resources to help researchers bridge the gap between academia and industry development. TRAC helps create that pipeline for technology development.
"Faculty members are inherently creative innovators who regularly discover brilliant solutions, which -- if brought successfully to market -- could solve critical problems," Engebretson said.
Currently, there are 15 TRAC students working on different projects, and USD is looking to hire more in the next few months.
"I would like to see two areas of growth: one is more invention disclosures from increased faculty and student involvement, and second, more businesses are being created around the technology being discovered here at USD," Engebretson said.
TRAC receives funds from USD, the South Dakota Board of Regents Research Commercialization Council and the U.S. Economic Development Administration.
Participants come from eight different academic disciplines, including physics, psychology, biomedical engineering, chemistry, biology, computer science, basic biomedical sciences and the MBA program.
TRAC helps future entrepreneurs through networking and engaging with a diverse group of stakeholders, including TRAC advisory board members, like Sanford Health, and other successful entrepreneurs. It helps students build a robust network in the region and provides them with tech commercialization training. TRAC also teaches students how to apply market and technical training to develop the technology in the lab and also to prepare a business case.
"The TRAC program is very unique," Beth Lambeth, technology transfer officer in the USD Office of Research and Sponsored Programs, said. "You won't find something like it at other universities; TRAC sets us apart in that it works to bridge academia and industry by supporting graduate students to develop novel technologies along commercially relevant pathways through education, innovation and entrepreneurship. It empowers students to become entrepreneurs that can increase their new product innovation and develop the next generation of industry-leading companies."
MBA student Tung Nguyen is currently developing an orthopedic implant to repair rib fractures using funding and expert guidance that TRAC provides. The program allows him to collaborate with others in the field and have an immediate impact by helping accelerate technology commercialization, Nguyen said.
"We can collaborate and develop relationships with businesses that have specializations and experience beyond our expertise," Nguyen said. "We've been fortunate to work with businesses that provide guidance and services in prototyping, medical device development and regulatory strategy. Through these relationships, I believe we support innovation in our technology as we retain new approaches and are challenged to think critically in all aspects of the company including research, development, operations and finance."
TRAC hosts workshops every month and each student has a deliverable requirement alongside their lab-based technology development duties. These deliverables could be anything from creating a pitch deck for investors to creating a business plan that showcases the technology's proposed value in the marketplace.
"We have seen success in these deliverables," Lambeth said. "We've seen startup companies being created, students asking to apply to raise money, prototyping activities, and each technology in the TRAC program has an updated market assessment on it."
Students in the TRAC program can apply to earn a graduate certificate in technology development and entrepreneurship. Students interested in TRAC can apply to the program as they enter graduate school.
"If STEM students have ever wanted to learn how to develop their research and their tech in the lab, and then develop market-focused applications for their technologies, TRAC is absolutely the perfect place for them," Lambeth said. "If business students have ever wanted to learn how to key into the commercialization of discoveries, have entrepreneurial drive and they're interested in seeing technologies get to market, they should apply to TRAC."
Another program Engebretson and Lambeth oversee is Tech 2 Launch (T2L). T2L supports South Dakota's tech entrepreneurs by relieving the administrative burden so that inventors can focus on innovation.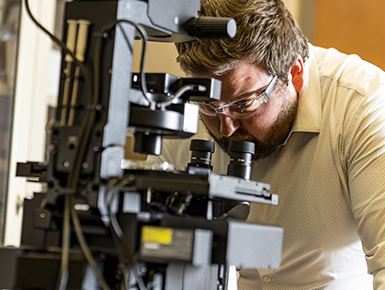 T2L, which is funded by an essential partnership with Sanford Health, works to connect entrepreneurs to available local resources so that they can launch their business with a plan to scale and secure financing from private and non-dilutive funding sources.
T2L will support South Dakota inventors by providing strategy in business operations, commercialization pathways, supportive frameworks, legal counsel and financial planning.
The program can also help entrepreneurs connect to other important resources, such as the South Dakota Small Business Development Center, South Dakota Governor's Office for Economic Development, South Dakota Biotech, the Enterprise Institute, Startup Sioux Falls, Elevate Rapid City and the Graduate Education & Applied Research Center, to name a few.
"I don't want a successful business idea to fail because they don't know how to balance a checkbook," Engebretson said. "We can provide those sorts of resources to our inventors."
More often than not when inventors embark on the process to create a company to move their tech development efforts into the marketplace, they can be consumed by invoices from lawyers and accountants for business administration activities such as company formation, filing taxes, applying for patents and more.
T2L was created to help inventors, either students or businesses, to focus on what is most important – developing their idea. It is designed to help startups in their infancy succeed by providing workspace, mentoring, training and funding for business administration.
"Entrepreneurs should apply to T2L," Lambeth said. "It's unlike any other startup resource offered to entrepreneurs in South Dakota."