University Libraries Seeks Entries for Altered Book Exhibition
University Libraries at the University of South Dakota is seeking entries for "Bound and Unbound VII: Altered Book Exhibition," their seventh international biennial altered book exhibition scheduled for display Aug. 21, 2023 – Jan. 3, 2024.
Sponsored by the University Libraries Arts and Exhibits committee, "Bound and Unbound VII" features an exhibit of altered books, which are mixed media artworks where books are changed from their original form, altering their state or meaning. Books from any source utilizing any medium are eligible. There are no restrictions on when the work was created. All work must be original.
"This year we are sidestepping the requirement that work be completed in the last three years. We are opening up the call to any altered book made at any time. Hopefully, we will receive a nice survey of altered book art," said committee member Sarah Hanson-Pareek, digitization and photographs curator at the University Libraries. "We are all curious to see if we might receive works from the 1950s, 1960s, and anytime onward. And as always, new work is welcome."
Dan Daily, dean of the University Libraries added, "the seventh "Bound and Unbound" exhibit of altered books promises to build upon its foundation of featuring thoughtful, provocative and truly imaginative works by artists in the U.S. and abroad. As always, it is an honor for the University Libraries to host the exhibit."
Brian Dettmer, an American contemporary artist currently residing in Chicago, Illinois, will serve as juror for this year's exhibition.
"We are very excited to have Brian Dettmer as juror this year," said Hanson-Pareek. "Dettmer is one of the leading altered book artists working in the United States today. He is an icon of the altered book, and his work is quickly recognizable. I believe those serious about altered books will be honored to have their work selected by him."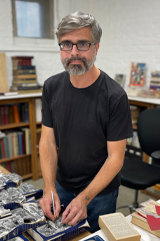 Dettmer's work has been the subject of over 25 solo exhibitions over the past 20 years at international galleries and institutions, including: the Geiger Foundation, Cecina, Italy; MiTO, Barcelona, Spain; the Museum of Contemporary Art of Georgia (MOCAGA), Georgia; the International Museum of Surgical Science, Illinois; and the Virginia Museum of Contemporary Art (VAMOCA), Virginia. Dettmer's work has been featured in exhibitions at the Museum of Arts and Design, New York; the Renwick Gallery at the Smithsonian American Art Museum, Washington, D.C.; the Chicago Cultural Center, Illinois; the High Museum of Art, Georgia; NYU AD Space, Abu Dhabi; and the Perez Art Museum, Florida, among many others.
His work can be found in the permanent collections of the Smithsonian American Art Museum Renwick Gallery, Washington, D.C.; the Art Institute of Chicago Ryerson and Burnham Libraries, Illinois; the High Museum of Art, Georgia; the National Gallery, Oslo, Norway; and the Yale University Art Gallery, Connecticut, among several others. He has lectured on his work at several museums and institutions – NYU Abu Dhabi; the Victoria and Albert Museum, London, United Kingdom; the New York Public Library, New York, New York – and has given a TED talk at the TED youth conference in New York City. Dettmer's work has been featured in numerous publications and media including The New York Times, The Guardian, The Telegraph, Chicago Tribune, Art News, Modern Painters, Wired, The Village Voice, Harper's, CBS News and NPR.
Entries for "Bound and Unbound VII" are open to the public and artists can submit up to three entries by March 6, 2023. There is no fee to enter the exhibition and selected works will be on display at USD's University Libraries second floor exhibition cases from Aug. 21, 2023 through Jan. 3, 2024 as well as entered into the altered book collection on the Digital Library of South Dakota at and the Digital Public Library of America. A full prospectus and entry form for the exhibition can be found online.
For more information, please contact Hanson-Pareek at Sarah.HansonPareek@usd.edu, Danielle De Jager-Loftus at Danielle.Loftus@usd.edu or Michael Boring at Michael.Boring@usd.edu.