USD Alumnus and Popular Science's Top Mind Frank Leibfarth to Deliver Commencement Address May 7
Frank Leibfarth, Ph.D., a 2008 graduate of the University of South Dakota, will deliver the commencement address at the 135th Commencement Ceremony to be held Saturday, May 7 in the Sanford Coyote Sports Center.
Popular Science digital magazine included Leibfarth in an article on "The Brilliant 10: The Most Innovative Up-And-Coming Minds in Science" in the fall of 2021. This was after the magazine searched nationwide for early-career scientists and engineers developing ingenious approaches to problems across a range of disciplines. The Popular Science article highlighted Leibfarth's work on creating a filter that can remove toxins from polluted waterways.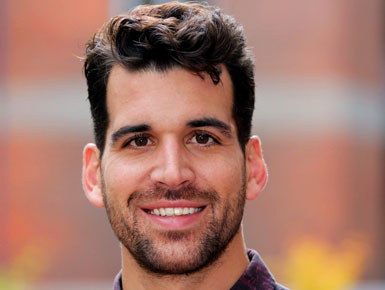 Leibfarth, a Yankton, South Dakota, native, graduated from USD with bachelor's degrees in chemistry and physics and as the all-time leading scorer for the Coyote football team. He joined the University of North Carolina (UNC) at Chapel Hill as an assistant professor of chemistry in 2016.

As assistant professor, Leibfarth leads a group of graduate students, postdocs and undergraduate students who strive to make an impact on sustainability through the pursuit of use-inspired basic research. The group has recently focused their efforts on developing technologies to better recycle post-consumer plastic waste and to remove toxic fluorinated chemicals from water.

Leibfarth's interest in research started before he entered USD in 2004 as an undergraduate student and a kicker on the Coyote football team. The summer prior to freshman year, he took on a project studying the Missouri River in Yankton with history professor and current USD provost Kurt Hackemer, Ph.D. After deciding on chemistry and physics as his majors, he worked in the lab of chemistry professor Ranjit Koodali, Ph.D., now at Western Kentucky University.

Leibfarth was also named among the "Talented Twelve" by Chemical & Engineering News in 2019.

"It is an honor to have Frank as commencement speaker this year," said USD President Sheila K. Gestring. "His achievements at USD, in the lab and beyond, will undoubtedly inspire the class of 2022."