USD Alumnus Vic Raphael Shares Story of Success
Whether University of South Dakota alumnus Vic Raphael '68, '70 was serving as an Army colonel in Cambodia and East Asia, in the Defense Intelligence Community, or overseeing intelligence analysis and production at the Department of State, he credits his time at USD for setting him up for success in his life and career.
Life at USD in the 1960s
With his father in the Air Force, Raphael spent his middle school and high school years in Rapid City, South Dakota, living on the Ellsworth Air Force Base. When it came time to search for colleges, Raphael knew he wanted an inexpensive liberal arts education, and USD checked all the boxes.
Once at USD, Raphael pledged Lambda Chi Alpha and joined Army ROTC.
"Since USD is a land-grant college, we all were enrolled in ROTC for the first two years. Later, we all signed up for ROTC because it gave us an exemption from getting drafted during the Vietnam War, and we all needed the $40 a month it gave us to live," Raphael said. "I think they picked a lot of us to go into intelligence because we were from South Dakota, clean cut and didn't have any background problems. About a third of my ROTC class went into intelligence after graduation."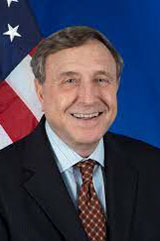 Raphael served as a senator in the Student Government Association, served in the Political Science League and was elected to Omicron Delta Kappa. He also served as the Deputy Parade Marshal for the Dakota Days parade.
"When I came to USD in 1964, they began building the new I.D. Weeks library, and the university started growing really quickly," Raphael said. "I have enjoyed seeing USD continue to grow decade after decade, especially under former President Jim Abbott who was my pledge son in Lambda Chi. When I was at USD there were 5,000 students, now it's more than doubled."
As a student, Raphael discovered his passion for political science and public administration. After a few classes in the political science department, Raphael was placed in the honors section, where he was taught by Doc Farber as well as Don Dahlin and Fred Zuercher. 
"I had Doc Farber for four courses, and he was quite a character," Raphael said. "When I was trying to decide what I wanted my future career path to look like, during the Vietnam War era, I wasn't sure if I would be called for active duty or if I should pursue law school. Farber wanted me in graduate school, so he gave me a National Science Foundation Scholarship so I could research and study under him."
While working with Farber, Raphael completed his master's degree and wrote his master's thesis about the revision of the state judicial article in the South Dakota Constitution. Farber used Raphael's thesis in the state constitutional revision commission, which helped rewrite the South Dakota Constitution in 1971. 
When Raphael left USD, Farber connected him to the Wisconsin State Bureau of the Budget and Management. Raphael worked there for a year program budgeting before being called into the Army for active duty.
"I spent 30 years in the Army as an intelligence officer, and I kept in touch with Doc Farber," Raphael said. "Every year I'd send him at least three cards in the mail."
Raphael said he also would occasionally stop by Farber's home and discuss East Asia when passing through on Army reassignments.
Life in the Military
Raphael used his political science education as a building block for military advancements at a variety of U.S. intelligence agencies in Washington, D.C.
Starting out in the Army – during the final years of the Vietnam War – Raphael traveled the world as an intelligence officer and spent time in many regions, including in Germany, Cambodia, the Philippines, Malaysia and Korea.
He said his most challenging and exciting assignment was as assistant Army attaché in the U.S. Embassy Manila, during the fall of President Marcos. Former Defense Secretary Caspar Weinberger personally recognized his actions leading up to, and during, the 1986 Peoples' Power revolution and presented him the Defense Superior Service medal.
In the 80s and 90s, with intelligence and national security assignments, he progressed as colonel and graduated from the U.S. Army War College. Raphael also graduated from the Director of National Intelligence's Intelligence Fellows Program and received language training in Malay, Indonesian, Khmer, Tagalog and German. He was designated as an Army East Asian Foreign Area Officer (FAO) and graduated from the Malaysian Army Staff College.
Raphael said he gained deep experience in intelligence collection, analysis, and operations, including several intelligence disciplines: signals intelligence, human intelligence and imagery intelligence. 
"I worked first in the Army Security Agency as an operations officer and later in Defense Intelligence Agency (DIA) at the Pentagon as an intelligence analyst. Serving in different capacities gave me a wholistic view of the government's national security community. I learned a lot, especially when I was assigned to the Office of the Undersecretary of Defense for Policy, during the Gulf War in Kuwait," Raphael said. "When I completed my last tour at the Pentagon, then DIA Director James Clapper sent me to Cambodia while it was still a warzone. I opened up the first Defense Attaché Office in the U.S. Embassy since the U.S. had withdrawn from Southeast Asia in 1972."
Working in Cambodia as the defense attaché and U.S. defense representative in 1995-1997, Raphael led a team that helped reestablish military relationships with the Cambodian military as they ended hostilities with the Khmer Rouge.
"It was sort of like the Wild West, but it was really fun," Raphael said. "I was out there in the middle of a developing nation, leading a military assistance team. I had a great time. I had a really dedicated military team working for me, and the Cambodian people and culture was fascinating."
After two years in Cambodia, Raphael returned to Washington, D.C., and was assigned to the Department of State as the director of the Office of International Security Operations. In this position, he served as the department's senior military officer for two years, then retired from the Army.
"I think military service gives people a broader perspective of what's going on in the world and how the U.S. interacts with other nations. It teaches you leadership and how to get things done," Raphael said. "The USD Army ROTC program prepared me to be a leader and manager for my time as an officer, better than any other vocation could have, and it provided a sense of brotherhood, purpose and an understanding of what it means to be an American. Being a military veteran is rewarding. I stayed in for 30 years because I was having too much fun. I got to go all over the world. Our job is to help protect America, and for me, it was wonderful career, despite some hardships."
Life in the U.S. Department of State
After retiring from the Army, Raphael decided it was time to pursue an old dream – law school.
"I said 'okay, I'm going to use my Vietnam era GI Bill,'" Raphael said. "I went to law school at night at Catholic University in Washington, D.C., and graduated with my Juris Doctor (cum laude) in 2000."
After graduating from law school, he served as an attorney and judicial clerk for the chief judge of the Civil Division at the D.C. Superior Court in Washington.
"This was a real learning experience about our legal system and the many issues people face in our country," Raphael said.
After 9/11, Raphael found his way back to the U.S. Department of State where he worked in the Bureau of Intelligence and Research. He rose in rank from a deputy office director to office director for East Asian analysis, and finally in 2015, as the deputy assistant secretary for analysis and production in the Bureau of Intelligence.
"It was the best job I've ever had," Raphael said. "There are only three strategic levels of intelligence agencies in the U.S. government. There is the Defense Intelligence Agency, Central Intelligence Agency and the State Department's Bureau of Intelligence and Research (INR). These are three Intelligence Community agencies that prepare strategic intelligence analysis and provide support to the president and the secretaries at the cabinet level."
Raphael and his team provided intelligence support to many different secretaries of state, including Antony Blinken, Mike Pompeo, John Kerry, Hilary Clinton and Colin Powell. 
"My job as a senior intelligence leader was to direct and oversee the daily intelligence support to the secretary, all the undersecretaries and assistant secretaries in the department," he said.
Raphael also oversaw INR's participation in joint intelligence production, including the briefings and daily intelligence support to the president and White House. 
Raphael worked in the Bureau of Intelligence and Research for 20 years and retired in April 2022. With over 50 years of intelligence work in the military and government, Raphael said he attributes his career success to his roots in South Dakota.
"South Dakota grounded me; it is a really good place to be from," Raphael said. "It's been 52 years, but my oldest friends are from USD, and I still keep in contact with my fraternity brothers. Every once in a while I'll run into somebody from South Dakota, and I'll always find that we both know somebody because there's not that many people from South Dakota floating around, but it's a unique and special place."
Raphael continues to make the occasional trip back to USD for special occasions like he did for Farber's 95th birthday party and Lambda Chi's 100th year fraternity anniversary and hopes to visit again soon.