USD Journalism Alumni Inform South Dakota and the World
As undergraduate students at USD, they burned the midnight oil to get The Volante student newspaper to press, interviewed a U.S. senator for the Coyote News and volunteered to sit as a live figure study model for a drawing class to get the inside scoop for an article.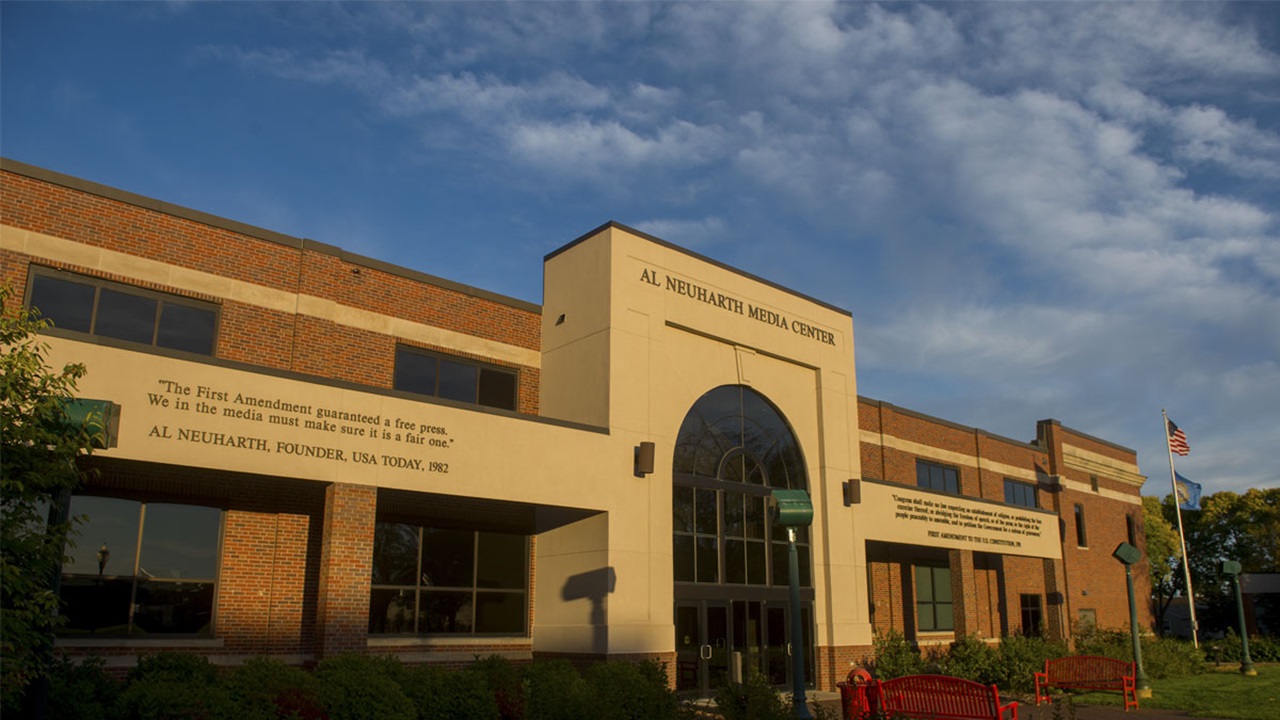 Now Chris Vondracek, Jilanne Doom and Alana Snyder—all alumni of USD's journalism program—are telling stories that inform, entertain and engage readers and viewers far and wide.
Journalism has long been an important part of USD's curricular and extra-curricular offerings. The first issue of The Volante was printed in 1887. The year 1915 marked the formation of the first Department of Journalism. The Al Neuharth Media Center was completed in 2003 and now houses the Department of Media & Journalism's academic offices and state-of-the-art TV, radio and newspaper facilities as well as the headquarters of South Dakota Public Broadcasting.
Read more about these three journalism alumni—all of whom credit the journalism program at USD with giving them the knowledge and hands-on skills that led to their success.
Strengthening Community Ties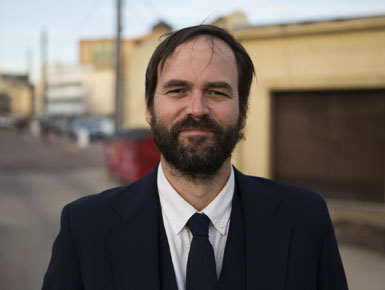 Chris Vondracek '07 B.A., '09 M.A., who entered USD on the Al Neuharth Excellence in Journalism Scholarship, took a circuitous route to earning a reporting position at a large, prestigious newspaper after graduating with a bachelor's degree in journalism in 2007.
He helmed a rock band, earned a master's degree in English and an MFA in creative writing, wrote a book of poetry, penned a memoir-cum-Lawrence-Welk-historical-travelogue, taught English at the college level and served as a journalist for media organizations in South Dakota, the Midwest and Washington, D.C., before he became an agriculture reporter for the Minneapolis Star Tribune this spring.
Wide-ranging interests and experiences played a role in his career success, he says. Not only did he cover religion for the Washington Times, but he also reported on the "pink-slime" multi-billion-dollar defamation case against ABC News by a South Dakota meat producer at the 2017 trial in Elk Point, South Dakota. Now at the Star Tribune, Vondracek covers topics as varied as the world of competitive vegetable growers at the Minnesota State Fair, bird flu's effects on turkey farmers, drought conditions, soybean oil as renewable diesel and politicians' stances on ag topics.
Vondracek approaches what could be considered a niche subject with a general readership in mind. "Explaining agriculture to people who don't know agriculture is the focus for me," he says. "That motivation to speak to a broader audience was something that was ingrained in me at USD."
As editor of Verve, the culture and lifestyle section of The Volante newspaper, Vondracek found a second home in the student newspaper offices at the Al Neuharth Media Center.
"Sometimes you'd be on deadline and scrambling overnight to get the paper finished, but other times it would just be the place that you hang out to talk music or watch election returns," he says.
Writing features for Verve allowed him to explore creative, long-form stories. It's no surprise the young rock musician's favorite story he wrote for the newspaper covered a guitar exhibit at the National Music Museum. "What I love about journalism is finding parts of the state and the region that people are not fully aware of," he says. "Through your journalism, you are able to strengthen your community."
Advice from a USD journalism instructor stays with him. "Carson Walker, who had worked for the Associated Press, taught our feature writing class," Vondracek recalls. "He talked about a river as a metaphor. Lots of folks are going to cover what's going through the river, but we also want to pay attention to what's on the shore—the perennial or evergreen subjects. That struck me as a college journalist and still influences what I do today in terms of my writing."
Bringing Reporting to Life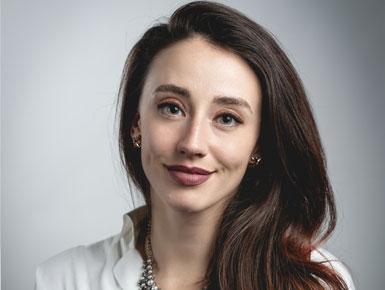 As an editor/producer at CNN, Jilanne Doom '14, B.A., taps her creative and analytical sides. "Say you're watching CNN and an anchor is talking about a story and then tosses it to a reporter," she says. "Then you see a packaged, produced story with all their reporting, video, interview clips in a nice, packaged piece. I work with producers and correspondents to make that package and bring their reporting to life."
Her job requires not only technical skills, but also an ability to make editorial decisions quickly and create content that's compelling and useful to viewers. "It's very rewarding," Doom says.
The Wagner, South Dakota, native didn't always plan to pursue journalism when she started at USD. Doom says she was initially more focused on her other major, political science, and her position on the USD track and cross-country teams. "Then I got more into the skills-based learning that was part of the media and journalism department," she says. "I just loved the learning environment there and I saw really great opportunities for what I could do with my degree."
Doom wrote sports pieces for The Volante but was most active at Coyote News, where she served as anchor, story producer and head producer at different times. An internship with South Dakota Public Broadcasting's radio station gave her additional experience.
Her most terrifying and exciting interview as a student journalist involved speaking with South Dakota Sen. John Thune about the farm bill. "I was shaking in my boots the entire time and I'm sure it showed," she says. "But that was a really cool experience."
After graduating from USD, Doom earned her master's degree in communication, culture, and technology at Georgetown University. She worked as a video producer and editor at the U.S. Department of State before starting her current position at CNN in 2019.
In addition to video editing, Doom is also an animator and regularly produces animations used to enhance a journalistic piece. "I do a lot of our animated graphics, such as maps of the war in the Ukraine," she says. "I teach other editors how to do these types of animations, and that's really fulfilling."
Telling a story accurately and in a compelling manner—all within about two minutes of airtime—draws on her ability to make editorial decisions. "Topics like Ukraine or Afghanistan are so complex. There are decades of political and historical issues," she says. "If a story needs a map, we focus on that. If there is some missing historical context, we'll put that in."
Doom acknowledges the learning opportunities in the journalism program at USD for giving her practical experiences that led her to her current position. "I learned so many different things—editing programs, how to shoot on different types of equipment, lighting, producing a live television program," she says. "I wouldn't be able to do half of the things I do if I hadn't been given those experiences at USD."
Compelled by Curiosity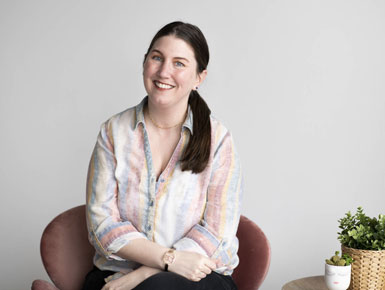 Ever wonder who poses nude for student drawing classes? So did Alana Snyder '08, B.A. As a reporter for The Volante newspaper while an undergraduate at USD, she took on the subject and thought a first-person approach would be fun and, um, revealing.
"There was a waiting list!" Snyder recalls being told by the USD art department. She never got to serve as a model, but she wrote that story as well as many others as an entertainment columnist for the paper. "I kind of had free rein. Sometimes I was surprised at what got printed," she adds.
This fearlessness translated well to Snyder's entrepreneurial activities after graduating in 2008. She wrote for a regional women's magazine in Sioux Falls, even securing a gig job shadowing the editor. When a paid position didn't materialize from the experience, she decided to make her own magazine.
"I didn't know what I was doing at all," she says. "I wrote out a fake issue and literally hand drew the cover."
With some advertising support and a loan, 605 Magazine was born. Named after the Rushmore State's one zip code, the lifestyle, arts, food and entertainment magazine is distributed free to locations throughout South Dakota. "We tell stories about where to eat, where to go, who you should know," Snyder says.
The magazine's monthly distribution has grown to 17,000 and the business has expanded to include 605 Creative Co.—a boutique creative agency doing photography, video and design work for outside clients—and 605 Weddings magazine. In 2016, the 605 Show podcast entered the mix.
Snyder plays many roles at the company, taking on nearly any duty "except layout," she says. "That's my number one thing I cannot do. I'm blessed every day with my graphic designers."
On any day, Snyder could be writing stories, planning events, meeting with advertisers, hosting a podcast or searching for new revenue streams for the 605 companies. The USD journalism program prepared her well for her varied roles, she says.
"Journalism nowadays is wearing a lot of different hats," she says. "Now you have to know social media, broadcast and print journalism, feature writing and photography. In USD's media and journalism program, students try a little bit of everything. I didn't realize a lot of things that I was learning back then, like photography, would apply to my career."