USD Makes History with Two Truman Scholarship Winners
The University of South Dakota is proud to announce that two undergraduate students – Caleb Swanson and Caleb Weiland – have each been awarded $30,000 Truman Scholarships.
The Truman Scholarship is the nation's premier graduate fellowship for aspiring public service leaders. Since 1986, 18 USD students have been named Truman Scholars.
This is the first time, however, that the state's flagship university has had two students win the prestigious award in the same year. USD is also one of only two institutions across the nation to have two students chosen as Truman Scholars.
"This is a tremendous accomplishment for Caleb Swanson and Caleb Weiland," said USD President Sheila K. Gestring. "They are two very deserving students, who have given their time to serving the university and who will undoubtedly go on to do wonderful things in their future communities."
Caleb Swanson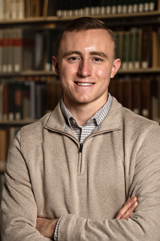 "I am incredibly honored and humbled to have been selected as a Truman Scholar," Swanson said. "I am encouraged by the selection committee's finding that I possess the qualities of academic excellence, leadership and service worthy of a scholar, and it further validates my pursuit of public service."
Hailing from Mitchell, South Dakota, Swanson is a junior majoring in both sustainability and political science. He is an Honors student, an athlete on the men's swim team and the president of USD's Environmental Club. He is also involved with the Student Government Association.
"USD has been critical in getting me where I am today," Swanson said. "The support I have received from friends, coaches, teammates, advisors and professors has been especially formative. Similarly, I am incredibly appreciative of the opportunities that have been available to me as a USD student and athlete.
"I would particularly like to thank Melissa Berninger, director of USD's Honors program, for her incredible assistance throughout the Truman application process and all of the other USD faculty and friends who supported me throughout this process," he added.
After completing his undergraduate education, Swanson hopes to take a few gap years to work on environmental protection policymaking efforts in Washington, D.C., before going to graduate school. He then plans to get a joint degree, pursuing an M.S. in environment and resources and a J.D. with a focus on environmental law.
His long-term goal is to become an environmental attorney for the Department of Justice enforcing the nation's environmental legislation.
"Joining a community of public servants with vast amounts of experience in so many different areas will be an incredible resource, allowing me to further my commitment to public service," said Swanson. "Additionally, the assistance with graduate school will better enable me to attain the education I need to become the most effective public servant I can be."
Caleb Weiland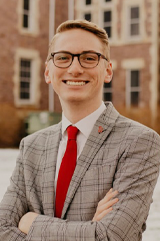 "Being selected as a Truman Scholar is a great honor," said Weiland. Since I was in the seventh grade, I knew I wanted to serve in public service. This isn't a box checked off, it's a dream accomplished. Being selected as a Truman Scholar reinforces my passion of public service and unlocks the potential for my future education desires."
Weiland is a junior studying political science and communication studies. He has served as the Student Government Association president and currently serves as the president of the South Dakota Student Federation and director of recruitment for the Pi Kappa Alpha Federation.
"USD has transformed my life," said Weiland, a Beresford, South Dakota, native. "Being SGA president was an honor that taught me many valuable leadership skills and prepared me to be a better public servant. The Coyote community has been there every step of the way, and this honor is a testimony to the incredible students, faculty and staff at USD."
When he finishes his undergraduate degree, Weiland plans on advancing his education with a joint degree – working toward his master's in public policy while concurrently pursuing a J.D.
"Not only is the financial component of the Truman Scholarship a major benefit, but what will help drive my commitment to public service is the Truman community," said Weiland. "I am excited to meet the other Truman scholars from across the nation and hear their stories of why they are motivated to be public servants."
About the Truman Scholarship
The Truman Scholarship is a federal memorial to Harry S. Truman, the 33rd president of the United States. Truman Scholars demonstrate outstanding leadership potential, a commitment to a career in government or the nonprofit sector and academic excellence. Each Truman Scholar receives funding for graduate studies, leadership training, career counseling, and special internship and fellowship opportunities within the federal government.
Weiland and Swanson are two of 62 Truman Scholars selected from 60 institutions in 2023. The Harry S. Truman Scholarship Foundation reviewed applications from 705 students before narrowing the selection down to 199 finalists and eventually down to 62 recipients.