USD Research Expertise Bolsters South Dakota's Only Neuroscience Undergraduate Major
Established just three years ago, the undergraduate neuroscience major at the University of South Dakota now boasts dozens of students—including a nationally competitive scholarship winner.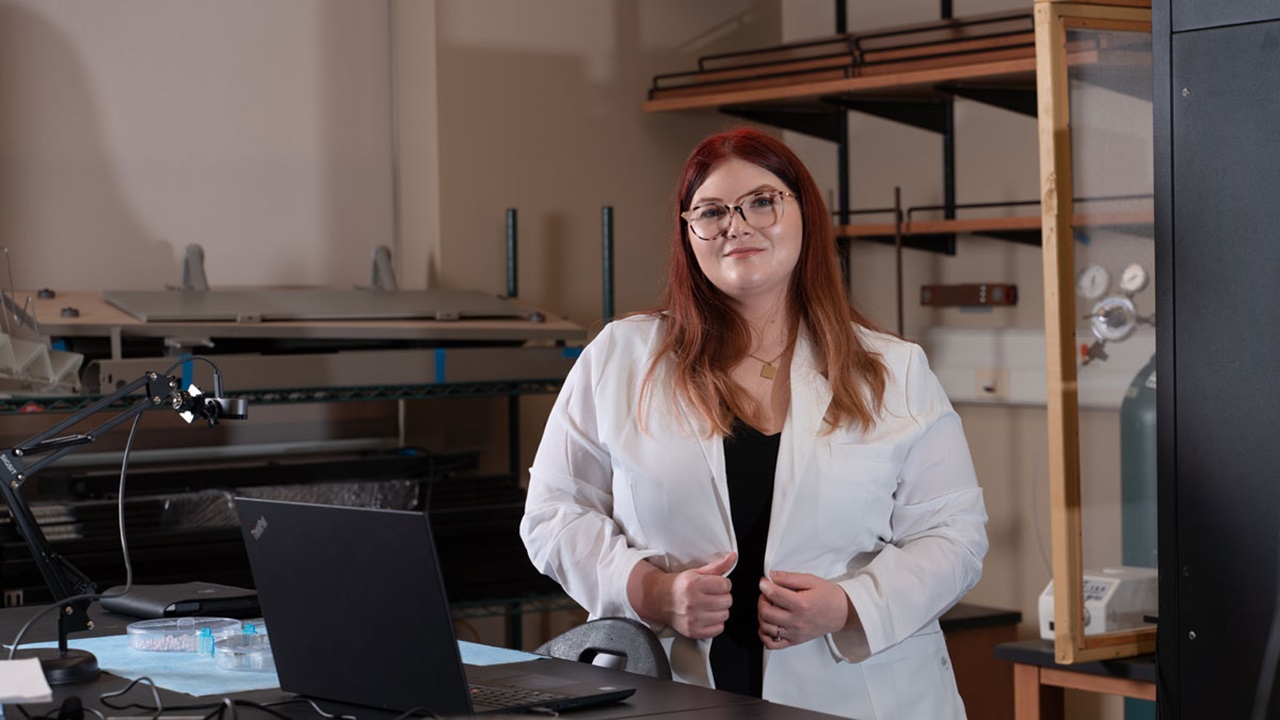 In this program, which is the only one of its kind in the state, students learn with USD faculty members whose expertise includes researching behavior, the brain and the 100 billion neurons that make up the human nervous system.
Brian Burrell, Ph.D., is one of these researchers. The professor of neuroscience in the Division of Basic Biomedical Sciences at the Sanford School of Medicine has long supported undergraduate students who contribute to his lab's research on pain and the nervous system.
"Neuroscience is a growing field," Burrell said. "It's a huge discipline that spans everything from the very smallest of individual molecules to the behavior of an entire individual or an entire group."
This interdisciplinary field explores how the brain and nervous system dictate who we are and what we do. The nervous system controls how we breathe, move our muscles, make choices and store memories. Advances in understanding the brain and nervous system can lead to treatments for addiction, depression, Alzheimer's disease, epilepsy, Parkinson's disease, spinal cord injuries and many other diseases and conditions.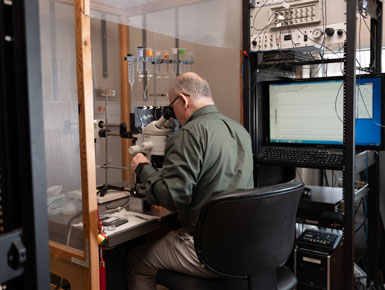 In 2014, USD formalized its dedication to fostering developments in this vast discipline by forming the Center for Brain and Behavior Research, the mission of which includes feeding the pipeline of creative independent scientists in the fields of neuroscience and behavioral science across the Northern Plains states and the nation.
Studying neuroscience at USD involves coursework in the fields of biology, chemistry, physics and psychology. Students specialize in either cognitive neuroscience—focusing on the neural bases of mental processes and behaviors—or molecular and cellular neuroscience, which studies the molecular underpinnings of the nervous system.
Cassie Thompson, one of the first USD students to choose neuroscience as a major, works in Burrell's lab as an undergraduate. A non-traditional student from Sioux City, Iowa, who enrolled at USD after working as a massage therapist, Thompson was intrigued by the study of the nervous system, particularly in relation to pain. She plans to attend medical school, so the future physician also majors in medical biology.
"I like to understand things from the bottom up, especially in terms of the nervous system and pain," Thompson said. "It still feels like there's so much to learn. There are so many mysteries to unlock."
The USD senior was also the only student at a South Dakota institution in 2022 to earn a Truman Scholarship, the nation's premier fellowship awarded to aspiring public service leaders.
In Burrell's lab, Thompson, who specializes in molecular and cellular neuroscience, uses leeches to study the neurobiological mechanisms of pain and how these mechanisms affect learning and memory. Another of her research activities includes studying the role a complex cell-signaling system, called the endocannabinoid system, plays in modulating pain. Leeches offer an animal model of a nervous system that can help researchers study neural networks at a basic level.
"The leech has a pretty simple nervous system, and we know the topography of all of its neurons and ganglia pretty well," she said. "The neurons are also relatively big."
Burrell said undergraduate students like Thompson, as well as graduate students and research staff, help his lab produce research that can lead to treatments for people who suffer from chronic pain.
"The brain has an amazing capacity to regulate how it perceives pain," Burrell said. "It has the ability to turn up pain, but it also is the ability to turn down pain."
His lab is working on trying to understand the ways to activate the nervous system to harness its pain reducing-properties. Burrell has a lot of questions: "What are the neurotransmitters involved? How do we access them? How do we stimulate the brain to get up-regulation of those neurotransmitters? And are there ways to combine stimulation of the brain with existing drug therapy?"
The answers will reveal ways to help the millions of people who suffer from chronic pain in this country alone. "It's a public health crisis," Burrell said. "We need more effective ways to treat pain."
As a student who plans to pursue a career as a physician in the public health realm, Thompson says her research experience in Burrell's lab gives her not only added insight into the mechanisms of the nervous system, but also a chance to make real scientific discoveries. She credits USD faculty and staff for their strong support of undergraduate researchers.
"You're not just in the lab washing dishes," she said. "You are part of the conversation. You are presenting your research and you might even have the opportunity to get published."
While a few students with a neuroscience undergraduate degree may go on to medical school, the skills and knowledge imparted through their studies prepares them for a wide range of future opportunities.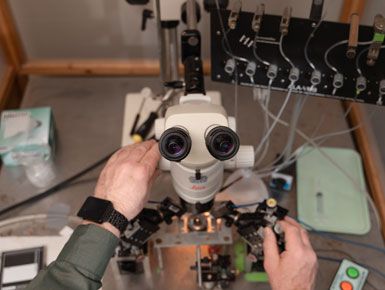 The program is ideal for students who want to pursue graduate study in behavioral neuroscience, clinical neuroscience and clinical neuropsychology, said Doug Peterson, Ph.D., associate professor and chair of psychology at USD. His department administers the neuroscience undergraduate program.
With their deep understanding of the brain and behavior, neuroscience graduates can also find work in fields that are focused on discovering how people will react to certain products and services.
"Video game companies and marketing companies hire neuroscientists to analyze brain activity or give insights into how the brain works," Peterson said.
Recently, the department's student-run Neuroscience Club hosted a speaker from the Sanford Sleep Disorders Center in Sioux Falls who spoke about the clinic's work measuring patients' brain activity during sleep.
"There are all types of job opportunities in this growing field," Peterson said.
Graduates of the USD neuroscience program are well prepared to enter either graduate school or the workforce. Peterson said neuroscience majors "are some of the strongest students we have on campus."
Peterson's Exploring Neuroscience class was what brought transfer student Joseph Obineche into the major. "I fell in love with neuroscience after that," he said. "It's so wild to think about. Everything we do, all of our behaviors, everything that's going on even right now is linked to the cells in our brain."
Obineche, who is originally from Rapid City, works as a research assistant not only in Peterson's lab but also in the lab of Timothy Ricker, Ph.D., assistant professor of psychology, who studies memory and attention. In Ricker's lab, Obineche uses an eye-tracking device to collect data on individuals completing a memory test. Pupil size and the location of the research participant's gaze provide researchers with concrete measurements of where people are focusing their attention during a memory task.
Learning how to operate the equipment and participate in high-level research is a learning experience. "I'm still new to it, but it's been a good time," Obineche said.
Ashley Brock, a sophomore from Louisville, Nebraska, majors in both psychology and neuroscience.
"I chose to major in neuroscience because I love biology and psychology, and neuroscience is combining the best of both," she said. "I also work very closely with people with intellectual and developmental disabilities and neuroscience plays a huge part in their diagnoses and treatments, so I wanted to learn more about it and use neuroscience in my career to help improve their lives."
In the introductory Exploring Neuroscience class, Brock said she learned how neuroscience can be applied to many fields like law, prosthetics and occupational therapy. As vice president of the Neuroscience Club, she welcomes other students either majoring or interested in neuroscience to come explore career options and discuss current topics. Her own plans include graduate school in either neuropsychology or analytic behavior analysis, after which she will do tandem work in research and in a clinical setting.
Research has been her favorite experience in the program. "I recently joined a new lab in which we study dopamine pathways in the brain, socialization and behavior in zebrafish with fetal alcohol spectrum disorder," Brock said. "I am very excited about this project and how it relates to my future career."
That research lab Brock works in belongs to Yohaan Fernandes, Ph.D., assistant professor of biology, who sees mentoring undergraduate students as an important part of his job.
"We get to help the next generation of scientists move forward with their own exciting questions," he said. "One of the driving forces in our lab is to make sure that we produce students that are far better than we are."
If 2022 neuroscience graduate Michaela Ahrenholtz is any measure, USD professors are doing their job well. Ahrenholtz is currently a clinical psychology Ph.D. student at the University of Louisville in Kentucky studying self-harming behaviors in underrepresented communities.
Her interest in psychology fit well with the cognitive specialization in neurology, said Ahrenholtz, who is originally from Denison, Iowa. "I think the specialization options in the neuroscience major are a great opportunity to personalize your education, to make it what you want it to be."
Having a degree in neuroscience and psychology at USD has benefitted Ahrenholtz in her clinical psychology graduate program, she said.
"In my clinical psychology program, I'm the only one in my cohort that has a neuroscience degree. It opened up some collaborations with professors who use EEG in their labs," she said. "My neuroscience degree sets me apart."
With opportunities spanning clinical practice, academic and clinical research, and more, neuroscience students at USD face a future as exciting and diverse as the field itself.