USD Sees Enrollment Success, Record-Breaking Enrollment in Key Areas
The University of South Dakota reported a strong year of enrollment this year, with record-breaking enrollment in several key areas.
Overall, first-time full-time undergraduate enrollment increased approximately 7.7%. Among these students, enrollment from Nebraska reached a historic high this year, with enrollment from Iowa and Minnesota nearing record rates as well. In every school and college, first-time full-time undergraduate enrollment is even or up, with the College of Fine Arts leading the way with more than 43% new undergraduate enrollment growth over last year.
New graduate enrollment is also up over 17.7% from last year. This is the largest number of new graduate students enrolled over the past five years, with notable increases in USD's computer science and educational leadership programs.
For the second year in a row, USD saw the largest incoming class of international students in university history. This year, USD enrolled 219 incoming international students from 35 countries, surpassing last year's previous record of 103. This new class includes 159 international graduate students – an increase of 137%, with almost all the growth coming from computer science.
The university has seen growing interest from countries such as India, Nepal, Bangladesh and Nigeria, which can be attributed to the relationships built with international partners as well as connections driven by USD's computer science department, said Scott Pohlson, vice president of admissions, marketing and university relations.
"We're excited to welcome a large new class of international students to USD," Pohlson said. "USD's computer science program has gained international attention due to its focus in artificial intelligence, and we're pleased we can provide a workforce of young scientists to enter the global job market."
In addition to new students, total overall international enrollment hit 400 students – the highest in university history, far surpassing USD's previous fall record of 258 in 2021.
New Native undergraduate student enrollment also continues to steadily increase, with a 17.9% improvement over last year. USD President Sheila K. Gestring attributed much of the growth to the efforts of USD's new Native American Living Learning Community, which completed its first year in 2021. As part of their experience, students attended weekly programming on campus, including film screenings, dinner with Native staff and faculty, and presentations from Native alumni or speakers, amongst other programming. Retention for participating students ranged from 77% in the fall to 88% in the spring. Participation doubled this year over last fall; among the 36 participants, at least 14 tribal nations and six states are represented.
"This has proven to be a very effective recruitment and retention tool for USD, and multiple students have cited this as their reason for choosing USD over other schools," Gestring said. "I am incredibly grateful to the vision and support of USD Women in Philanthropy, which helped fund this Living Learning Community."
Preliminary data indicate that USD also experienced a record-setting retention rate of 81.7%. Gestring said USD's retention rates are better than peer averages, with tremendous strides since 2017, when retention rate was 72%.
"This is a direct reflection of our incredible faculty and staff," Gestring said. "USD's rising retention rates are clear indicators that our faculty are among the best in their fields. For USD to achieve above an 81% retention rate as an open access institution – that tells me that this university's faculty and staff are not only talented, but incredibly dedicated to the success of our students as well."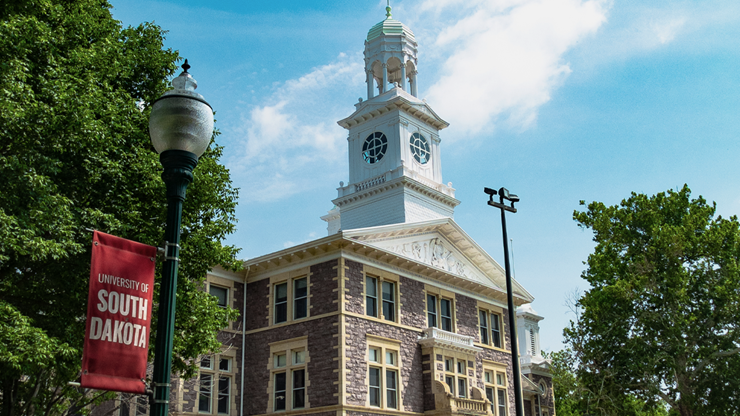 Building upon last year's success, the University of South Dakota again reported record-breaking enrollment in several key areas including first-time, full-time students from South Dakota and Nebraska, international students and students enrolled in high-demand health sciences graduate programs.