USD Student Ruby Hawks to Showcase Research at Capitol Hill
Ruby Hawks, a junior medical biology major at the University of South Dakota, was selected to present her research at the Council on Undergraduate Research (CUR) Posters on the Hill event, which will be held virtually on April 26-27.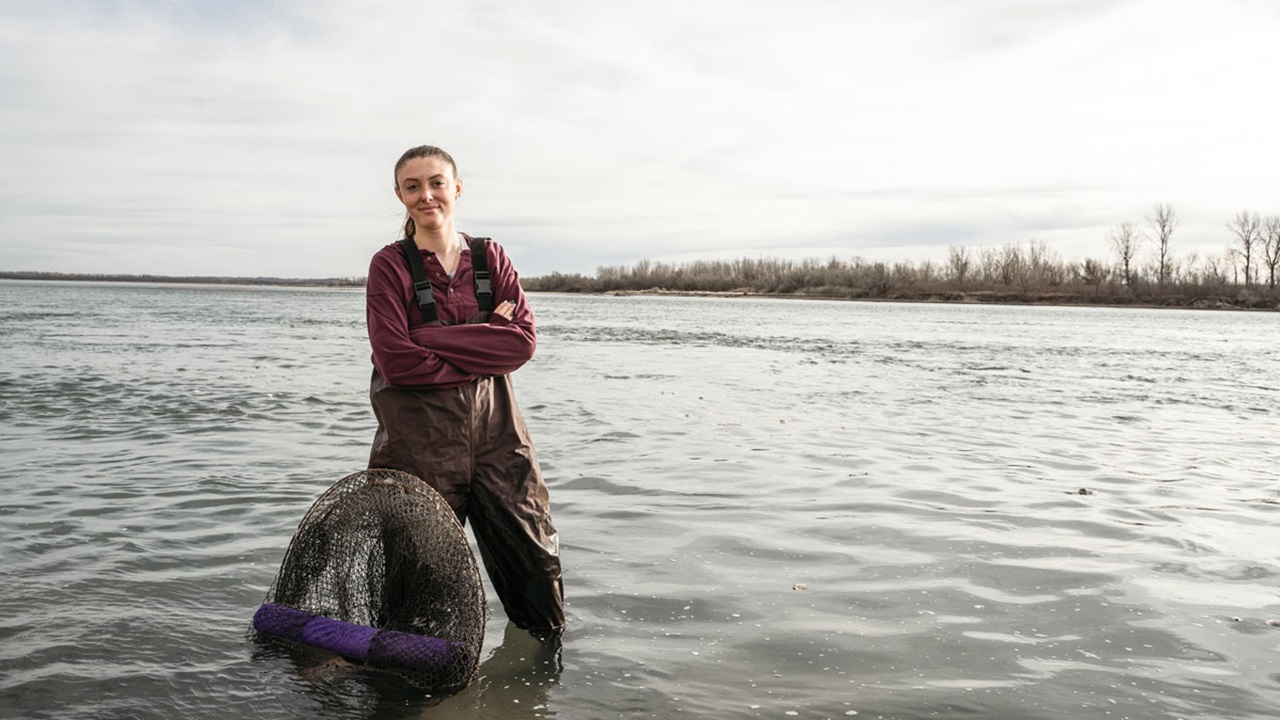 Posters on the Hill is CUR's signature advocacy event and is typically held in-person in Washington, D.C. Participants are given the opportunity to showcase their research as well as advocate for undergraduate research at the federal level by presenting their findings and engaging in discussions with members of Congress. Out of 300 applicants, only 60 students throughout the nation are selected to participate.

"I am excited to be representing the University of South Dakota at the national level and bringing attention to the phenomenal undergraduate research opportunities available to students here," said Hawks. "To have my work recognized in this way is a point of great pride for me!"

Hawks, a Hartford, South Dakota, native, came to USD as a Nolop Scholar. She is a 2021 UDiscover Scholar and a recipient of the 2021/2022 Undergraduate Research Award. In March 2022, she presented her research at the Pierre Poster Session.

"We are lucky to have Ruby in our department," said Jacob Kerby, Ph.D., Hawks' honors research advisor and chair of the Department of Biology. "She is a clear example of how our Nolop Scholarship is recruiting some of the best students in our state to USD. She represents the best of USD, and so it is only appropriate that she will be representing us at the capitol."

Hawks' studies the bioaccumulation of selenium and its role in synthesis of proteins in false map turtles in the Missouri River. Toxic metals and metalloids—selenium in particular—are becoming more prevalent in South Dakota lakes and reservoirs. High levels of selenium can change protein structure and function within affected organisms.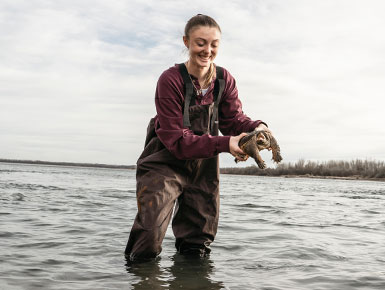 She tested the hypothesis that there is a difference in selenoprotein content between turtles downstream versus upstream due to the turtles' consumption of zebra mussels, which are an invasive filter feeding metal-bioaccumulating species.

"The bioaccumulation of selenium had not been a topic of concern until the invasive mussels showed their capacity for filter-feeding contaminants and passing them along to their predators," Hawks said. "I aimed to find whether high concentrations of selenium count in turn impact protein function in predators higher up the food chain."

Hawks randomly sampled false map turtles from upstream in Lake Francis Case and downstream in the 59-mile stretch of the Missouri River between Gavins Point Dam and Nebraska's Ponca State Park. Blood samples were selected from both sights and centrifuged for plasma samples, which were tested for selenoprotein concentration.

"I am proud that I was able to carry my own research project from start to finish," Hawks said. "I was able to draft my own grant proposal, conduct my own research on several trips and test my own samples."

She found that the turtles of Lake Francis Case are exposed to higher levels of selenium than those of the 59-mile stretch due to the consumption of invasive zebra mussels downstream. Hawks' work demonstrates the critical need to monitor the impacts of the invasive zebra mussel on threatened turtle species.

"The turtles are also used as a proxy for humans," Hawks said. "Bioaccumulation of toxins could also show up in our own food chain when we consume filter feeders and their predators."

After she graduates, Hawks plans to attend medical school at the USD Sanford School of Medicine and go into family practice or women's health.
The Council for Undergraduate Research and Creative Scholarship (CURCS) has selected 11 recipients for this summer's UDiscover summer research program. The University of South Dakota program is an academic opportunity for awardees to work under the guidance of their faculty mentor as paid student researchers and scholars, conducting projects over a 10-week period during the summer.