USD Student to Study Abroad as Part of Nationally Competitive Critical Language Scholarship Program
University of South Dakota student Ryan Conover was selected for the nationally competitive Critical Language Scholarship (CLS) Program. As part of this program, Conover will embark on an immersive study abroad experience in Kyrgyzstan, a country in Central Asia, and study Russian.
Conover is one of approximately 500 finalists selected for the CLS Program. Finalists for the 2023 CLS Program were selected from a diverse pool of over 5,000 applicants from 245 higher education institutions across the United States.
"I feel honored to be a recipient of the Critical Language Scholarship," Conover said. "This scholarship is extremely competitive, and I was genuinely shocked when I got the email. I saw the word 'congratulations' and immediately started crying tears of joy.
"To me, being a recipient of this scholarship feels like a true testament to my skills and the effort I have put forth during my college career to get to this point," Conover continued. "Winning a scholarship like this was a huge goal of mine in college. It still seems unreal that I actually did it, and I am beyond excited for this summer."
The CLS Program – sponsored by the U.S. Department of State, funded by the U.S. government and administered by American Councils for International Education – is an intensive overseas language and cultural immersion group-based program where students spend eight to 10 weeks abroad studying one of 14 critical languages.
"I am extremely excited about this opportunity and the chance to significantly improve my Russian language skills," Conover said. "This program will allow me to immerse myself in the culture of Kyrgyzstan since I will be living with a host family while I am abroad. This program will also be extremely beneficial as I begin to pursue my career in international relations."
Conover is in her third year at USD and is pursuing a double major in political science and international studies as well as a minor in Russian studies. While at the university, she has been involved with the Student Government Association and has held several leadership positions, including serving as the president of College Democrats, the communications director for the Political Science league and a member of the Model United Nations team.
The Sturgis, South Dakota, native credits her time at the university for providing her with the connections and faculty support to make opportunities like the CLS Program possible.
"My professor Ilmira Dulyanova has been exceptionally supportive of my language-learning journey and my future goals," said Conover. "Without her encouragement and the encouragement of other faculty at this university, I might never have applied for this scholarship. During my application process, and since receiving the scholarship, I have received so much positive reassurance from numerous faculty members from inside and outside my department, and I am deeply grateful for their support."
After graduating from USD, Conover plans to pursue a graduate degree in international relations and specialize in either international law or human rights. She hopes to one day work for the Department of State or United Nations.
"This scholarship is offered by the State Department, which essentially is a great 'foot in the door' for my career since the department is an extremely competitive workplace," Conover said. "After I complete the program, I hope that my language skills will make me a more competitive job applicant."
Another USD student, Grace DuVall, was selected as an alternate for the CLS Program to study Persian in Dushanbe, Tajikistan.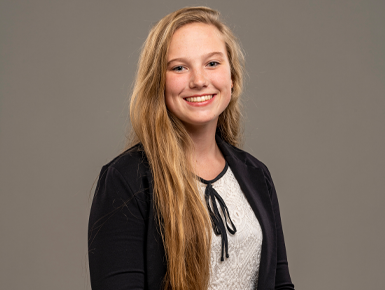 "Being selected as an alternate for the CLS Program means that all the work I've been putting into CLS, studying Persian on my own time and working hard in my academics and extracurriculars is slowly paying off," DuVall said. "It means I was so close to my dream, and I have to try just a little bit harder next time."
From Chamberlain, South Dakota, DuVall is a junior studying international studies and anthropology. On campus, DuVall is a freshman resident assistant, the president of Honors Association, ritualist for Kappa Alpha Theta and director of operations for Student Government Association.
After completing her undergraduate degree, DuVall plans to earn her master's degree and potentially work in the State Department. Her long-term goal is to earn her Ph.D. and become a professor.
Both DuVall and Conover are students in the Honors Program.